Coding has become the primary form of education for today's and tomorrow's children.
It is now regarded as one of the most important and in-demand skills.
If coding was taught to college students a decade ago, it is now taught to children in elementary schools.
There are a plethora of coding courses available on the internet but most of them charge a fee of some amount. 
However, today we will discuss blogs, which are one of the most widely available free resources.
We're going to go over 20 of the best blogs for kids to learn coding online.
Why the sudden demand for Coding?
The answer to how this major shift occurred is quite simple: technological advancement.
Technology is advancing at a breakneck pace!
With the rate at which technology is evolving, there is a huge demand for more tech professionals, with coders accounting for a large portion of those.
Apart from simply meeting demand, we can also claim that we are educating children and preparing them for the future.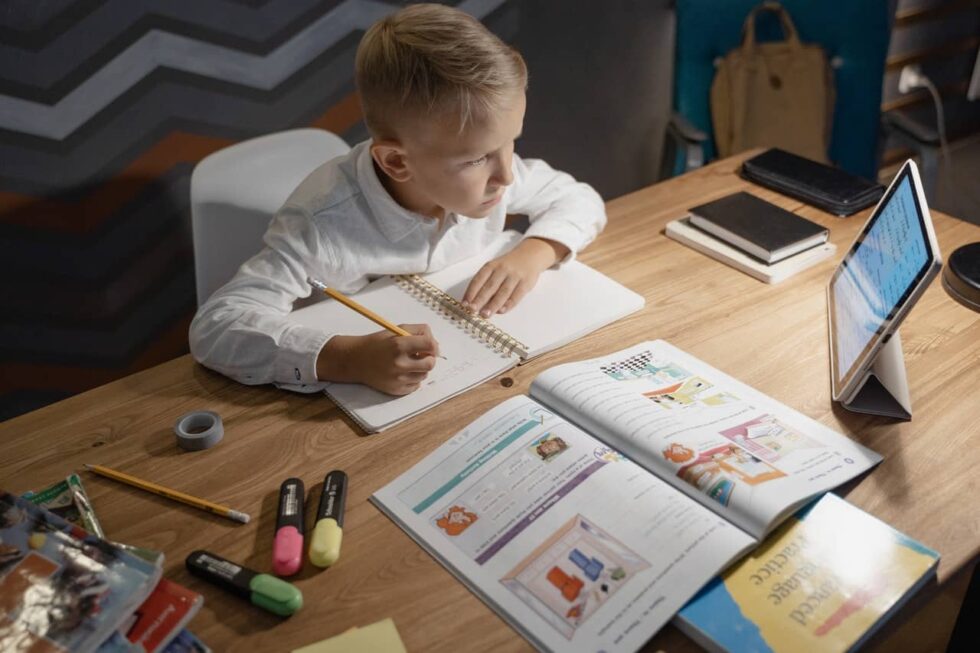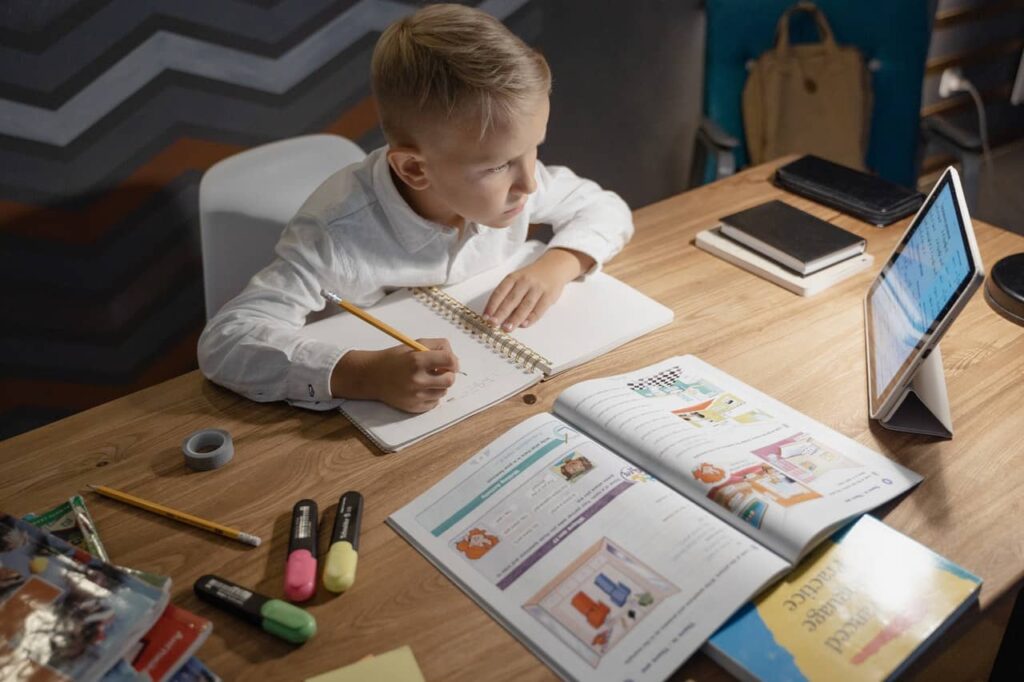 Because it would not be incorrect to refer to coding as the new form of literacy
The internet is now flooded with coding courses.
Thousands of edtech companies around the world are encouraging children and their parents to be a part of the future by teaching them to code.
Along with their websites, the majority of them include a blog section.
These blog sections provide enough resources for anyone interested in learning to code to get their hands on when it comes to coding and STEM education.
Top 20 Blogs For Kids To Learn Coding Online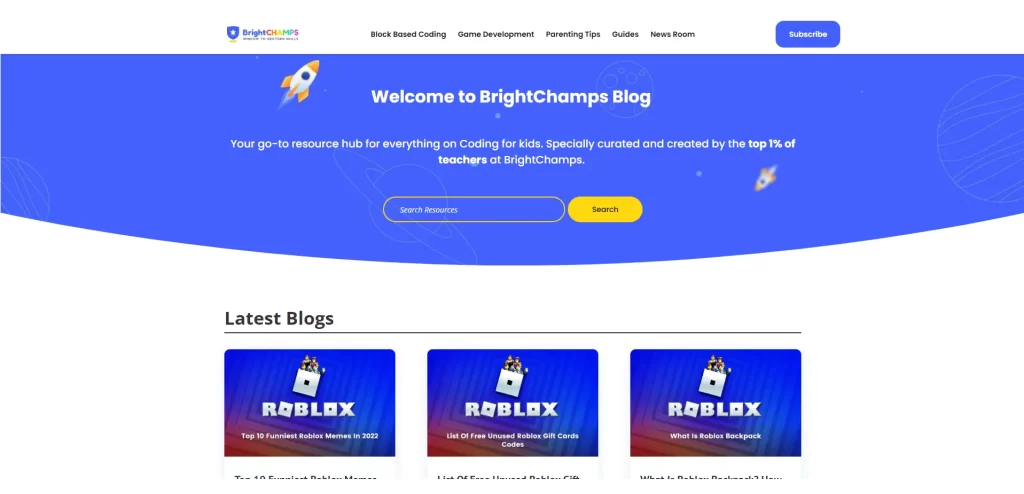 BrightChamps is a fantastic platform for teaching your child the fundamentals of coding.
BrightChamps provides a wide range of programming language courses, both block-based and text-based, developed by top STEM professionals.
Their curriculum includes a fun and interactive learning method that allows children to express themselves creatively while also learning from their mistakes.
BrightChamps has a completely free blog section where the content is written by the top 1% of BrightChamps teachers.
They offer content on a variety of programming languages, games such as Minecraft and Roblox, parenting tips, and other STEM and technology-related topics.
The content is frequently updated, providing readers with a fresh update on the latest technology trends and coding trends.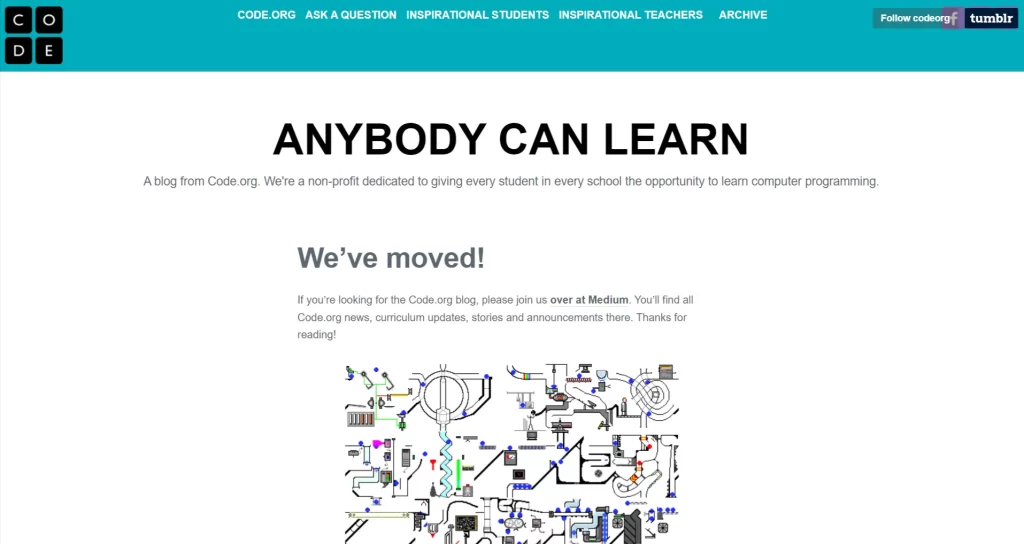 Code.org is a well-known coding platform that provides free coding lessons to children as young as four years old.
It also offers extensive online tutorials ranging in length from 15 to 20 hours and is delivered through interactive teaching methods.
Code.org used to have its own blog, but now its posts can be found on the popular blogging site Medium.
They have a large library of STEM and coding-related content that is frequently updated.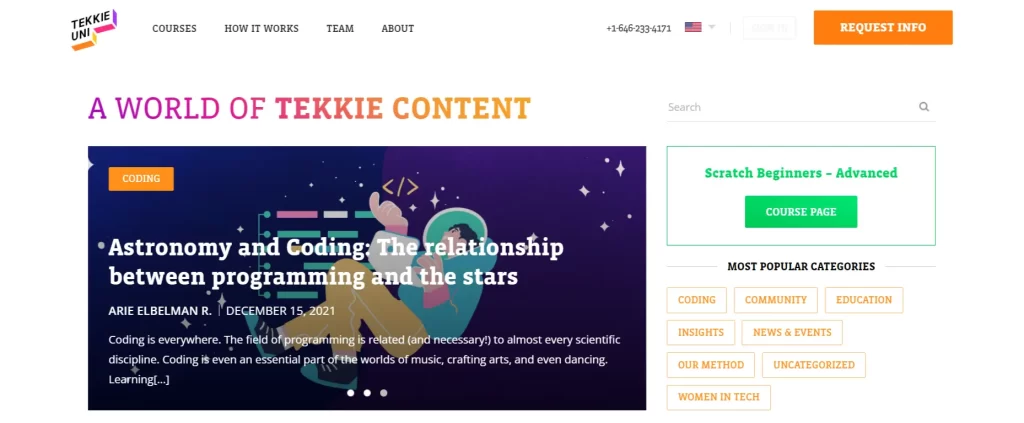 Tekkie Uni is a US-based EdTech company that operates an international online coding school for children and teenagers.
Their educational approach is unique in that it combines project-based learning with live classes taught by experienced teachers.
Tekkie Uni has a fantastic blog where they write about coding and other tech-related topics.
The coding blogs at Tekkie Uni alone can teach you a lot about coding and what goes on behind the scene.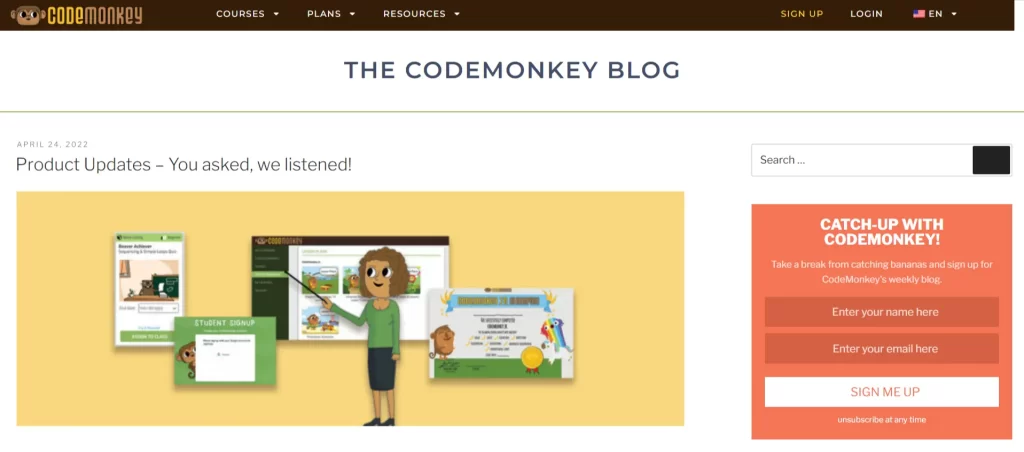 Code Monkey teaches kids to code in a game-like environment that is both fun and educational for them.
They have a specially designed K-8 curriculum, with experience levels divided primarily into Jr. and Banana Tales.
Yes, Code Monkey has a blog page that is full of well-researched and extremely knowledgeable blogs on technology and coding topics.
CodaKid is a US-based EdTech company that teaches coding to kids through engaging video lessons that students can watch at their own pace.
CodaKid uses video prompts to tell students to pause the video and open their text editors when it's time to write code.
CodaKid has heaps of blogs ranging from game-related blogs like Minecraft and Roblox to other important coding-related and technology-oriented blogs for kids.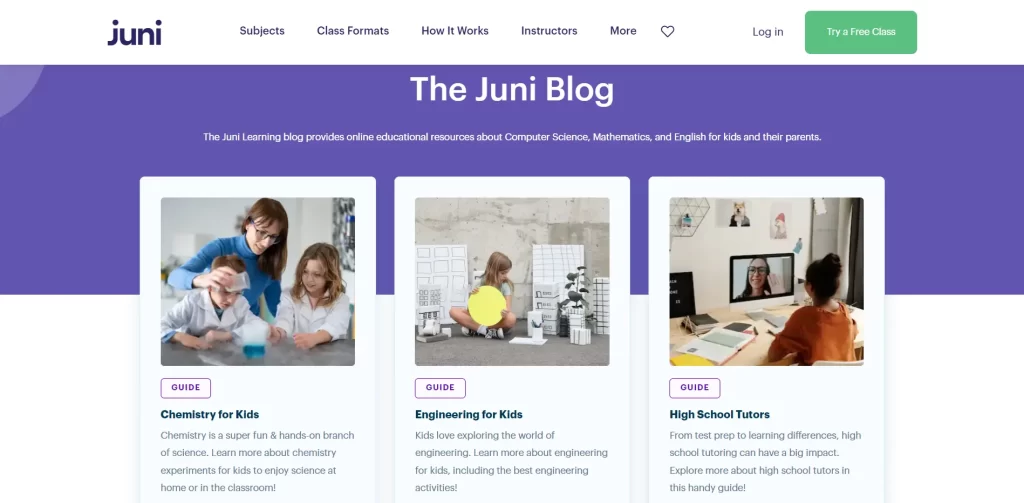 Juni Learning provides a wide range of STEAM courses such as coding, maths, science, investing & entrepreneurship, communications, and so on.
They have divided their classes into three categories: Private 1:1, On-Demand, and Bootcamp.
Any child, or even an adult, can gain a lot of knowledge and learn from each blog on Juni Learning's blog page.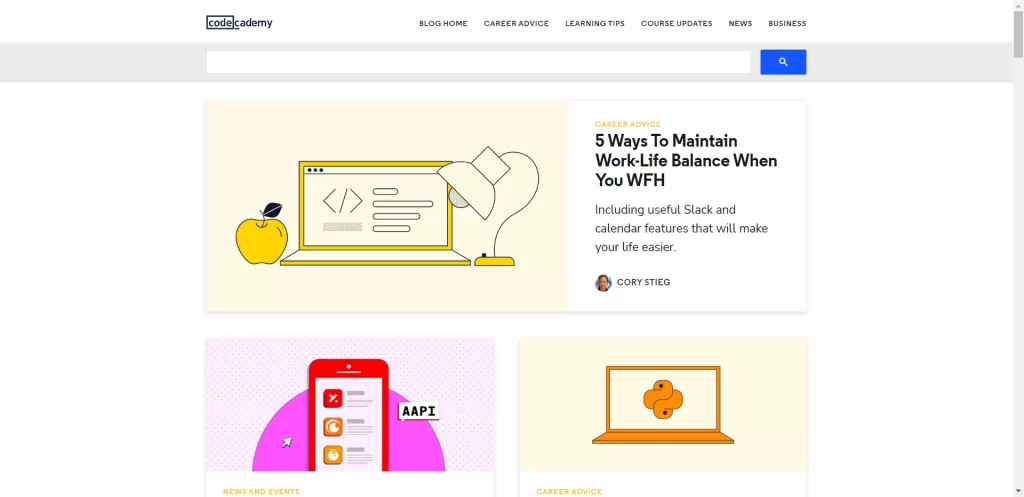 Codecademy is designed for more advanced coders who want to explore career options.
It provides interactive courses with feedback so that students can analyze their learning. Students in middle school and up will benefit from Codecademy.
This program provides kid-friendly classes that teach cutting-edge coding for future jobs.
It has a comprehensive blog page with articles on STEM-related topics, coding, and other general technology topics.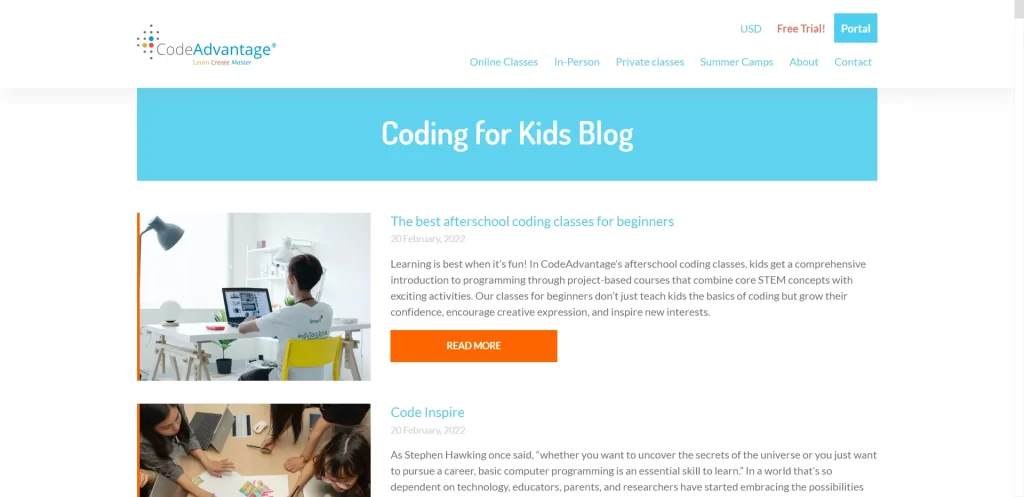 CodeAdvantage is a US-based Edtech company that teaches coding to children in grades K-8.
Junior Coder (k-2nd), Pro Game Designer (1st-3rd), Pro Coder (3rd-6th), and Advanced Coder are the four major groups of their courses (6th-8th).
CodeAdvantage has a blog page where you can read about everything from coding to technology and games.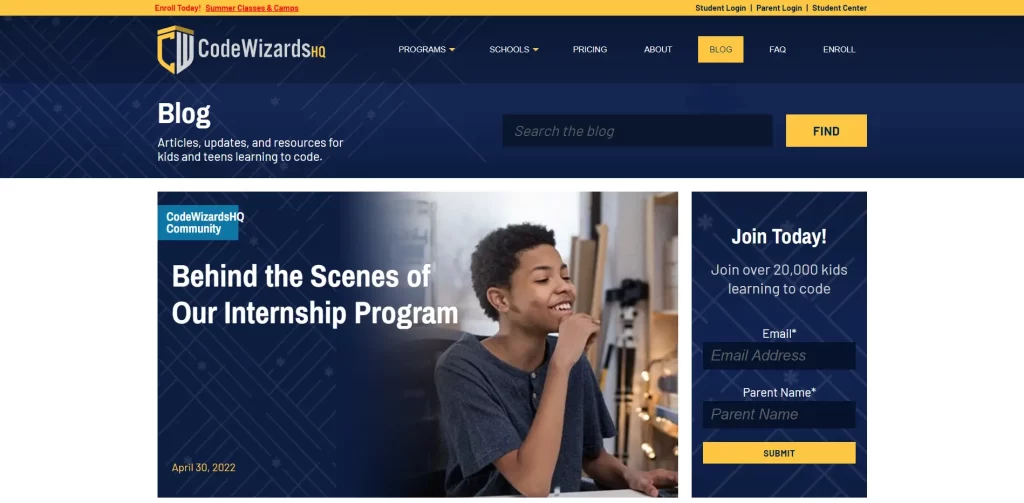 Codewizardshq provides coding lessons to children ages 8 to 18 through their various programs, which are divided into Elementary School, Middle School, and High School.
They also have a variety of other programs and lessons.
They have a blog section where they provide tutorials and write about games, coding, and other topics. It is unquestionably worthwhile to read.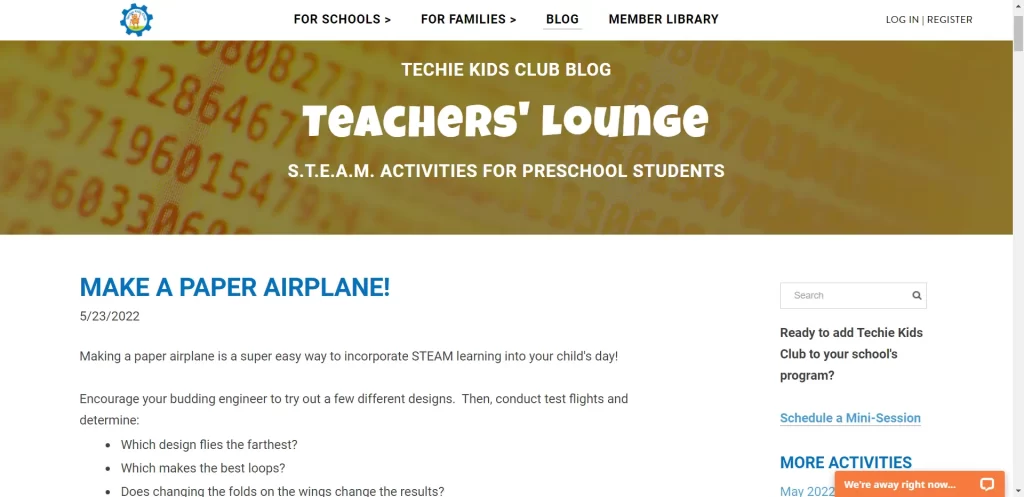 Techie Kids Club is a preschool-focused EdTech company.
They teach coding and robotics to Kindergarten students, giving them the necessary skills at a young age.
Similarly, their blog section is aimed at preschoolers, and it teaches coding and other STEAM lessons through a variety of fun and engaging activities.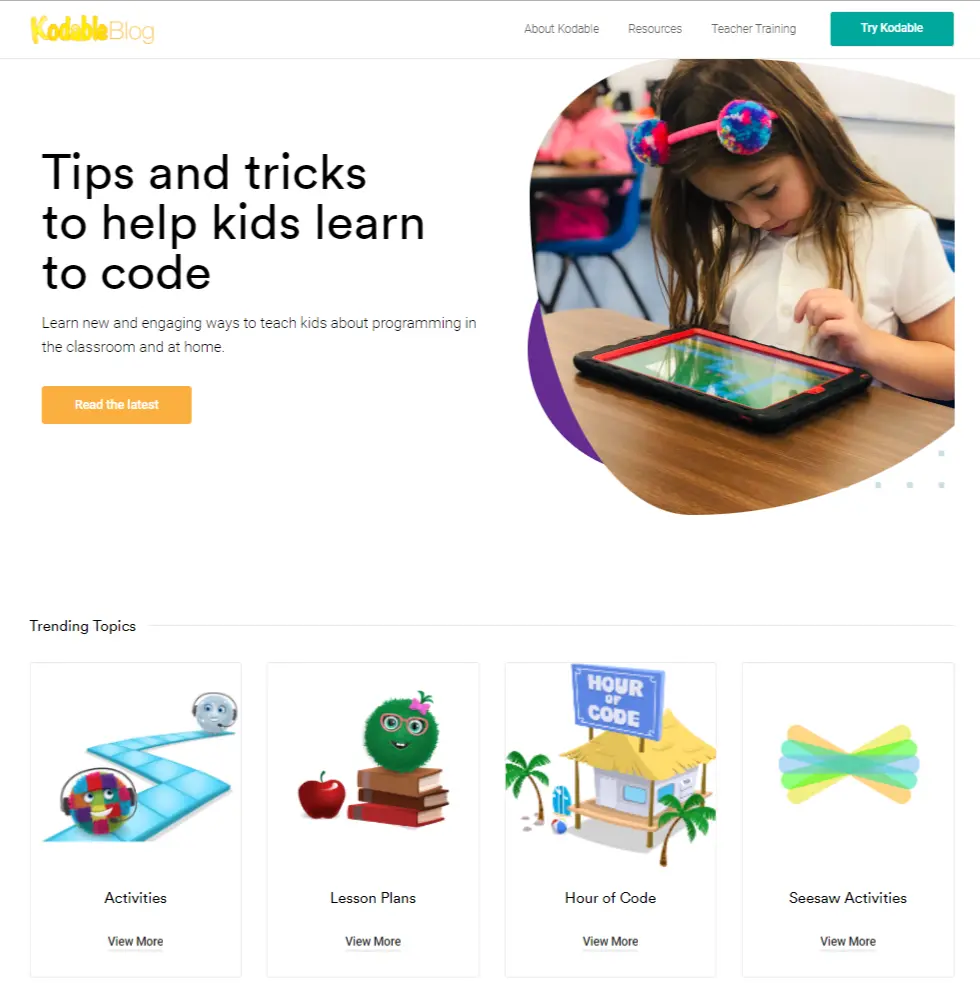 Kodable teaches coding from the ground up. Games and creative activities are designed to encourage problem-solving skills in children aged 5 and up.
The optimization feature allows you to tailor the system to your child's ability and interests.
It has a fantastic collection of resourceful articles on STEM-related topics that will help kids a lot when learning to code.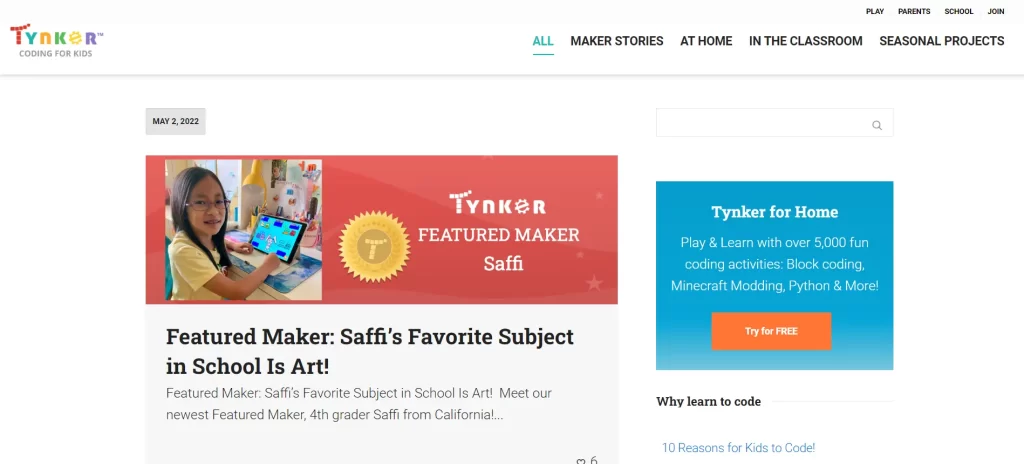 Tynker provides coding lessons to students in Kindergarten through Grade 12.
This platform not only teaches coding but also web design, game modding, animation, and robotics.
With write-ups on various STEAM topics, the Tynker blog page has a lot to offer.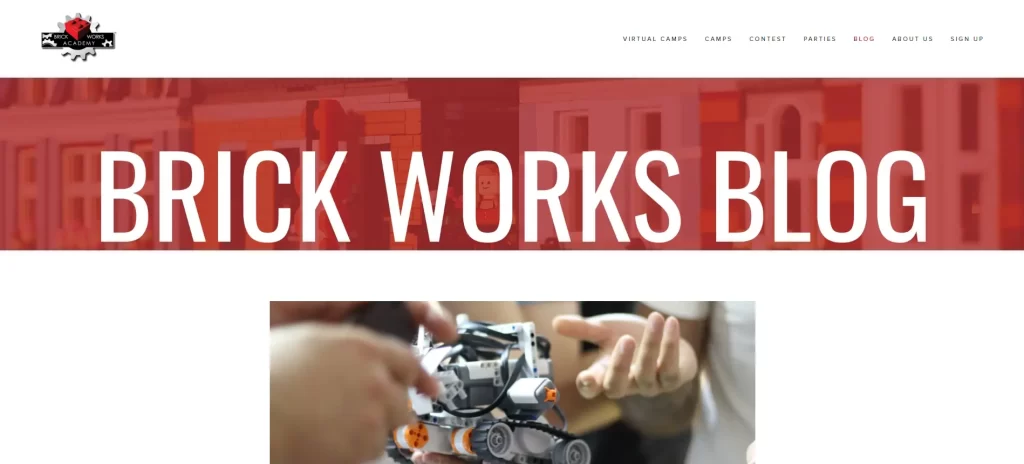 BrickWorksAcademy, based in Canada, provides STEAM camps with a strong emphasis on robotics.
They also have Minecraft gaming camps as well as other tech creator camps like 3D Design and printing, Fortnite Level Design, YouTube Videographer, Dungeons & Dragons, and Digital Music.
These camps are available in both virtual and in-person formats.
Their blog page features blogs on coding, robotics, Minecraft, and other STEAM-related topics.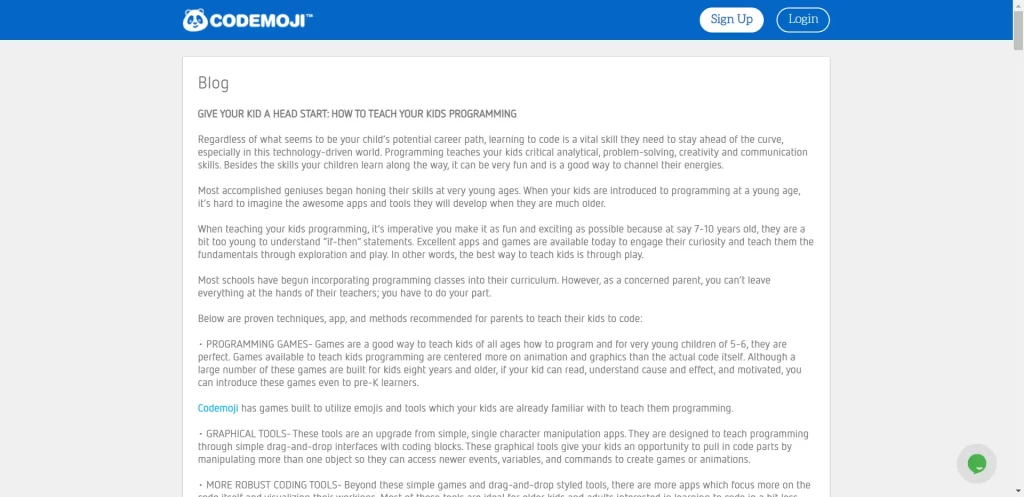 Codemoji is intended to teach children the fundamentals of web development.
The learning program is versatile and simple to use. It is best suited for students in the first through eighth grades.
The site creates a learning environment in which children are challenged and stimulated to learn.
Codemoji has a blog page that covers almost all STEM-related topics.
FunTech is a UK-based EdTech that teaches coding to children aged 7 to 18.
They also provide Tech courses, computer science certifications, some fastrack courses, and private tuition.
Their blog section includes blogs on a variety of STEM topics, making it an excellent resource for anyone interested in coding and technology.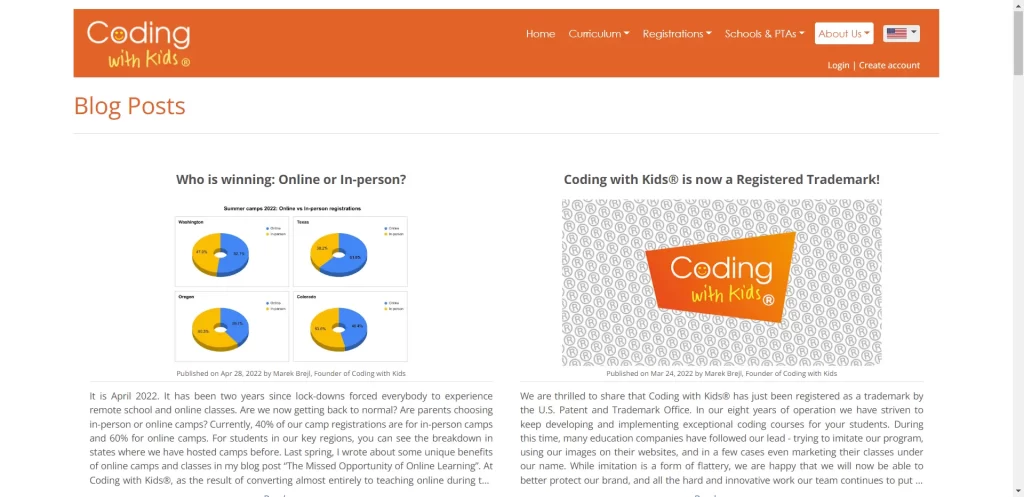 A US-based EdTech, Codingwithkids teaches coding to both kids and teens i.e ages 5-18 in various designed courses and groups.
They also offer various coding camps for the same age group but anyone interested in coding can also learn a lot from their blog section where they post a lot of articles on various STEAM-related topics.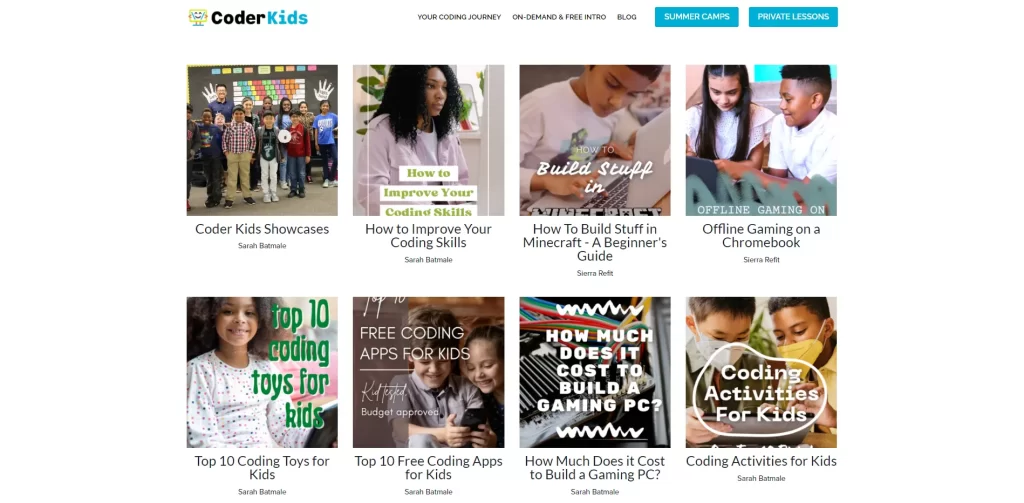 Coder Kids, based in the United States, teaches coding to children from kindergarten to grade eight.
Coder Kids provides both online and in-person lessons.
At Coder Kids, children begin with fundamental programming language concepts such as Minecraft modding with Java, Arduino boards, Python programming, and Game Maker Studio.
Again, Coder Kids' blog page is a goldmine of coding and STEM resources.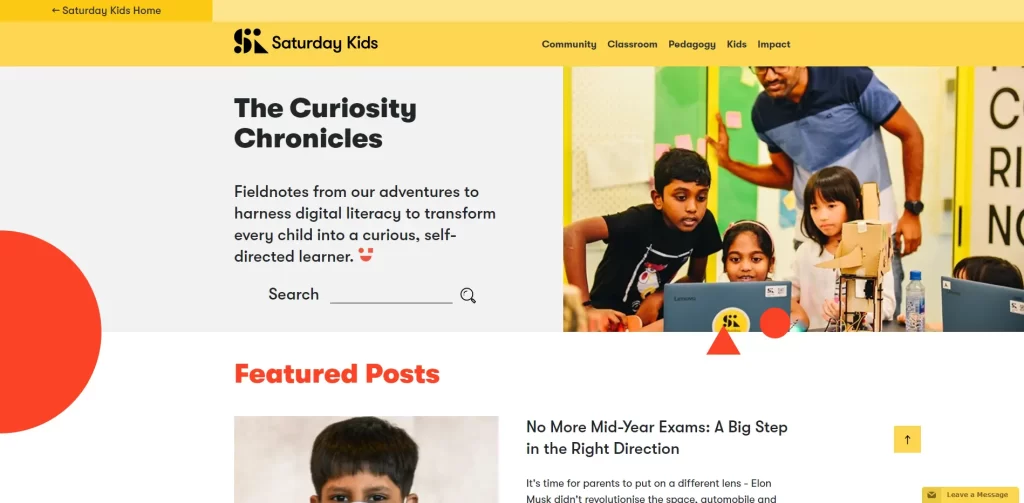 Saturday Kids provides Coding Workshops, camps, and other activities for children ages 5 to 14.
Scratch, Minecraft, and Python Roblox are the primary programming languages used in these camps.
They have a wide range of content from which anyone can benefit.
Their blog contains articles on coding, digital learning, and a variety of other topics that encourage and empower children to learn STEM subjects.
Bitsbox is a platform where kids can learn to code in a fun way, with each box containing a variety of coding projects ranging from simple to advanced.
It is intended for children aged 6 to 12, with the goal of teaching children to code while they create an app.
Bitsbox contains hundreds of applications that children can create and share with their friends and family.
Similarly, their blog section is a resource for anyone interested in learning more about coding and STEM.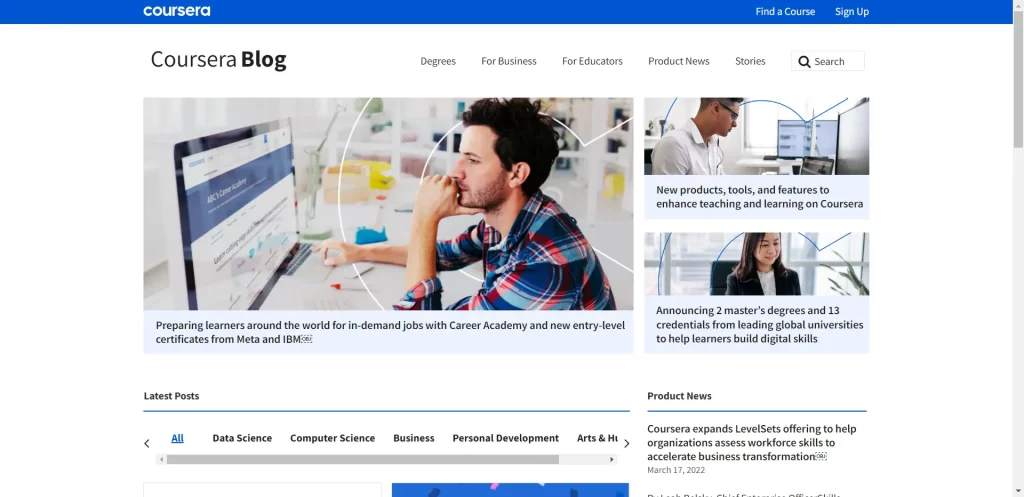 Coursera is an open online course provider that collaborates with universities and other organizations to provide online courses, certifications, and degrees in a wide range of subjects.
Coursera has an awesome collection of well-researched blogs and articles on coding, STEM-related topics, Robotics, and other technology-related topics that can be ideal for kids who want to learn to code.
Conclusion
Coding for kids is one of the most in-demand skills right now.
Not only that but STEAM (Science, Technology, Engineering, Arts, Mathematics) as a whole is currently in demand as a present skill and skill for the future.
But learning to code online isn't always free which is why we have compiled a list of top 20 blogs for kids to learn coding online.
With the world moving at such a breakneck pace, BrightChamps recognized the need to introduce key life/future skills to children to keep them ahead of the game.
With a mission to bridge the gap left by traditional education, we are bringing key future skills through specially designed courses on coding and financial literacy taught by some of the world's best minds from top-tier institutes such as IITs and IIMs.