In a world where new technology is being introduced on a daily basis, it is critical that children become a part of it.
Because they are the next generation, it is critical that they understand the fundamentals of current technology and its importance.
This is where programming comes into play.
One of the most exciting modern-day ideas for preparing children for the future is by teaching them key computer science concepts and skills or simply put, coding.
But don't misinterpret it as an academic lesson, because it isn't. Coding, in fact, influences a child's overall personality.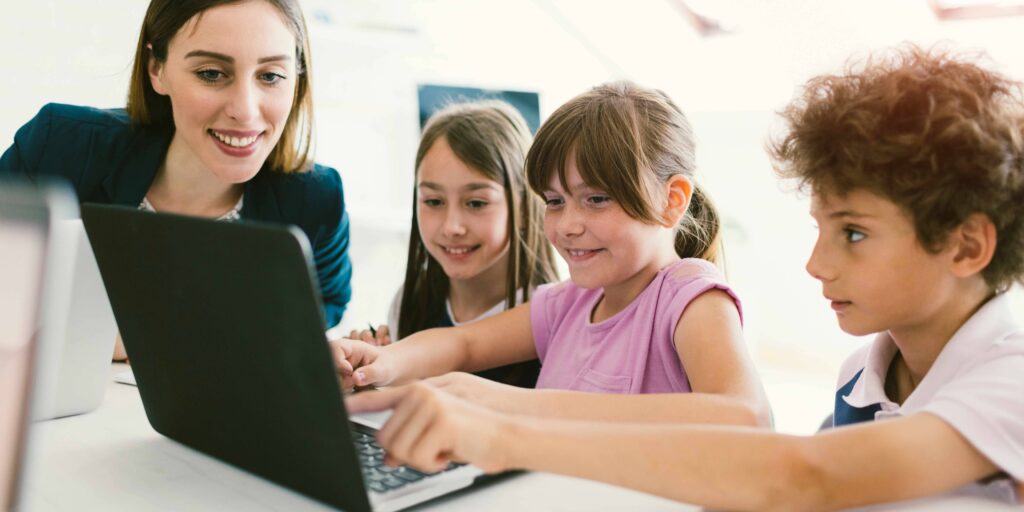 Coding encourages experimentation, problem-solving through analyzing and visualizing, making mistakes, and learning from them, as well as organizing and managing your codes and tasks, which helps a child develop a variety of important life skills.
You've come to the right place if you're a parent who hasn't yet enrolled your child in a coding class because you're not sure where they should learn to code.
In this blog, we've compiled a list of 10 free resources through which you can introduce your children to code.
Top 10 FREE Resources to introduce your kids to coding
1. ScratchJr.
ScratchJr is an excellent resource for teaching coding to children as young as four years old.
It is a visual block-based programming language created by students at the Massachusetts Institute of Technology with the goal of introducing coding to children aged 5-7.
ScratchJr is geared toward children who are just beginning to read, but their use of visuals encourages children to think more creatively as well as logically.
ScratchJr is a free app available for iOS, Android, and Chromebook.
2. Scratch
Scratch, which was also developed at MIT, is more advanced than ScratchJr and is aimed at children aged 6 to 16.
This is also a visual block-based programming language, but it is more advanced and includes a variety of elements and tools for children to express their creativity.
Scratch allows kids to make a variety of games, animations, and even apps.
3. Code.org
Code.org is a popular coding platform that provides free coding classes to children aged 4 and up.
This platform includes a search engine that allows you to find free coding courses from around the world.
It also offers extensive online tutorials ranging in length from 15 to 20 hours, all of which are delivered through interactive teaching methods.
They can also provide quick lessons in which children can learn to program characters for various games and their favorite animations.
4. Codemonkey
Codemonkey is another extremely fun and interactive platform that is ideal for introducing children to coding.
The platform teaches coding to children through a game in which the children must assist a monkey in obtaining bananas.
Kids are compelled to do this by completing a series of tasks in which they code to guide the monkey to the bananas.
Code Monkey employs a text-based editor that allows players to use a scripting language to code and build games.
The platform provides 250 free challenges to cover just the basics.
5. Stencyl
For beginners who want to learn how to code for free, Stencyl is a great place to start. It, too, is block-based, like Scratch. It does, however, allow your children to practice their coding skills by allowing them to type code.
Stencyl enables children to create a wide range of games that can be easily published on platforms such as the iPhone, iPad, Android, Mac, Windows, HTML5, Linux, and Flash.
6. LightBot
LightBot has a very interactive and fun concept, as well as a relatively simple approach, making it one of the best introductory resources to coding for kids. It is an app-based experience, i.e. a puzzle game in which you can only advance if you have some coding knowledge.
This not only entertains children but also helps them improve their problem-solving abilities. LightBot teaches a variety of concepts such as sequencing, procedures, overloading, conditionals, and recursive loops. It can be downloaded from the Google Play Store, the App Store, and Amazon Apps.
7. Crunchzilla
Crunchzilla is another fantastic platform that teaches coding to children as young as pre-teens and as old as 16-year-old teenagers.
The platform divides lesson levels according to age ranges, allowing for a greater emphasis on fundamentals where necessary.
It teaches text-based programming languages such as Javascript.
Crunchzilla is one of the most basic teaching platforms for improving your children's coding skills. It is ideal for kids because it conveys information in an engaging manner.
8. Codeable Crafts
Codeable Crafts is one of the most basic platforms for teaching children about coding.
It is a program that allows children to use drawing and coding to bring their imaginations to life.
Children can become the heroes of their own stories and animate them using coding blocks.
This app allows children of all ages to experiment with programming through storytelling. They also have a number of templates to choose from.
9. Blockly Games
Blockly Games is a fun and intriguing platform that combines coding and gaming to create an engaging and beneficial programming experience. The platform includes a plethora of games that teach children coding through interactive games and challenges such as puzzles, mazes, birds, music, movies, and more.
10. BrightChamps
BrightChamps is an excellent platform for introducing your child to coding.
It was implemented in 2020 when children were forced to adapt to online learning due to a global pandemic.
BrightChamps provides a wide range of programming language courses, both block-based and text-based, designed by top STEM professionals.
Their curriculum includes a fun and interactive method of learning in which a child is free to express their creativity and learn from their mistakes.
If you're interested in learning further information about coding classes for kids. Click here!
Conclusion
It is more important than ever to introduce children to new skills, particularly those that have a larger impact.

One such skill is coding. The internet is a sea of resources for kids coding, but it is critical to identify the ones that are ideal and best for your children.
It is best to test the waters with some free courses available on the internet, especially if you and your child are just getting started with coding.
With the world moving at such a breakneck pace, BrightChamps recognized the need to introduce key life/future skills to children in order to keep them ahead of the game.
With a mission to bridge the gap left by traditional education, we are bringing key future skills through specially designed courses on coding and financial literacy taught by some of the world's best minds from top-tier institutes such as IITs and IIMs.