Minecraft Education Edition: Minecraft Coding for Kids
A-Z Guide to Minecraft for kids teaching them to get started with Minecraft Education Edition
Welcome to the ultimate guide to Minecraft coding for kids! Are you excited? Well, I am. I can't wait to embark on this journey to discover the mysteries of Minecraft Universe and introduce you to one of the most amazing tool to get started with coding for kids –  Minecraft Education Edition. 
When we think about Minecraft and its enormous popularity, all kinds of questions arise, such as how it came to be, who created it, what its history is, how it became so successful, and so on. 
Let's take these questions one at a time!
Markus Alexej Persson built Minecraft in the Java programming language. Following numerous early private testing versions, it was made public for the first time in May 2009, before being completely released in November 2011.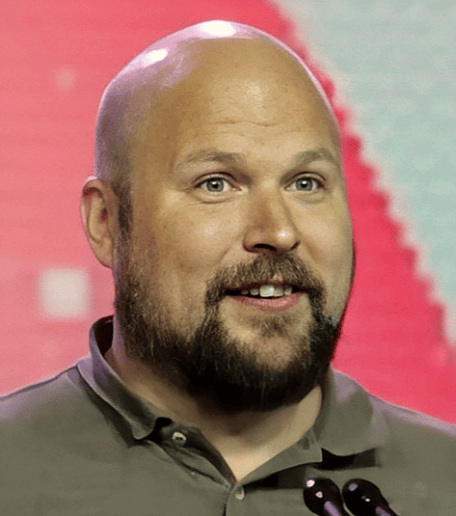 Early versions of the game earned critical praise, earning multiple accolades and being named one of the best video games of all time.
Why is Minecraft so popular
Its unparalleled success originates from the fact that, unlike other games, users may create their own 3D castle in Minecraft from the ground up. 
You must find and acquire raw materials, as well as build and craft various items/structures and assets utilizing unique crafting recipes. 
In Minecraft, the possibilities for exploration and building are limitless.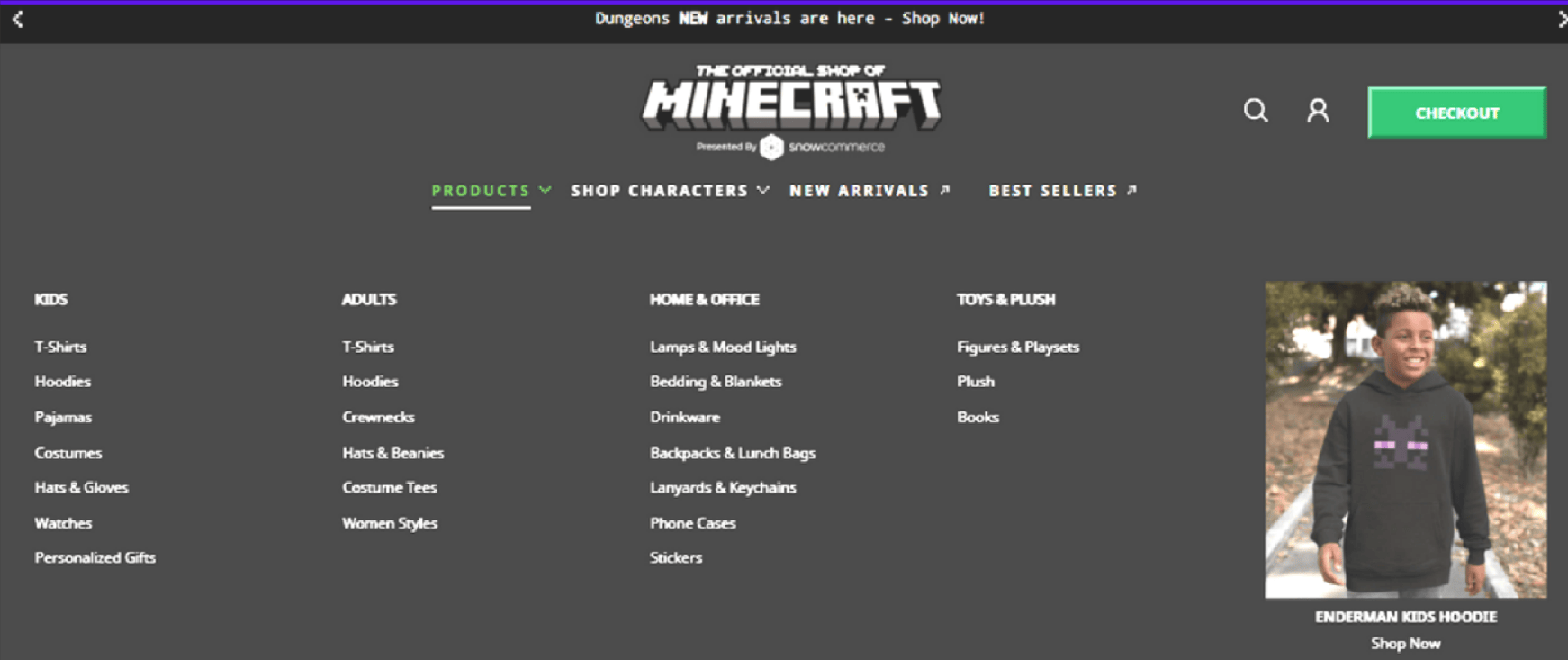 Other factors that contributed to its success include social media, parodies, adaptations, merchandise, and the annual Minecon conventions.

This game is enjoyed by everyone, from kids to adults. As a result, as of 2021, over 238 million copies had been sold, with nearly 140 million monthly active users. 
In addition, the game has been used in educational settings to teach chemistry, computer-aided design, and computer science. 
Minecraft offers cross-platform gameplay in different ways for both editions of the game. "Minecraft: Bedrock Edition" is playable on Windows, PlayStation, Xbox, Switch, and smartphones, whereas "Minecraft: Java Edition" is playable on Windows, Mac, and Linux. 
This wide range of platforms on which players can play Minecraft also contributes significantly to its fame.
Getting Minecraft: How to Download
It is very simple to download Minecraft; simply follow the steps below: 
Step

1:

Navigate to their official website and select "Get Minecraft."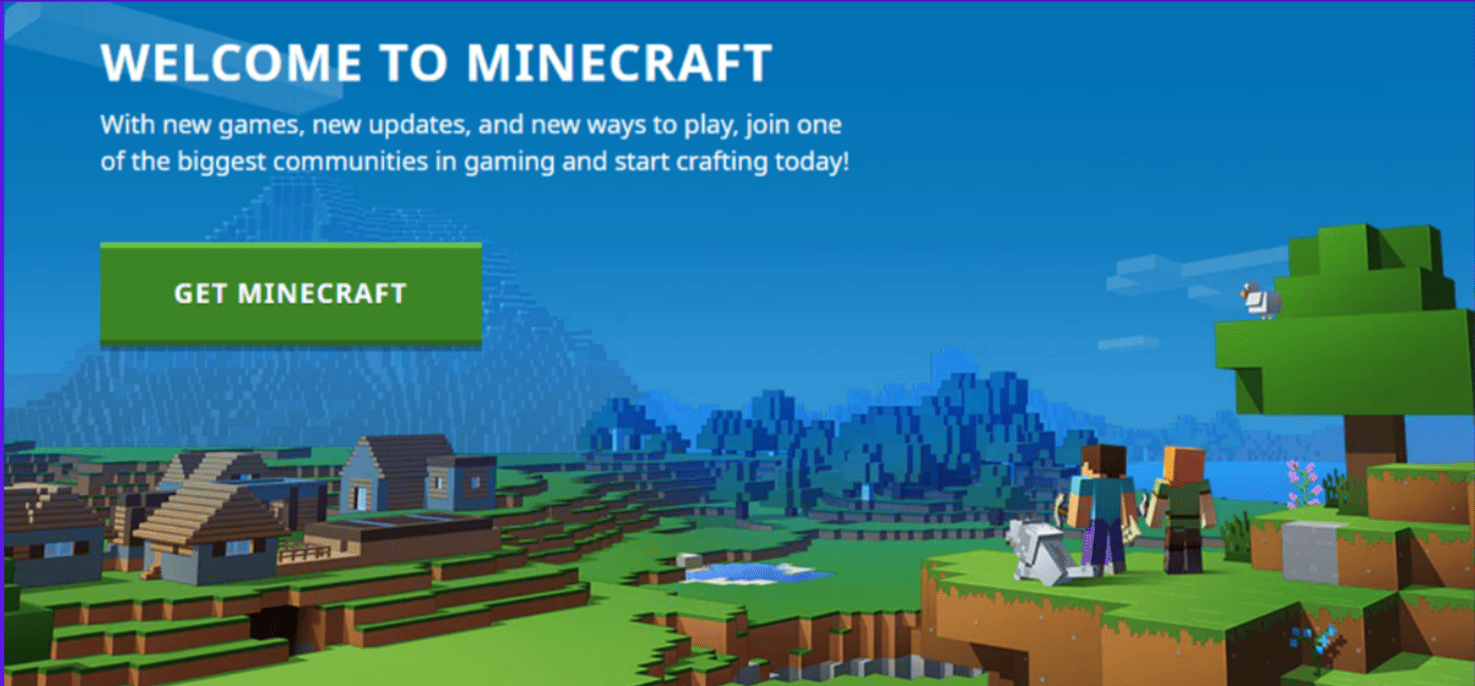 Step 2: A dialogue box will appear, prompting you to select the device on which you want

to

play Minecraft.

Step 3:

After you've chosen a device, you'll be asked to choose a platform. Choose the one that best fits your needs.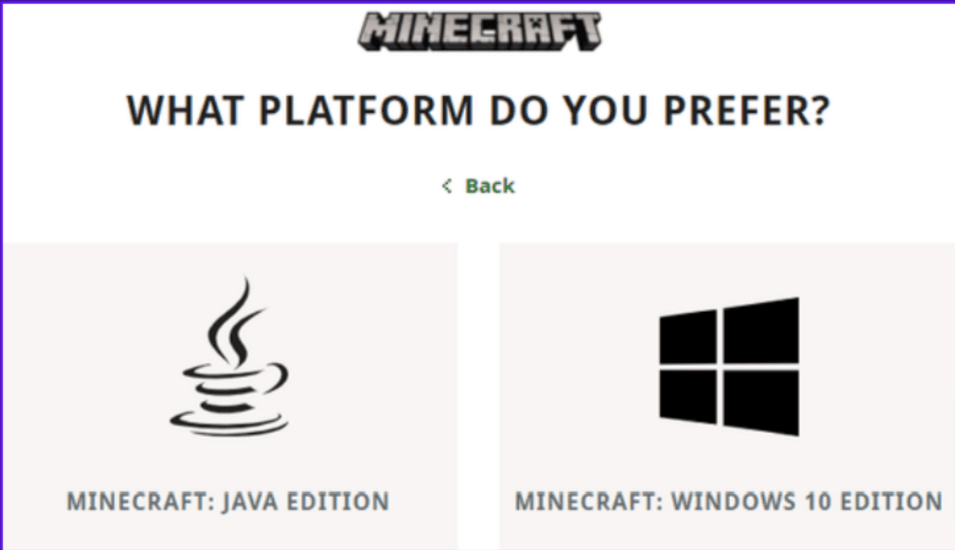 That's all there is to it; you're ready to go. You will be directed to the platform's download page, where you can choose your collection. 
However, if you want to try Minecraft for free, there is a Minecraft free trial option. It's available for Windows, Android, the PlayStation 4, the PlayStation 3, and the Vita. The length of the trial varies depending on the device used.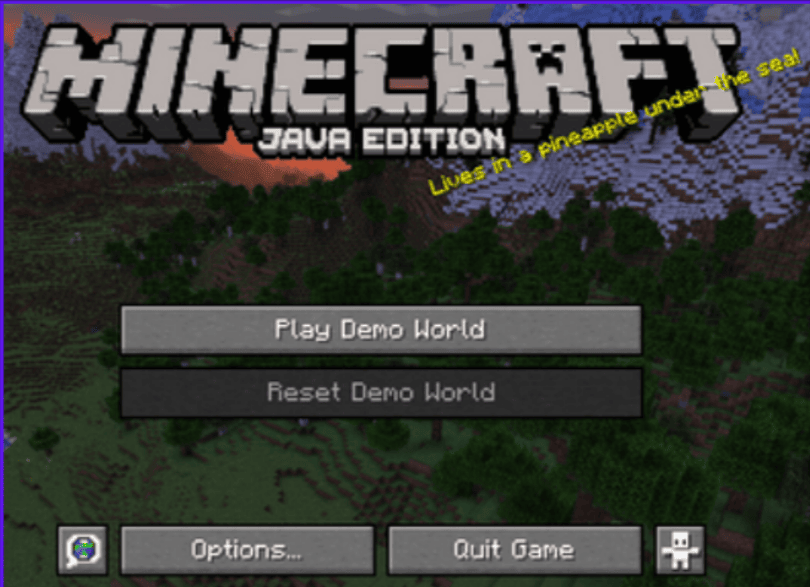 The Minecraft Launcher is a magical portal into the Minecraft world. It not only assists you in installing and playing Minecraft games, but it also informs you of Minecraft news and events. 
Minecraft launcher is now available in the Microsoft Store, allowing you to launch Minecraft, Minecraft: Java Edition, and Minecraft Dungeons all from the same place. 
The launcher is free, but the games must be purchased separately in order to be played.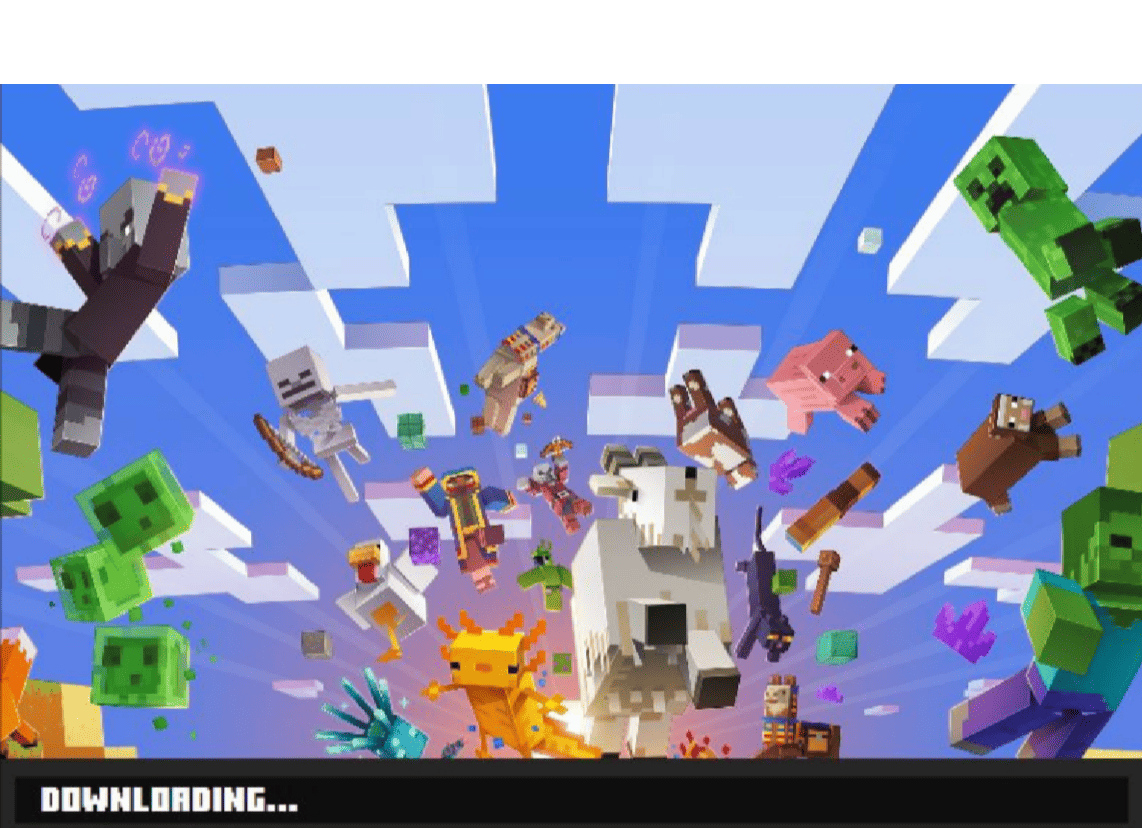 After you've downloaded the launcher, you can sign in with your Mojang or Microsoft account.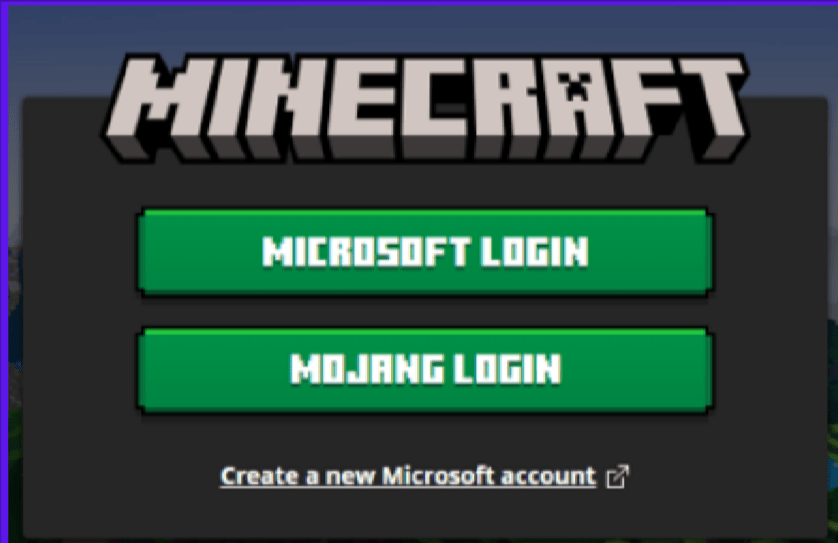 Choose any of the available names for your account, as well as your character, and then click Create Account.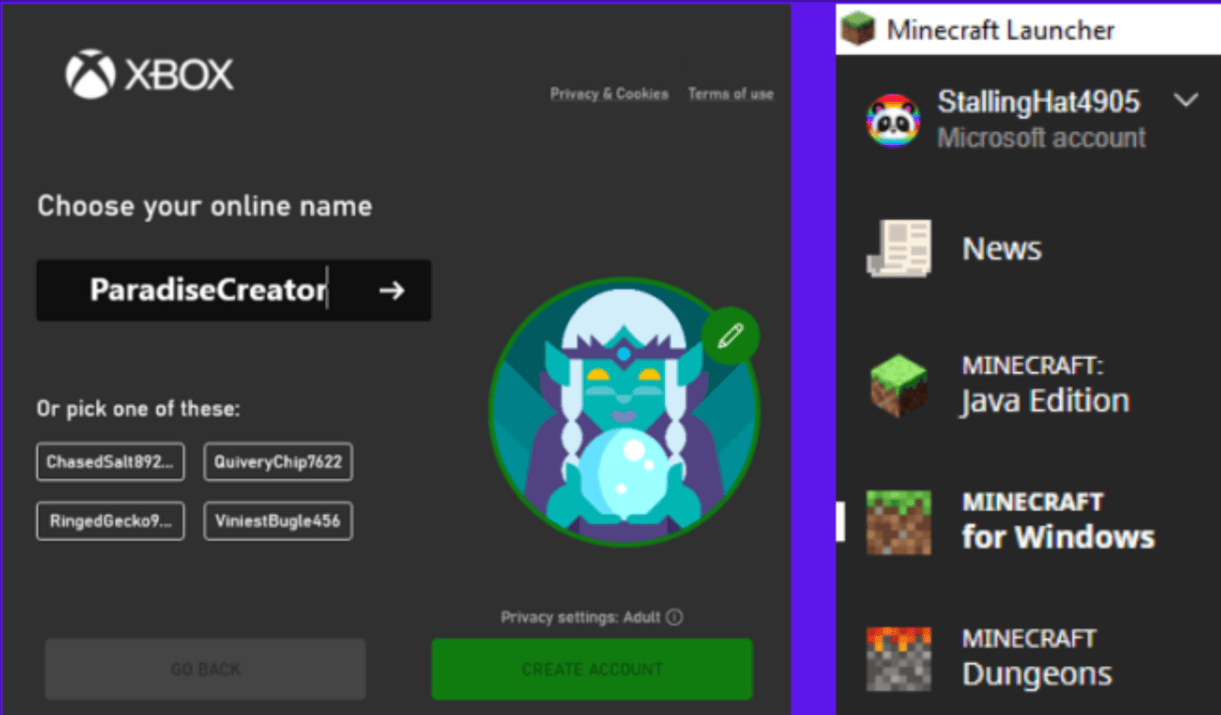 You are now ready to be launched in Minecraft Launcher.
Minecraft Coding for Kids
After you sign in or enter a demo lesson, you will be able to explore various lessons aimed at sparking your creativity and problem-solving abilities.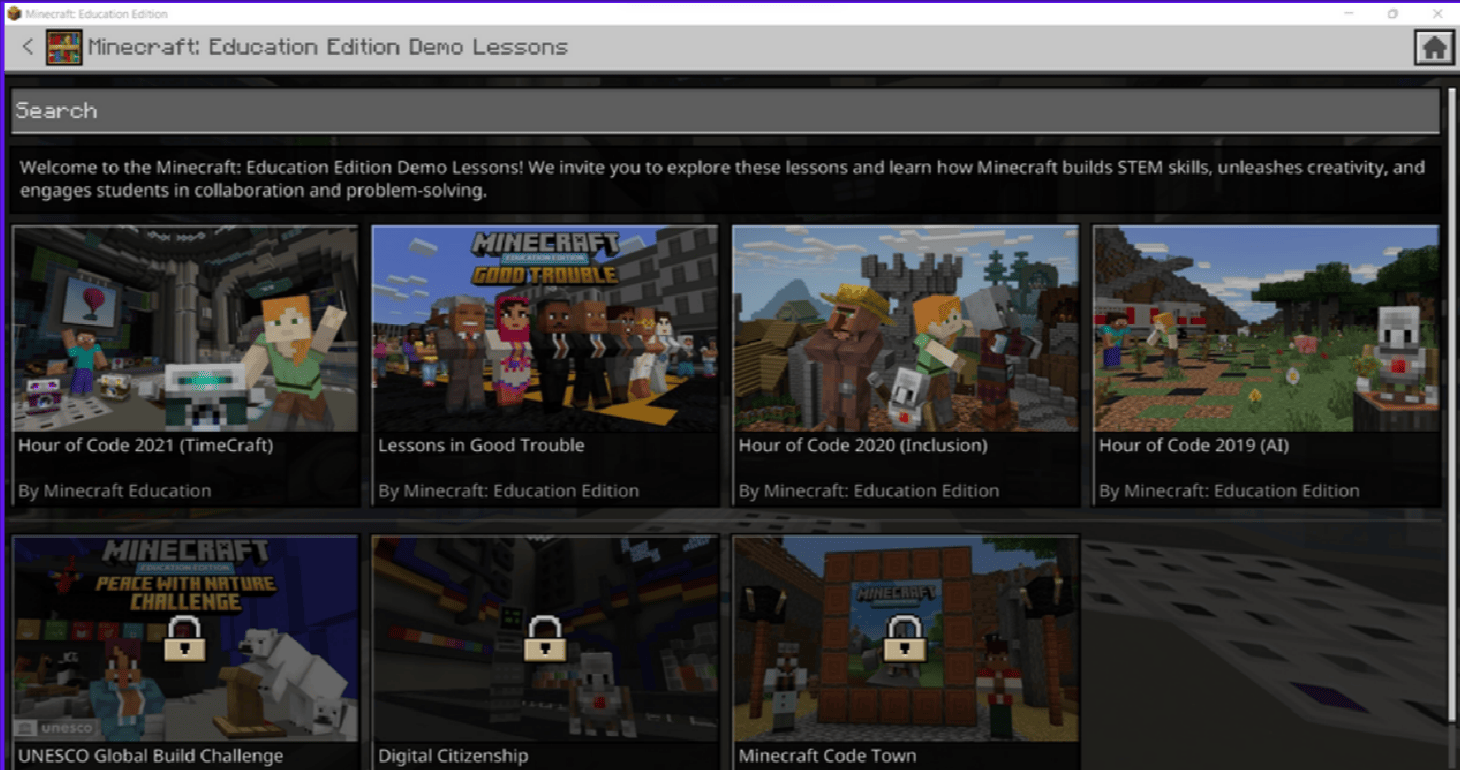 You can learn basic coding concepts in a story-telling format by using Minecraft's Hour of Code in Education Edition. Let's look at an example from one of the "hour of
the code" lessons to help you understand.
Hour of Code 2020 (Inclusion)
Tales of Two Villages
This is the story of the Villagers and Illagers. For centuries they shared the same land but did not interact with each other.
The villagers farm, while the illagers fish for a living. They both had plenty of resources, but now they need each other's help to survive.
With the power of code, you can bring them together. This lesson will teach you the value of empathy and compassion while also teaching you how to code using sequences, events, and loops.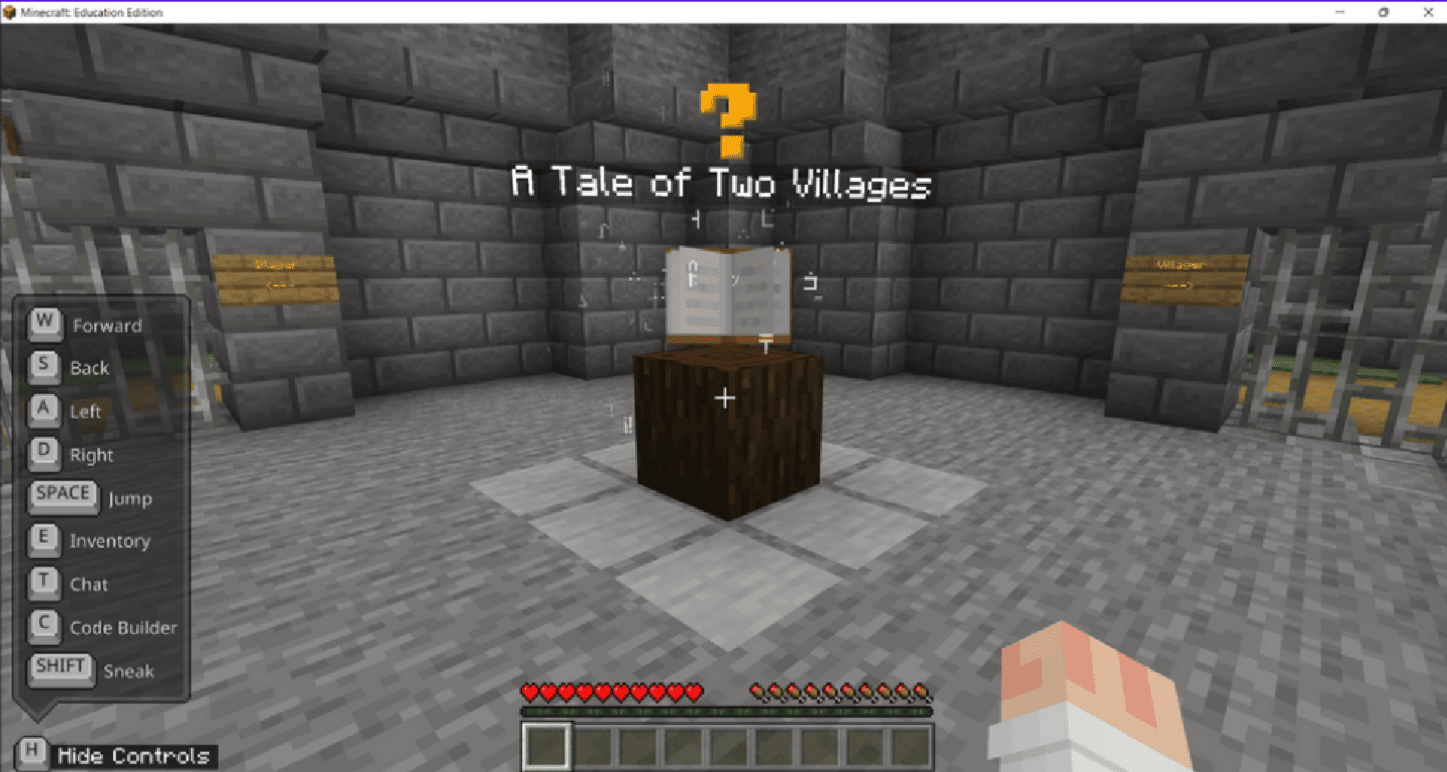 When you enter the lesson, you will see a book that will guide you through the next steps. Go to the book and right-click to read its contents.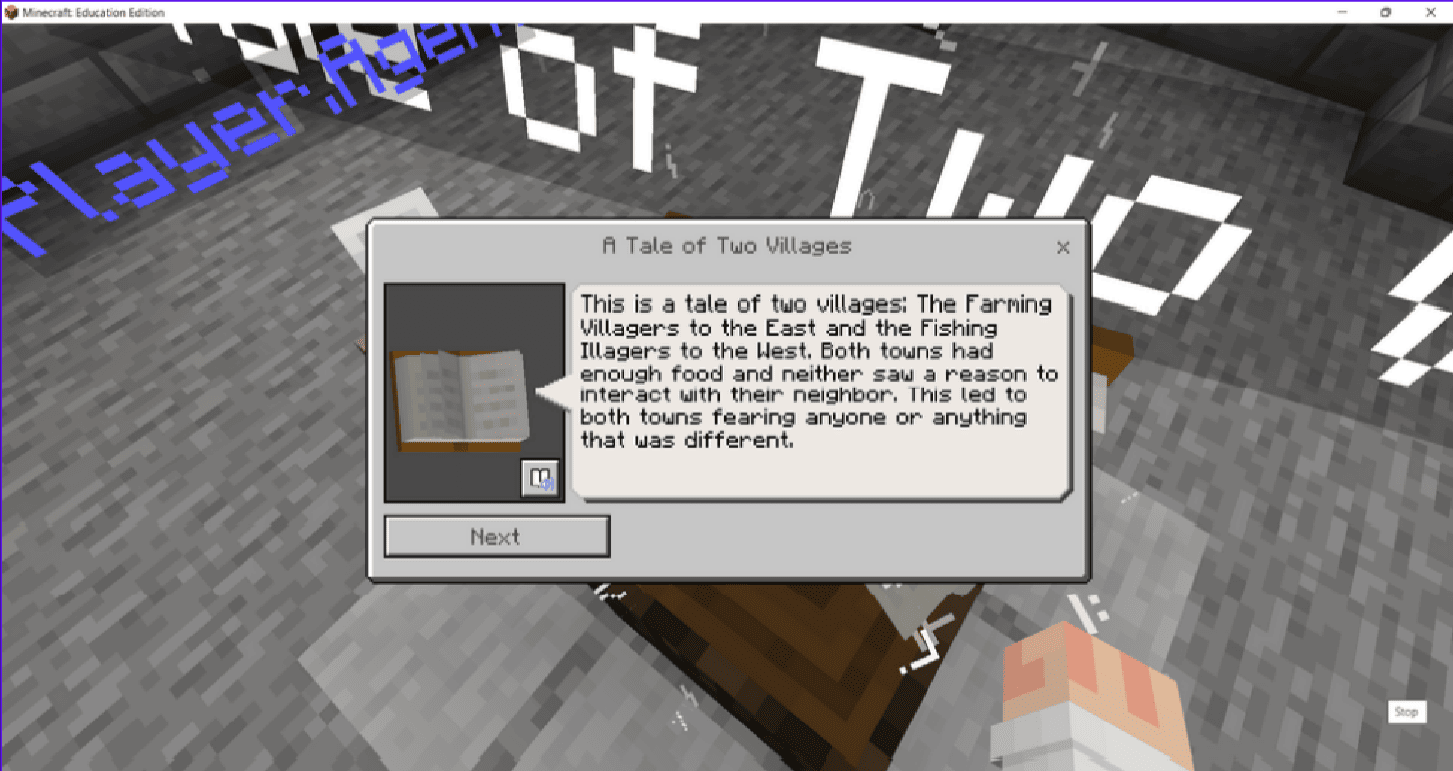 Click Next until you reach the end of the book, then click Finish. After reading, go to Caretaker for further instructions.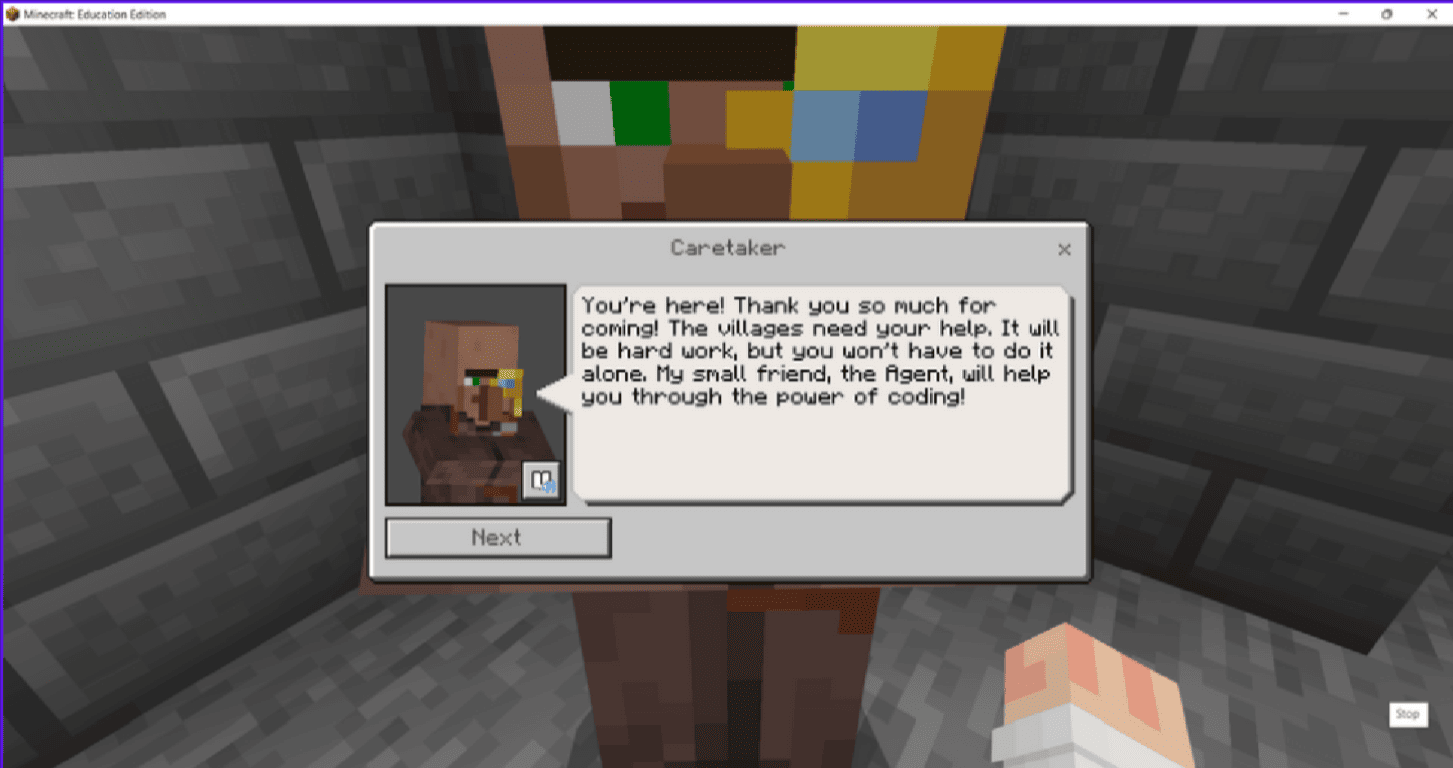 After reading the text, click the Next button. The Caretaker will ask you which coding language you prefer in the next dialog box: Blocks or Python. Select the language of your choice.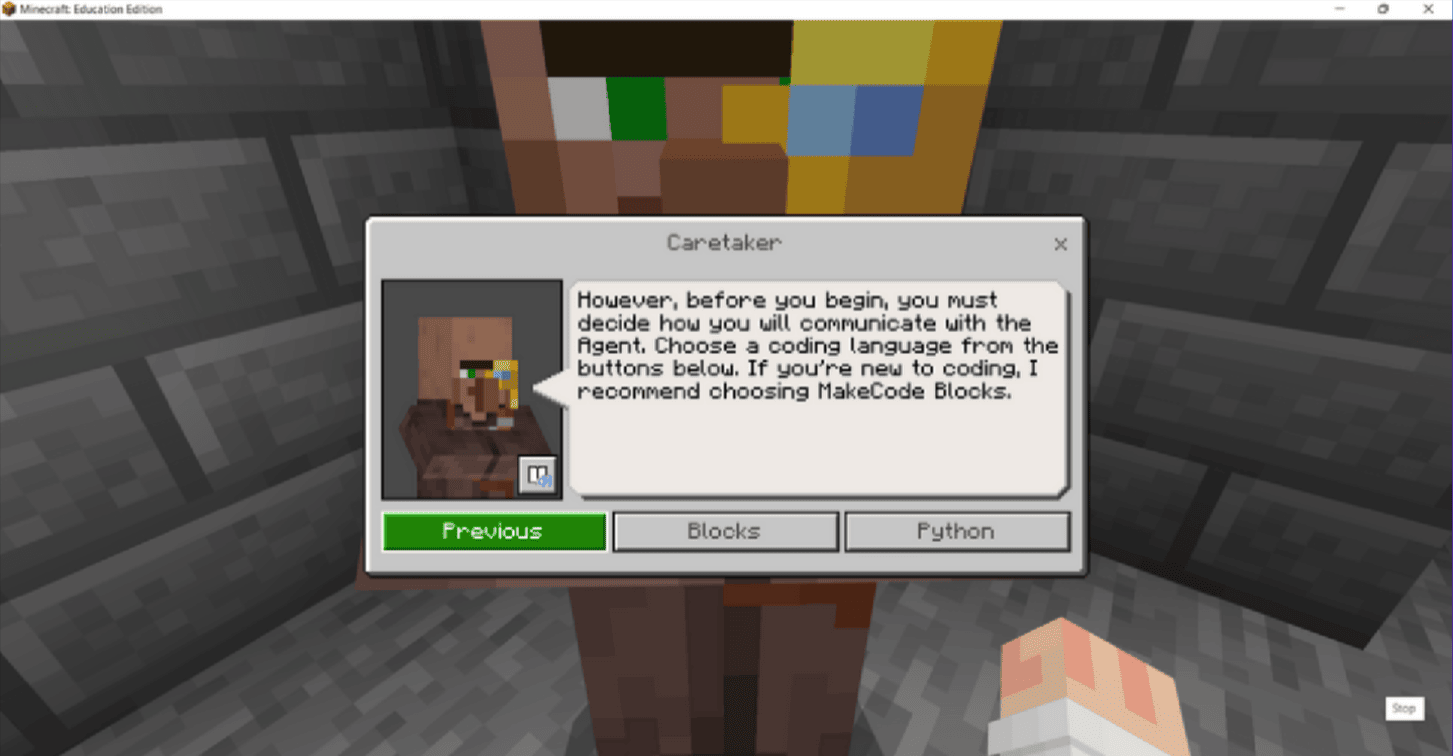 After selecting a language (in this case, Blocks), the Caretaker will assign you your first task.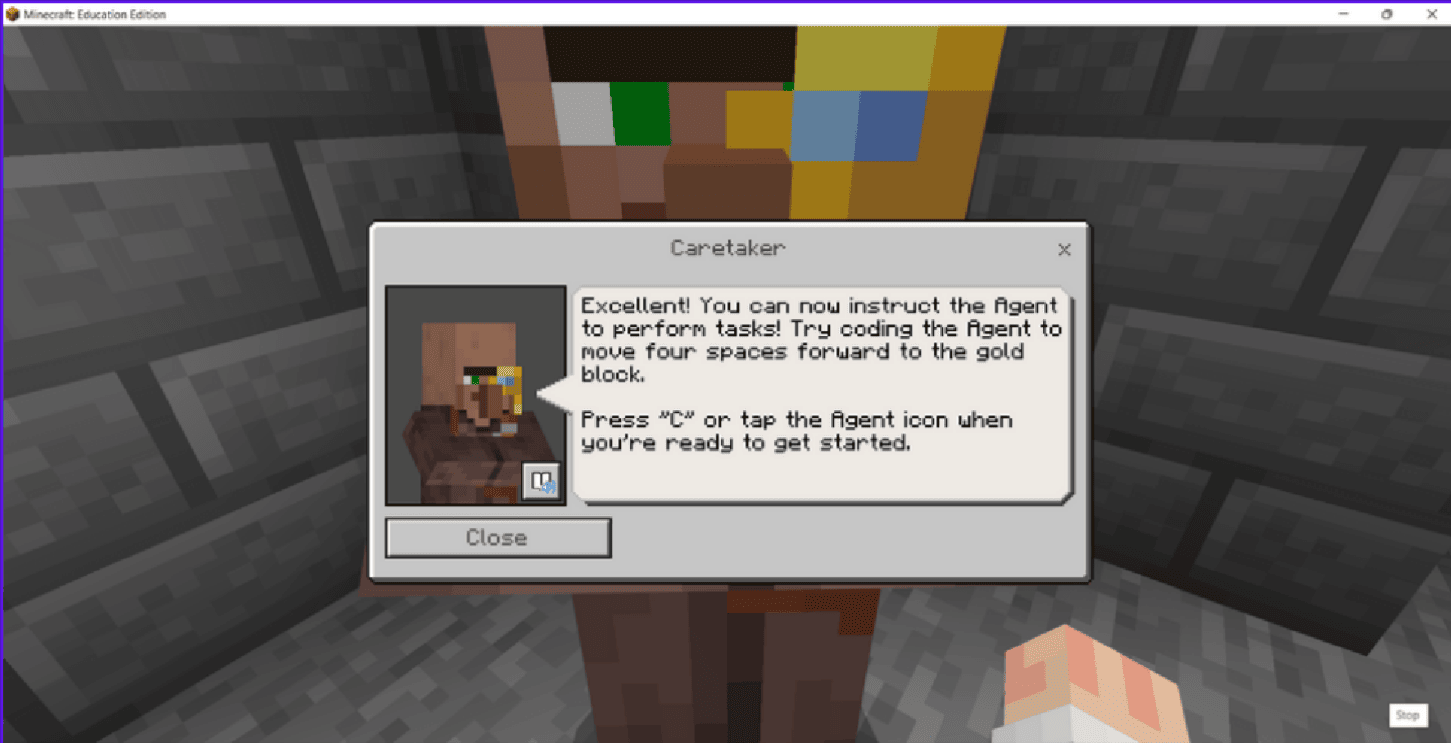 Task 1: Move the Agent four blocks ahead.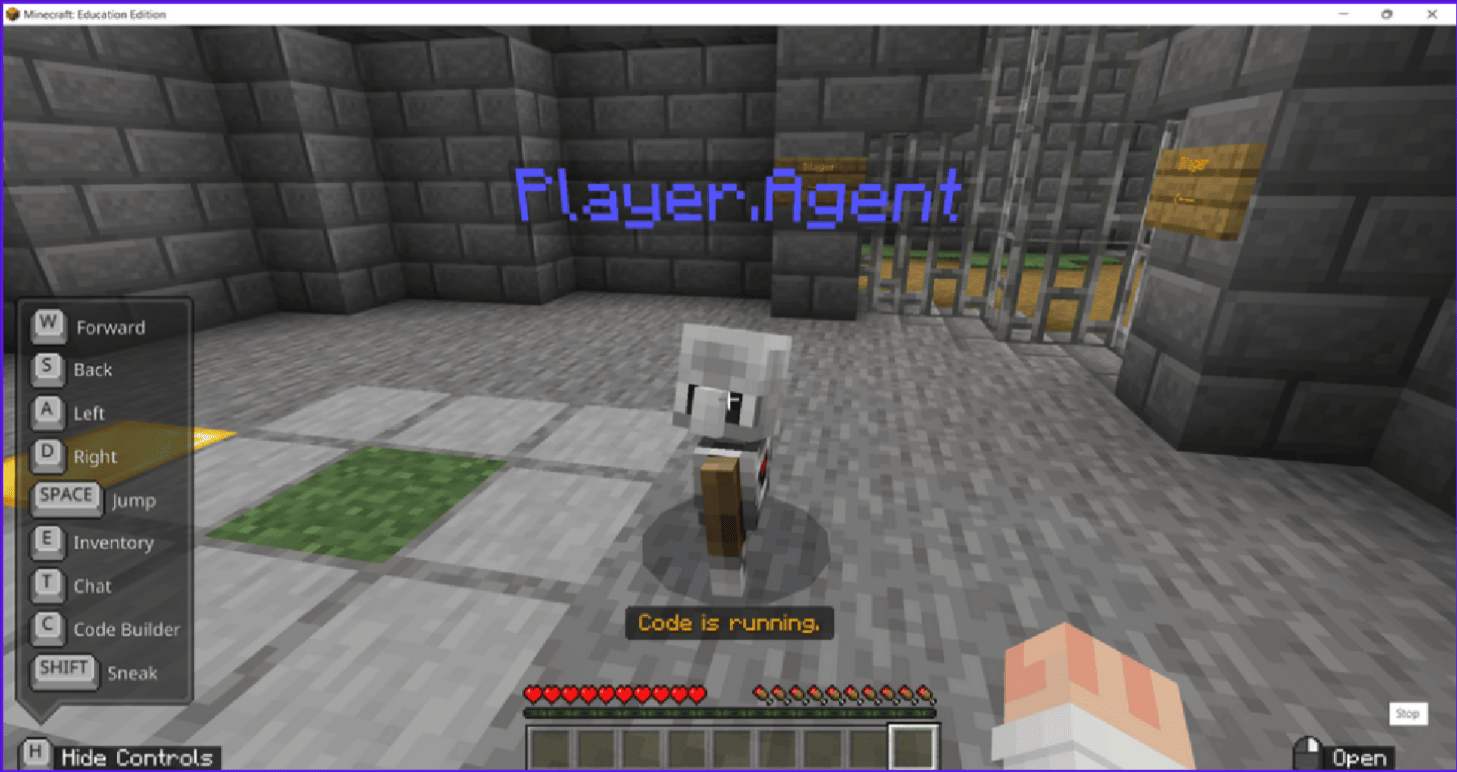 To access Code Builder, press the 'C' key on the keyboard and complete your first coding task.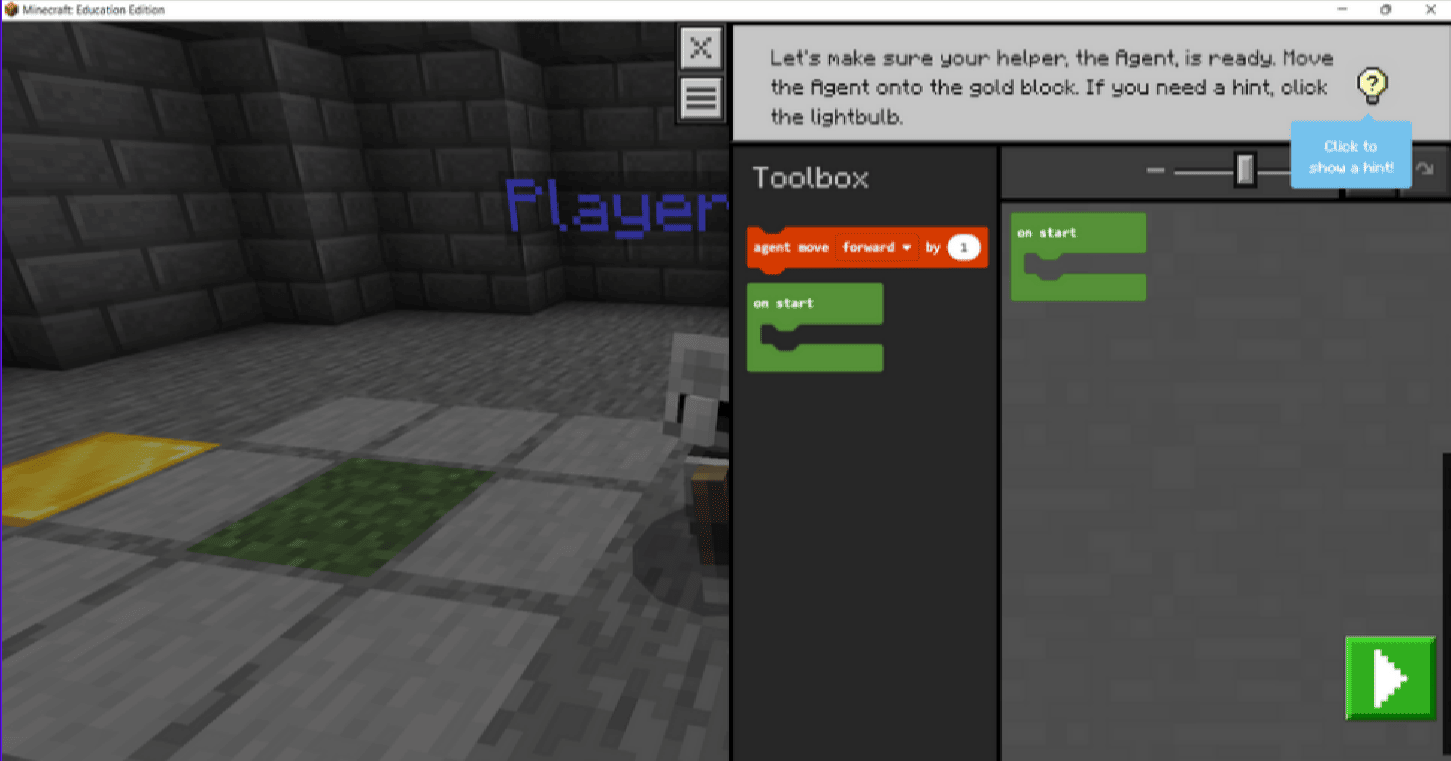 On the right, you can see the blocks in the Toolbox that will be used to move the agent. You can get a hint by pressing the lightbulb icon.
Once you are satisfied with your code solution, click on the green (RUN) button.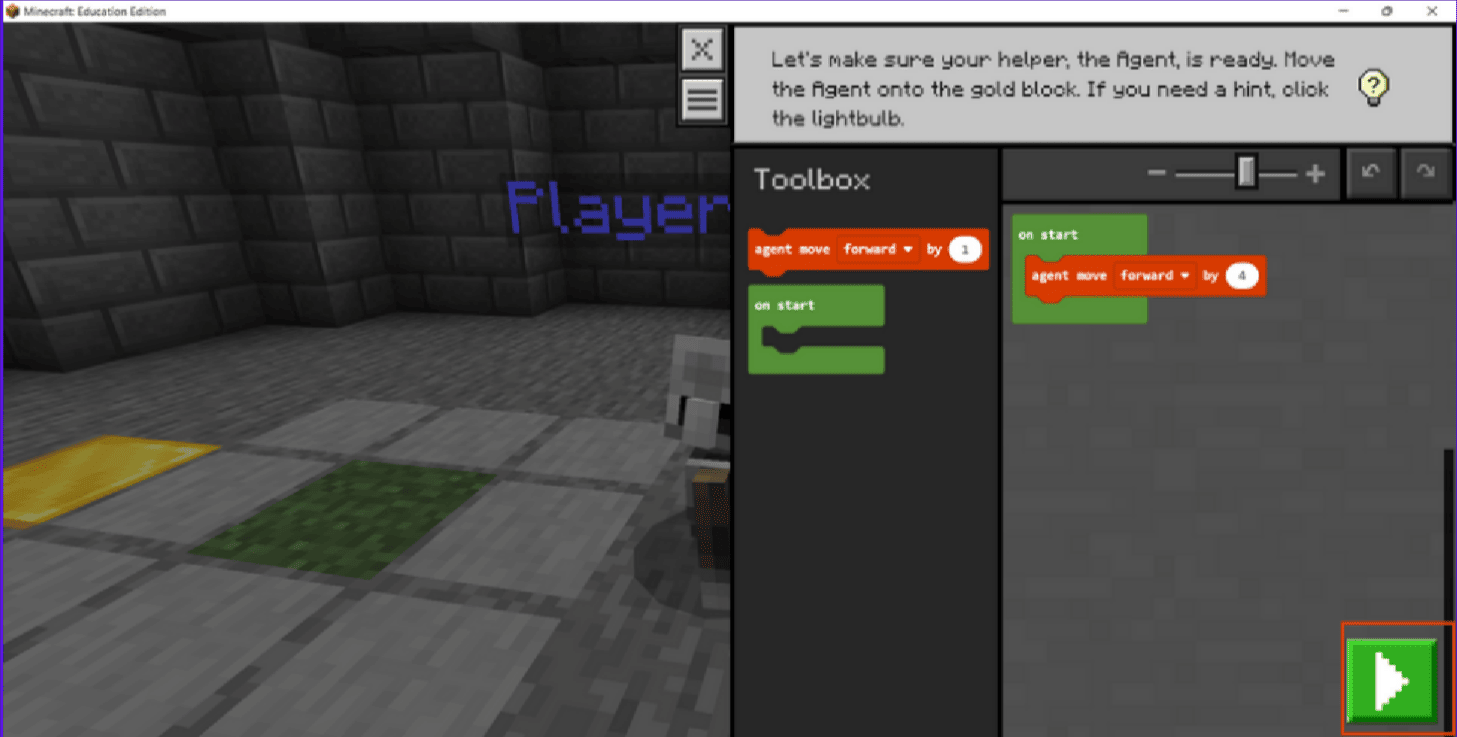 The agent will move four blocks towards the gold block.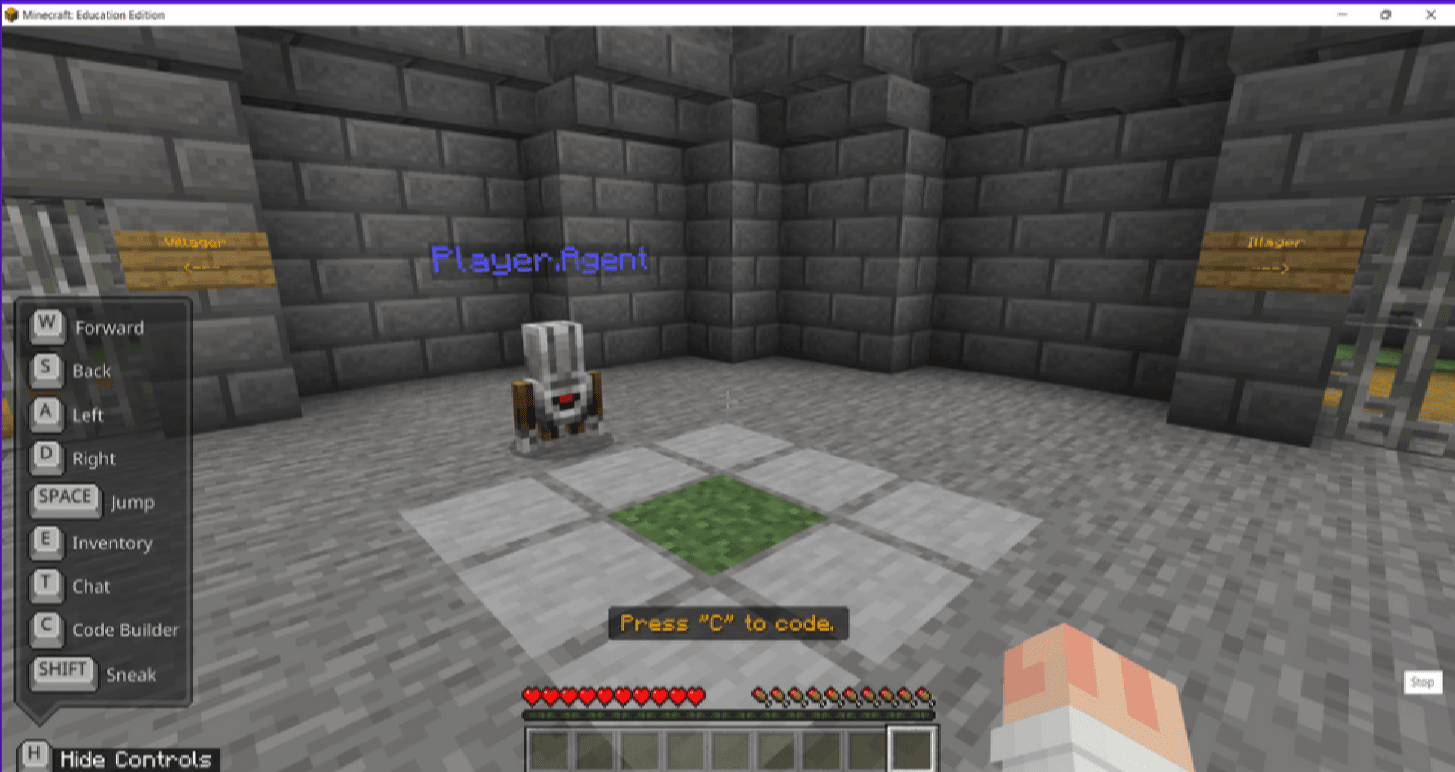 You will receive a gift after you complete the first task.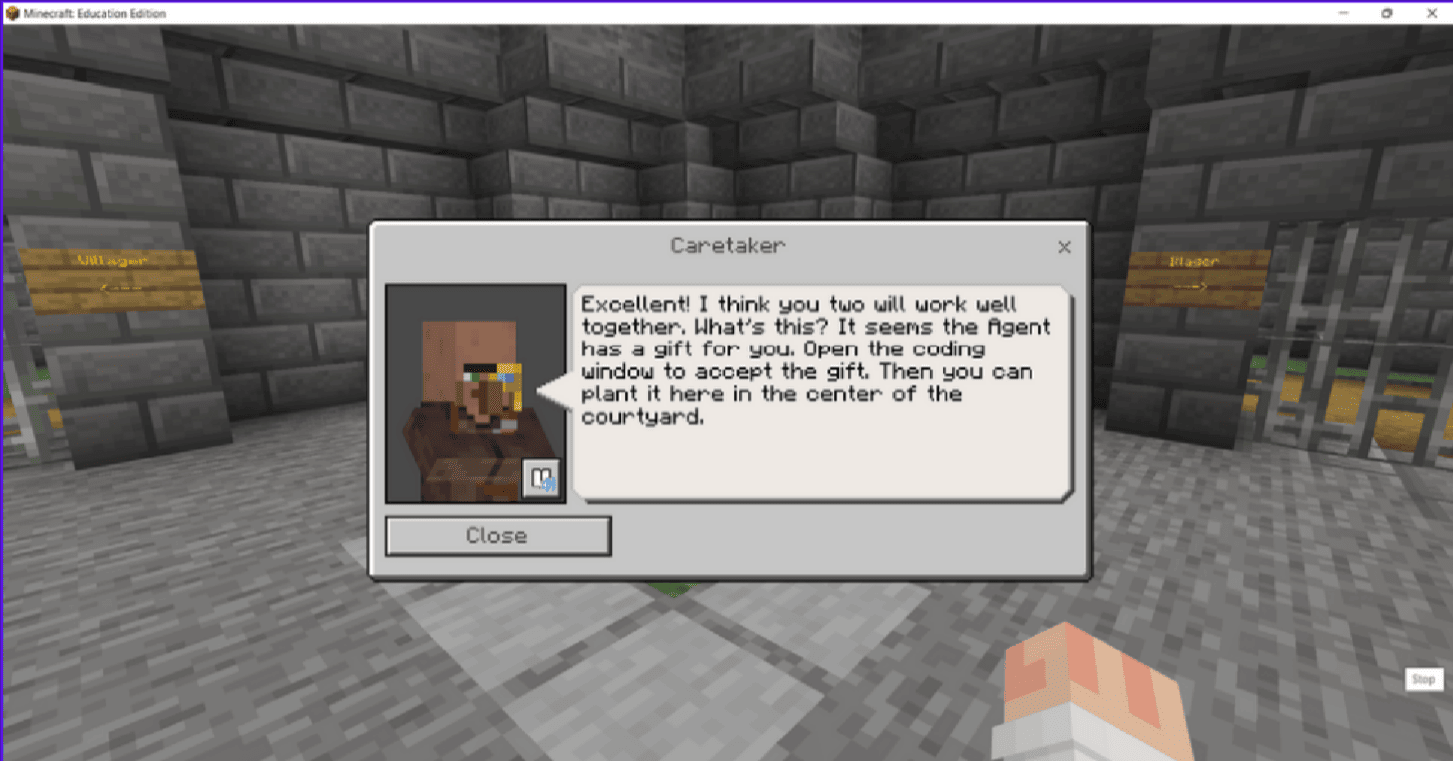 Accept the gift by going to Code Builder and clicking on the Run button.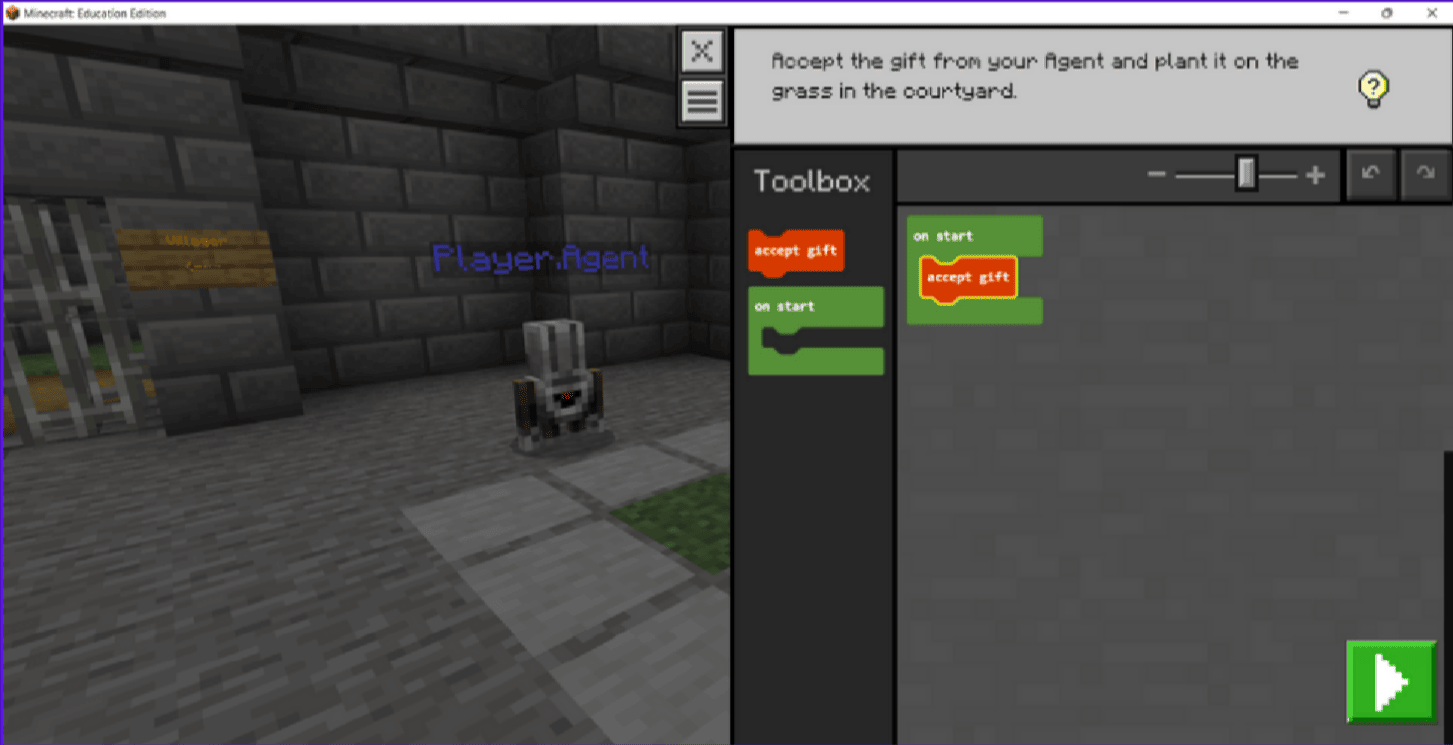 Here you received Oak Sapling as a gift that you have to plant on the grass block. After you plant the sapling, you will be able to see the tree grow throughout the "Hour of Code" lesson. You can check your tree from time to time.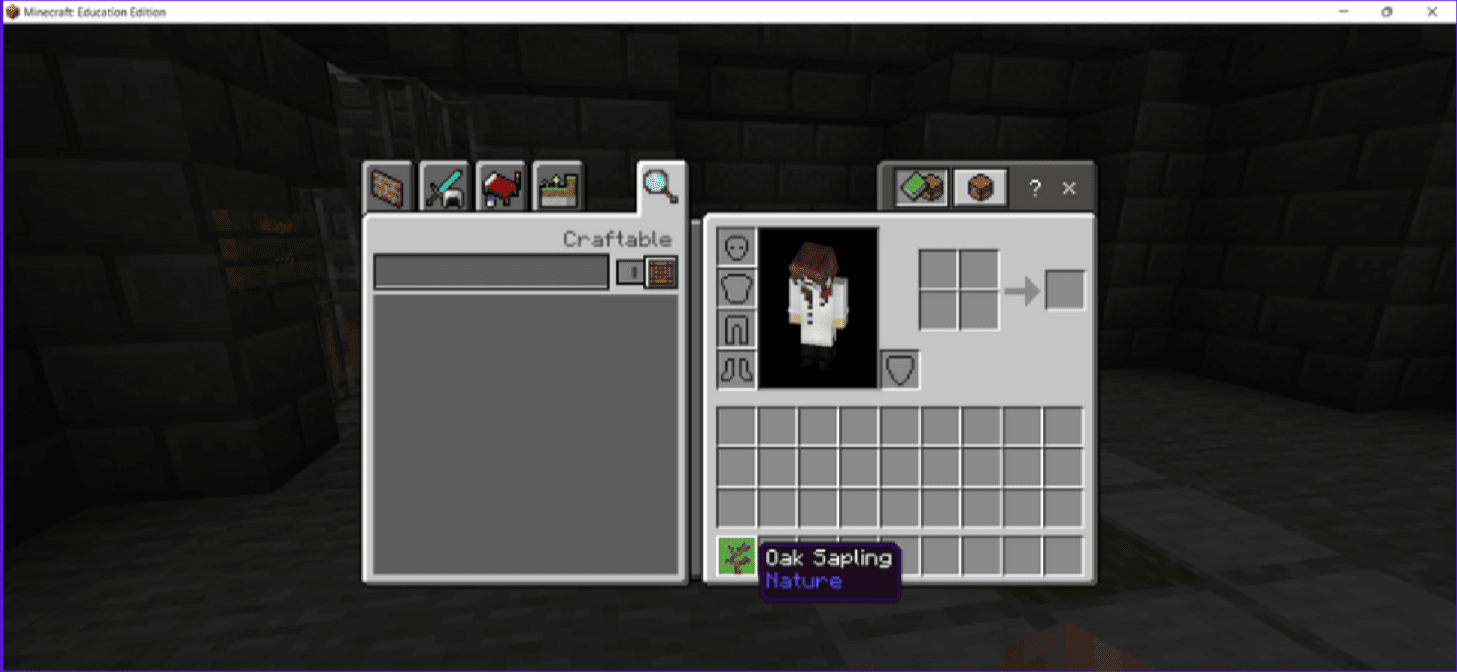 Before proceeding, the Caretaker will inquire about your preferred coding language once more. You can advance by clicking Continue or Try Python.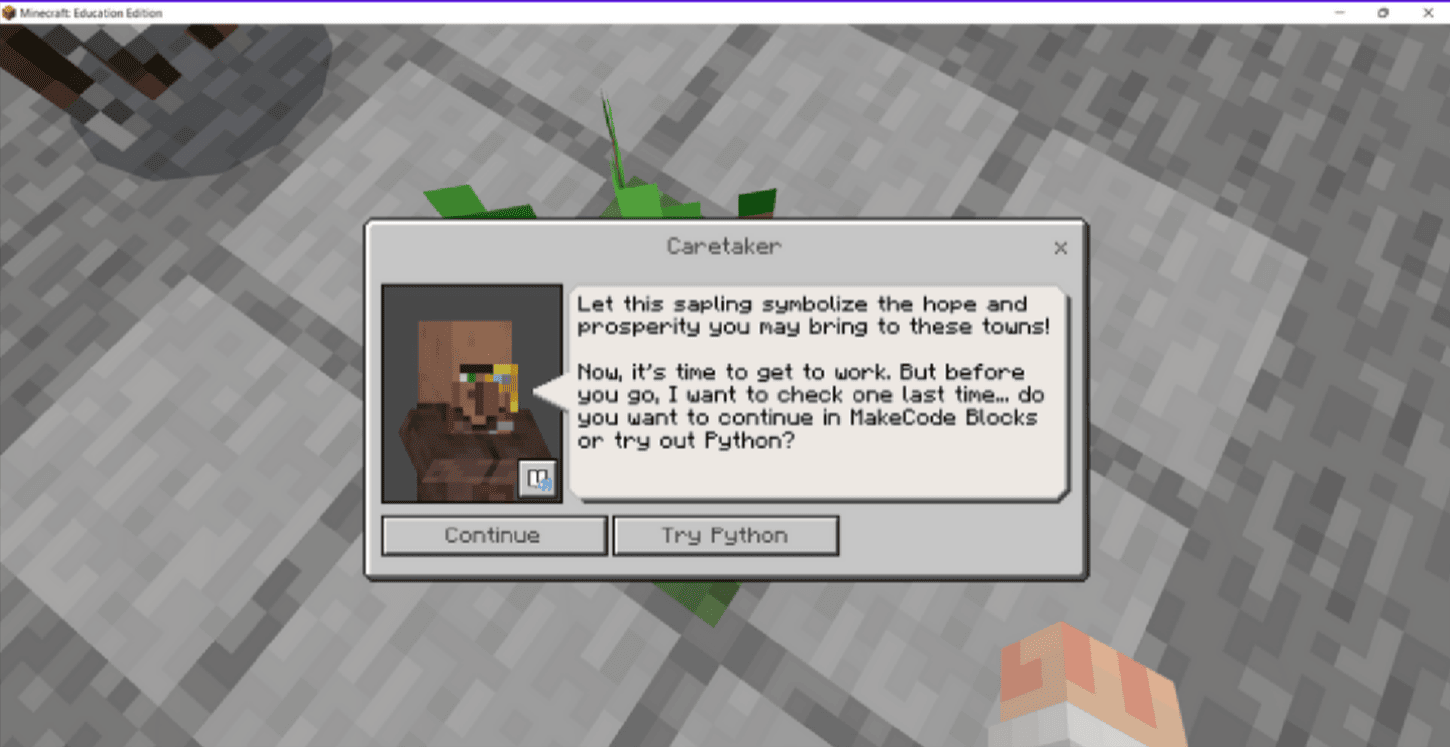 Two gates will now open, one to Villagers and the other to Illagers. You have the option of entering any of them first.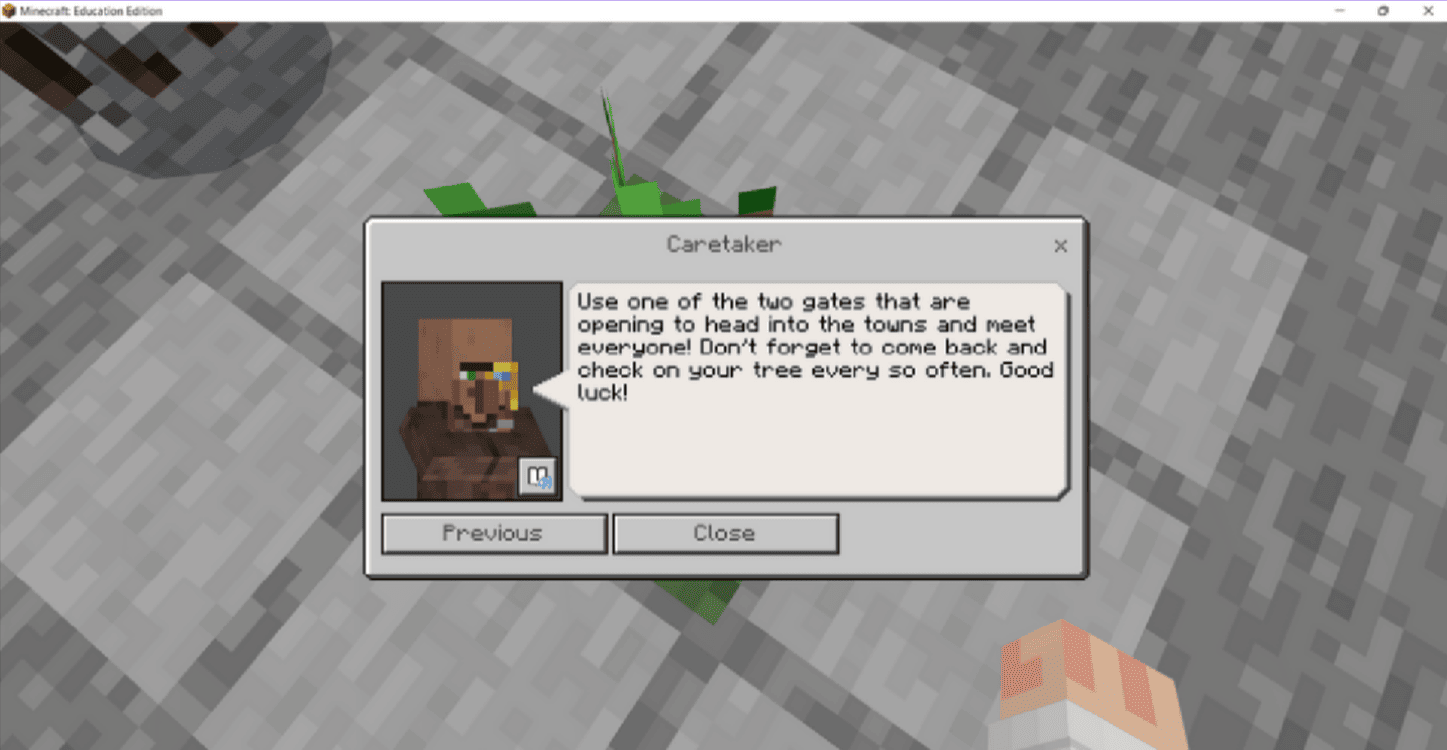 Let us first explore the Illager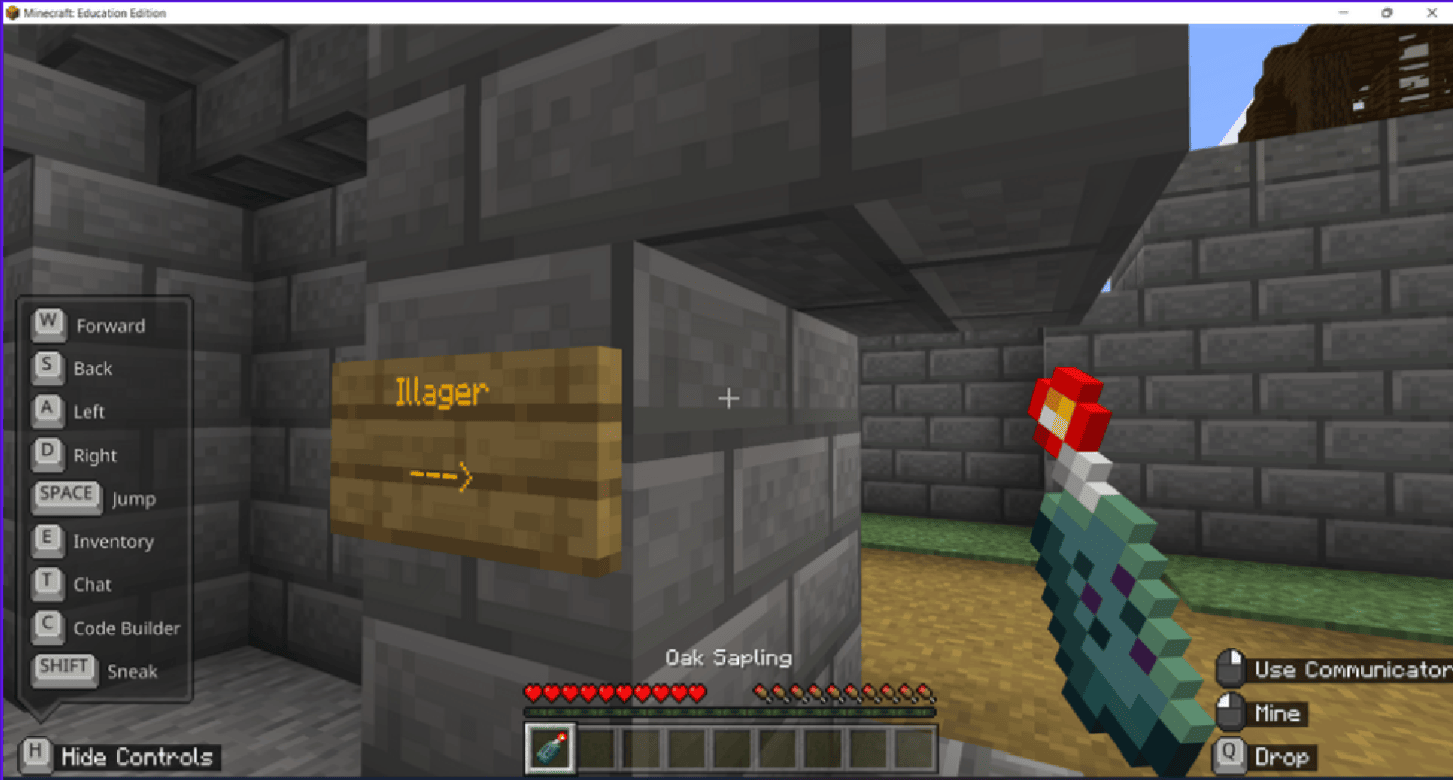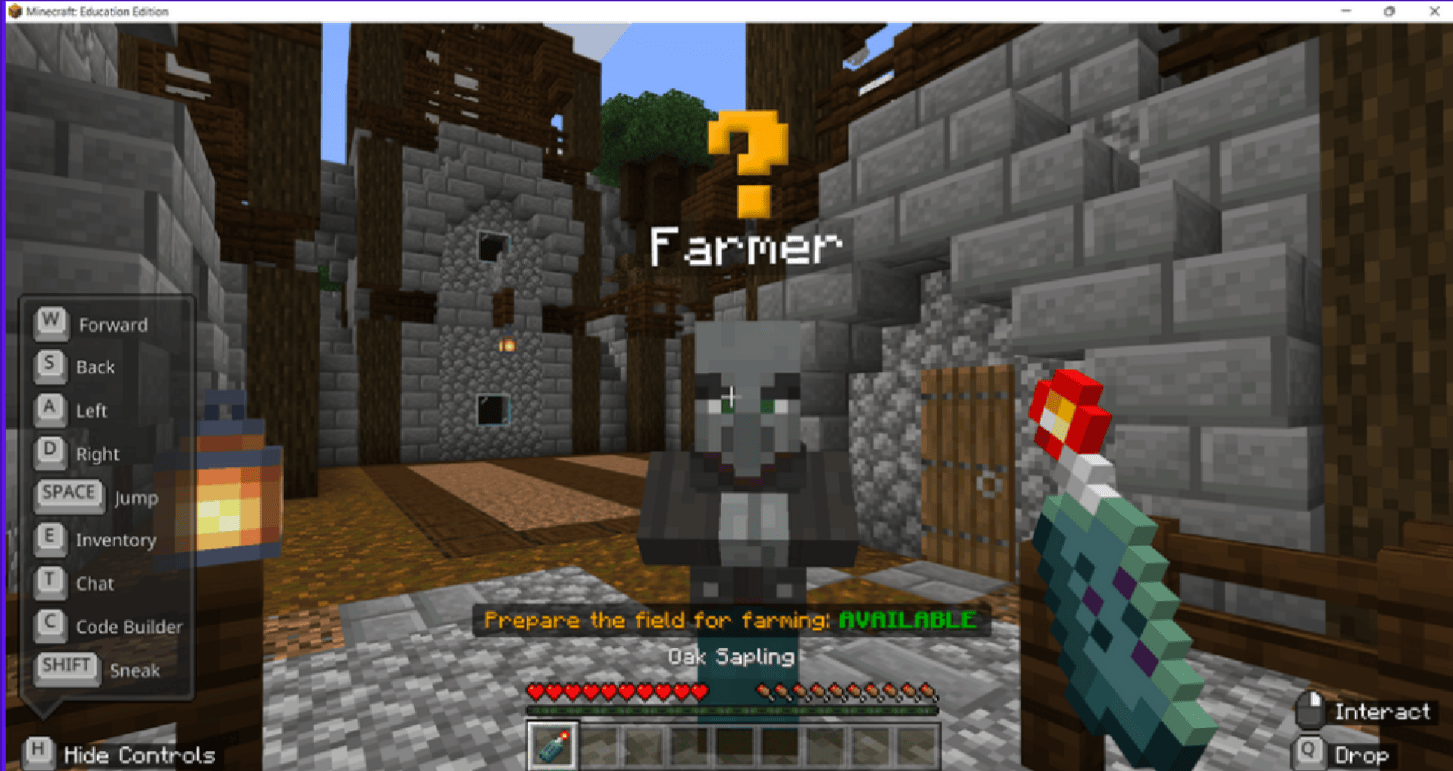 We need to help the Illagers so that they can have the field for farming.
Right-click here and check the next task.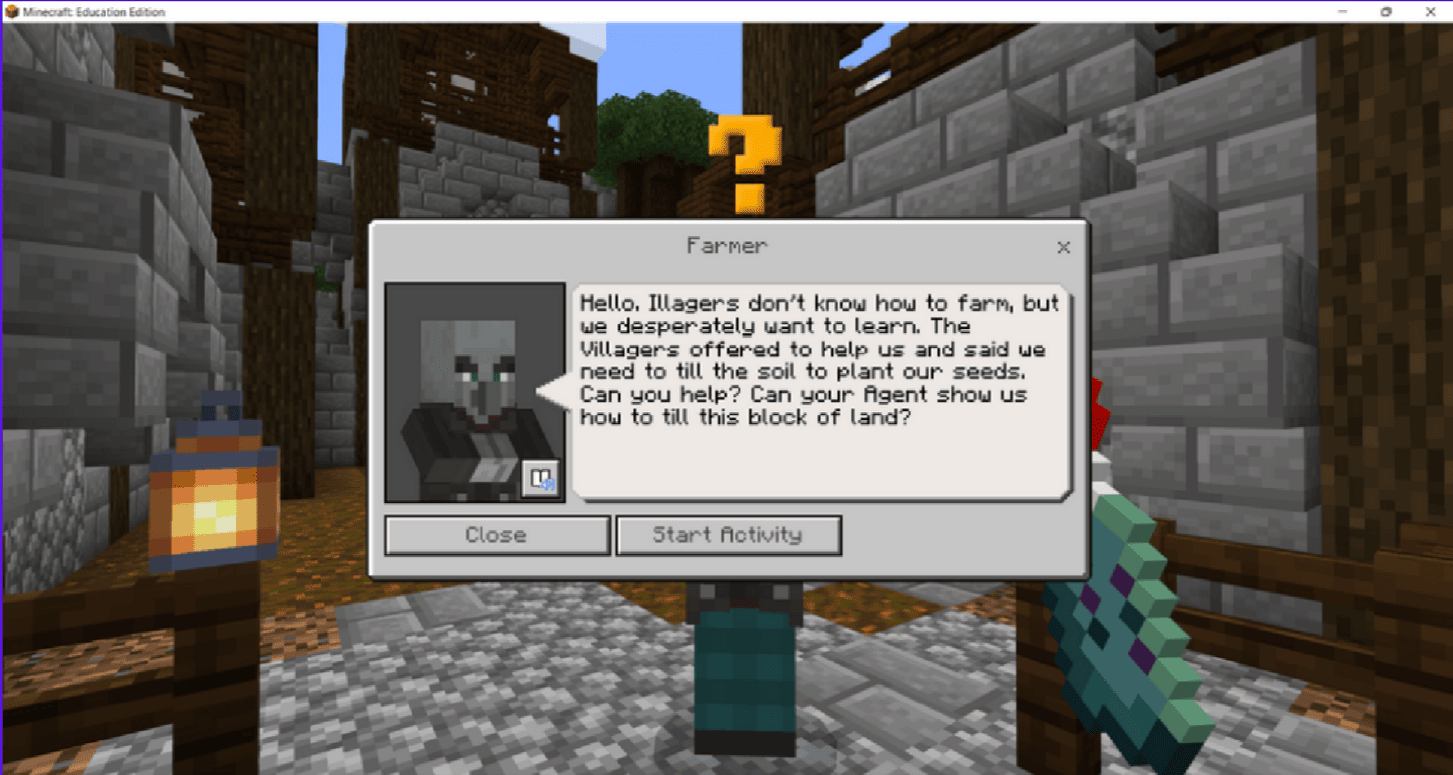 Click on the "Start Activity" to go to your next task. The next task is to prepare the land for farming. Here the agent has to till the first 2 rows of the dirt.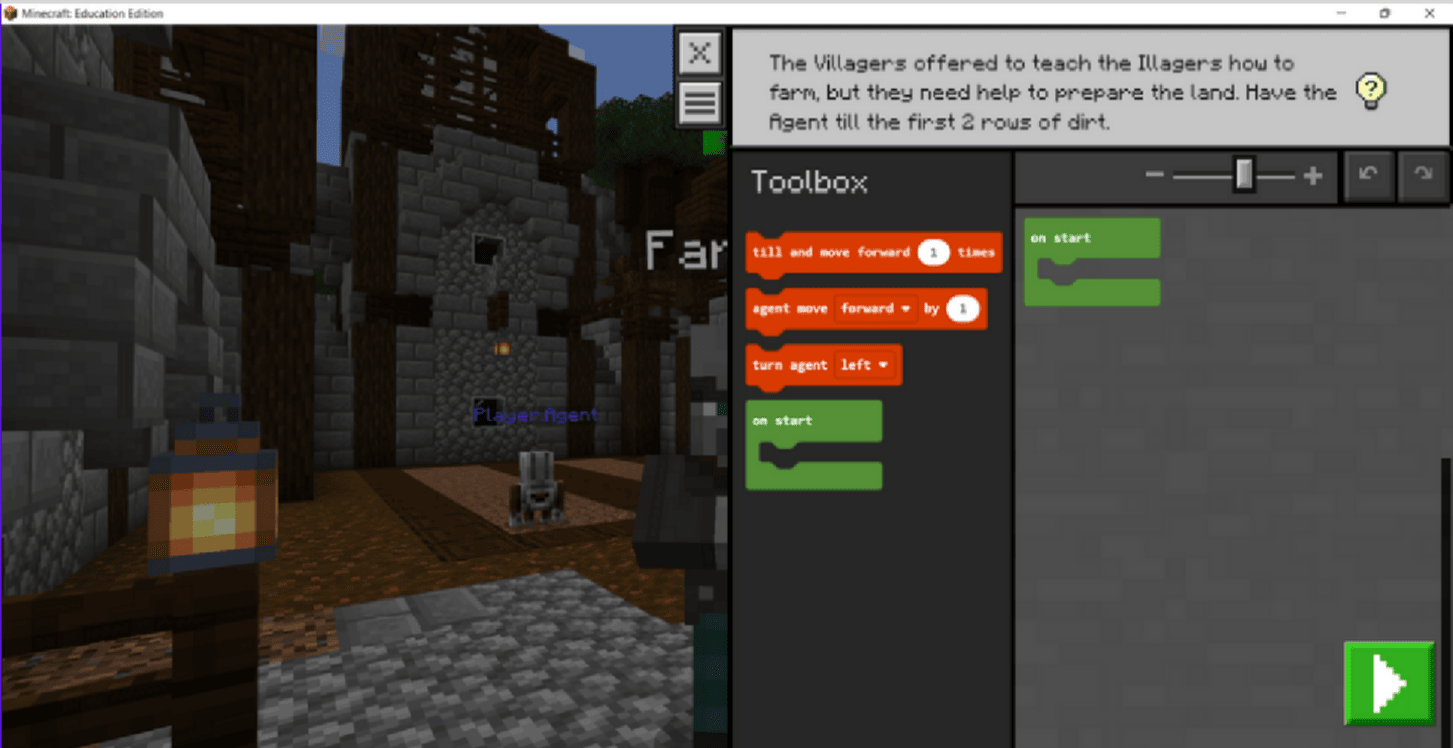 To find the solution, use the blocks provided in the Toolbox. When finished, press the Run button.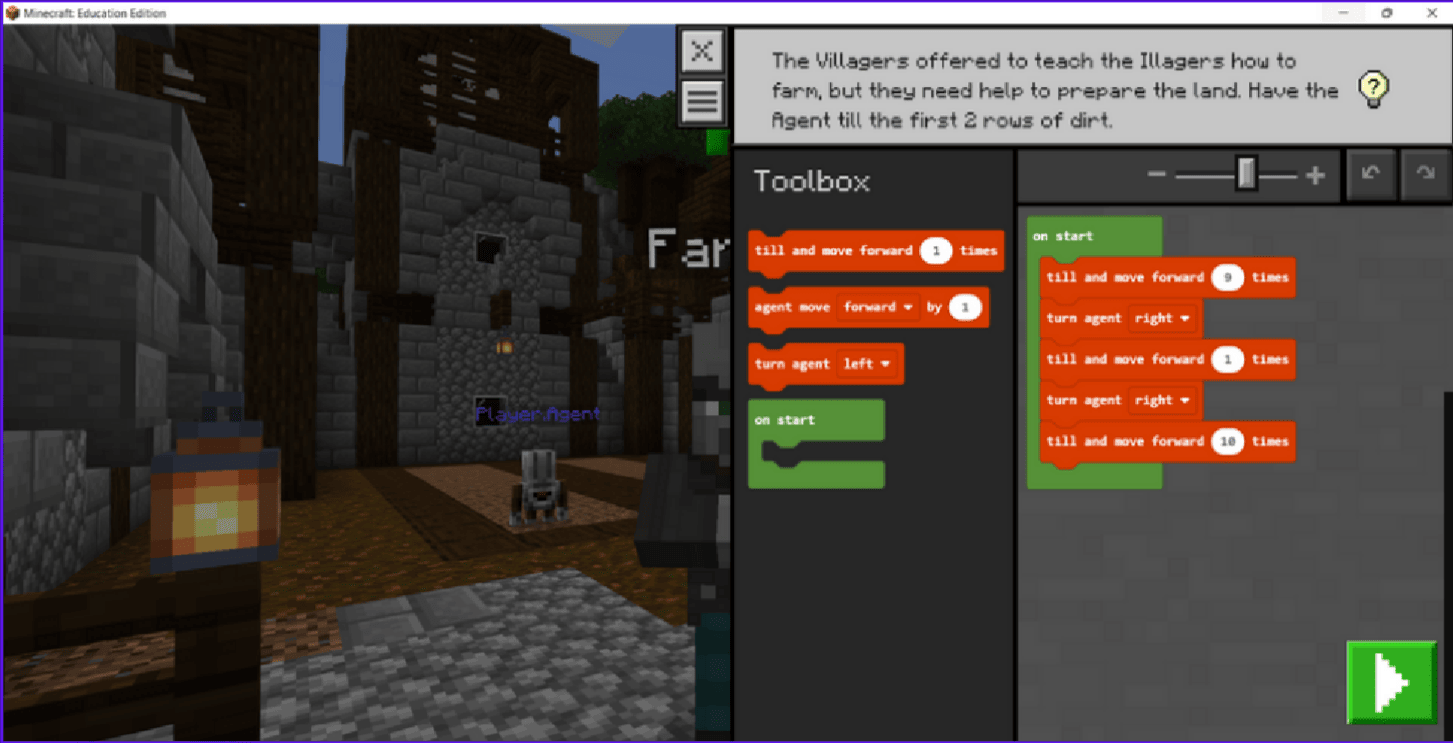 The agent will act in accordance with the solution you provided. The task has been completed as seen here. The farming field has been prepared.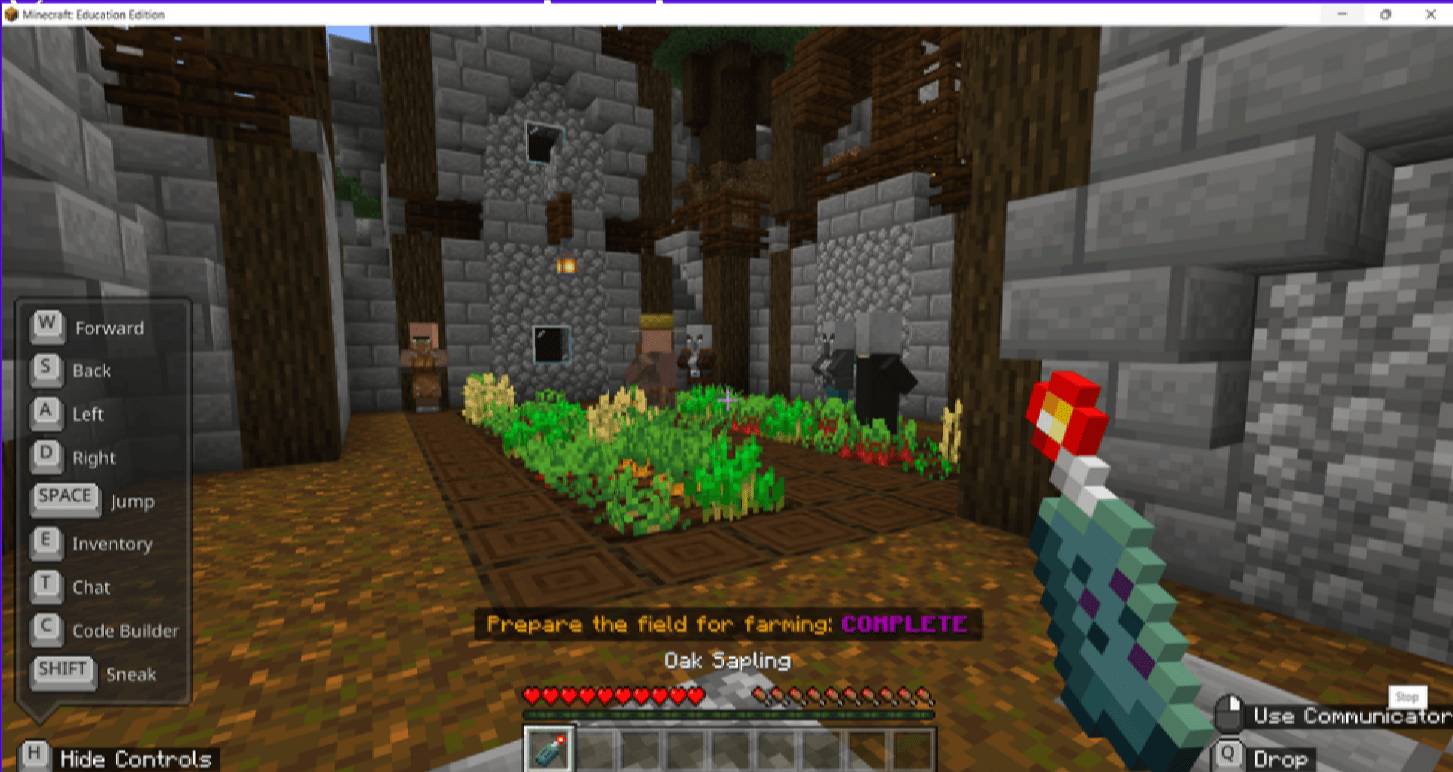 Similarly, you can explore the Villagers side to find someone who requires your assistance. Use the power of code to help them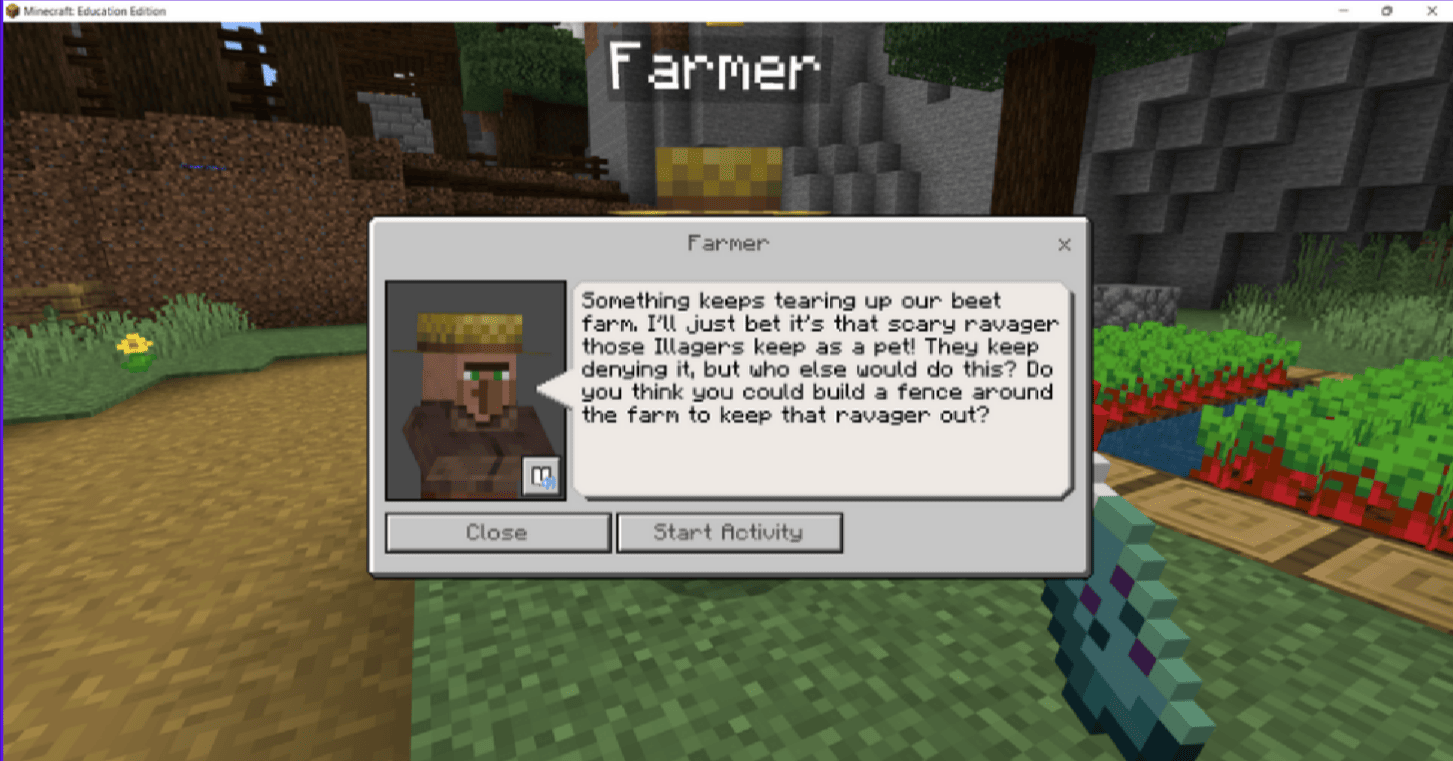 The farmers here require you to construct a fence around his beet farm. He blames the Illagers' pet, but is he correct? We need to find it after we use coding to build a fence around the farm.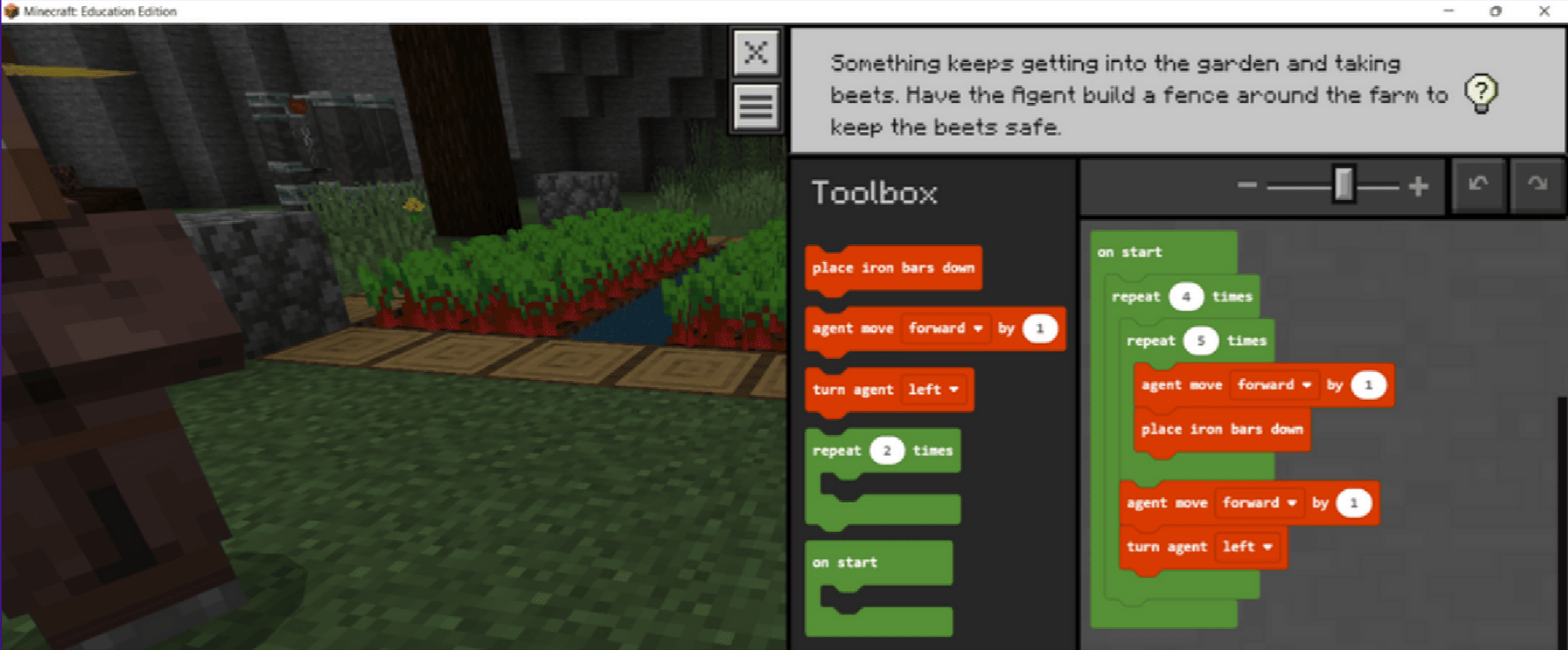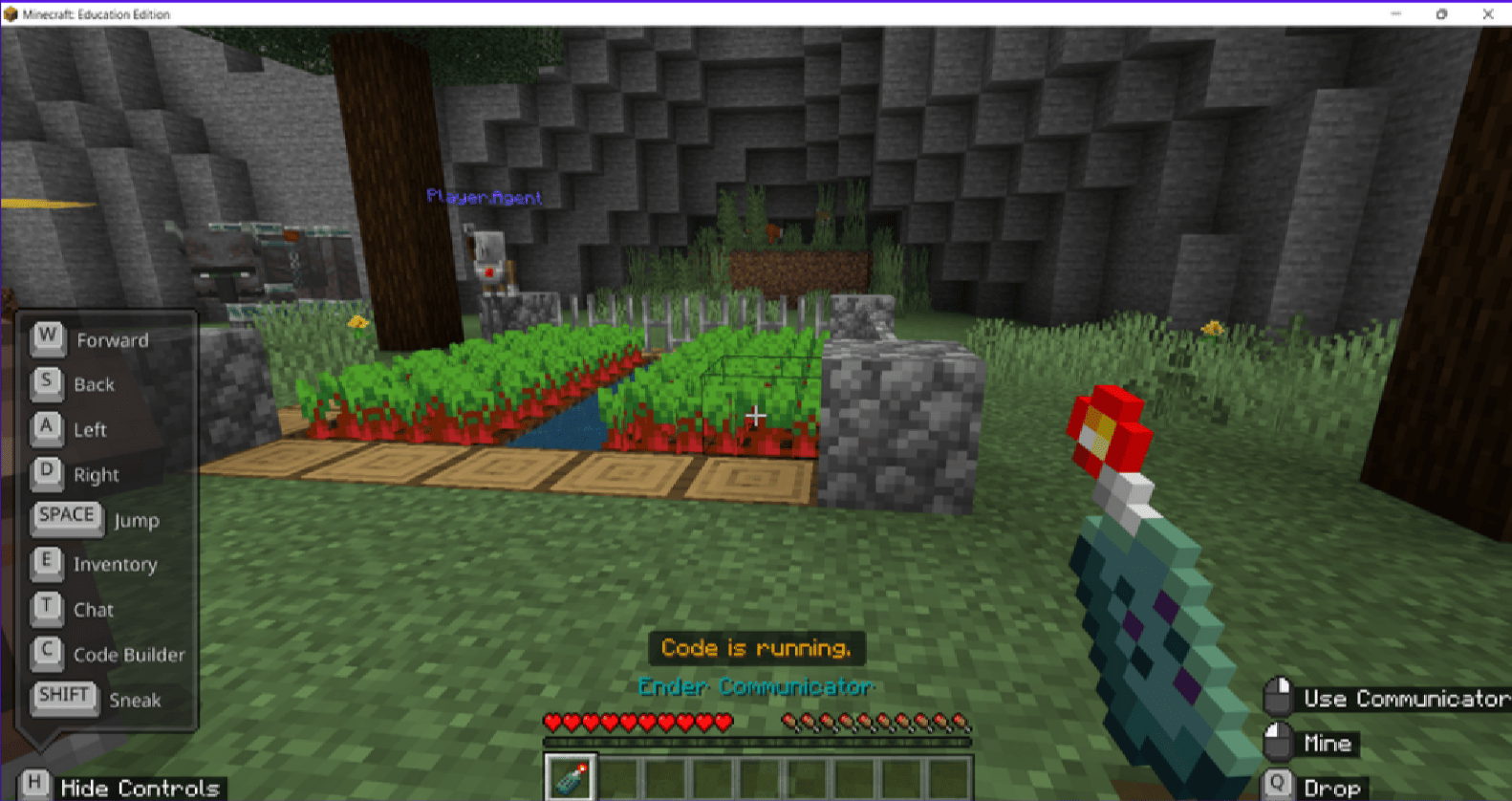 You see the conclusion by the Caretaker after successfully constructing the fence. It is stated that the foxes, not the Illagers' pet, were the main culprits in digging the beat farm.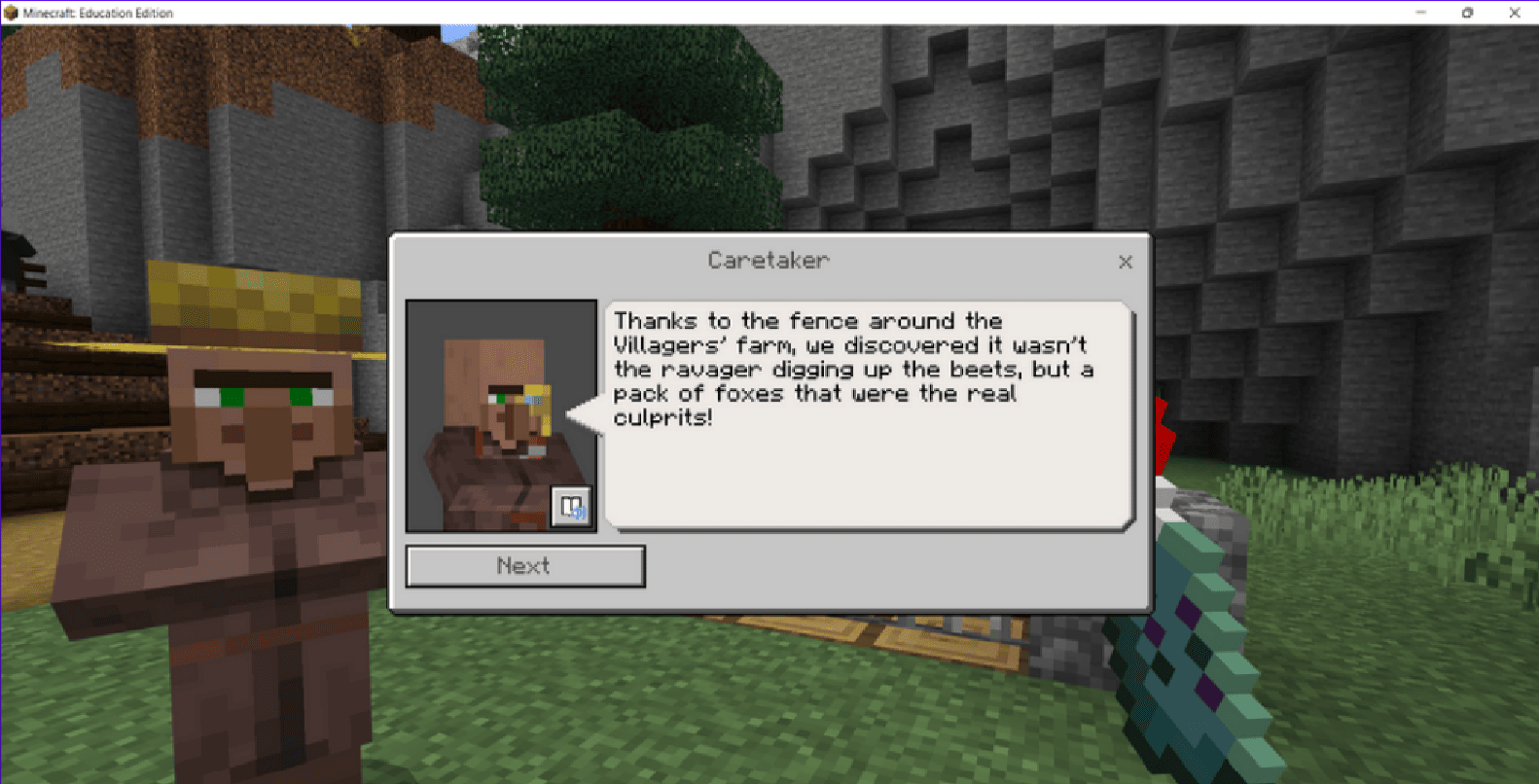 You can look through the other lessons to learn and practice more coding in Minecraft: Education Edition.
How to Download Minecraft Education Edition
Step 1: To get different download options, go to this link and select the one that best fits your device.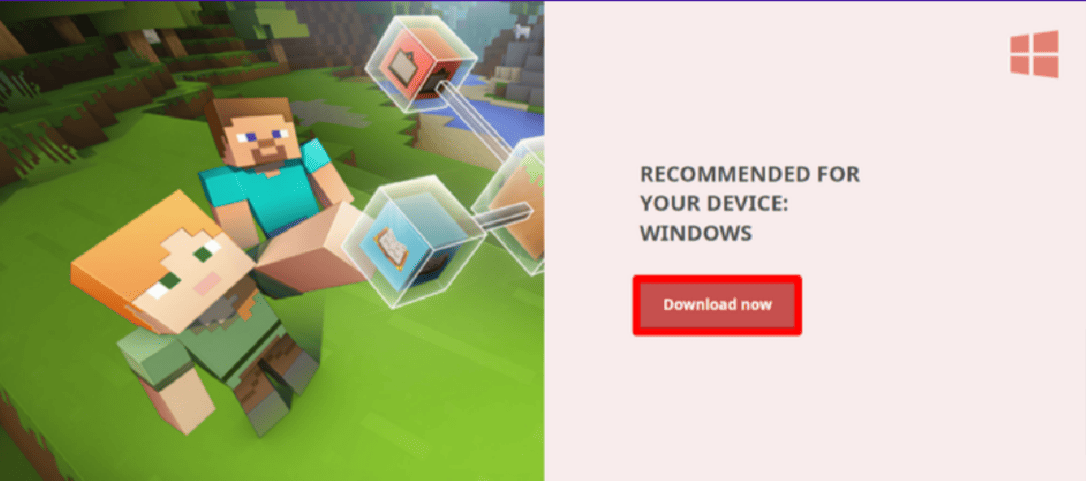 Minecraft Education Edition file will be downloaded depending on the device you chose.
Step 2: After the file has been downloaded, open it and begin the installation process. Select the setup language and click on Next.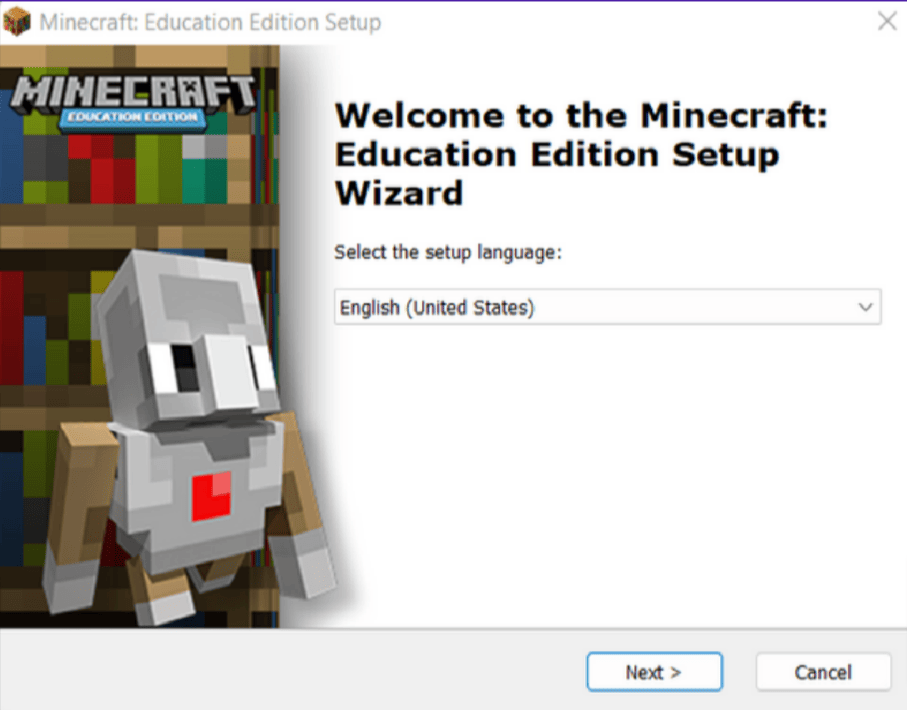 Step 3: To continue with the installation, click Next, or to exit the setup wizard, click Cancel.
Step 4: Accept the terms in the License Agreement to complete the installation process and click on Next.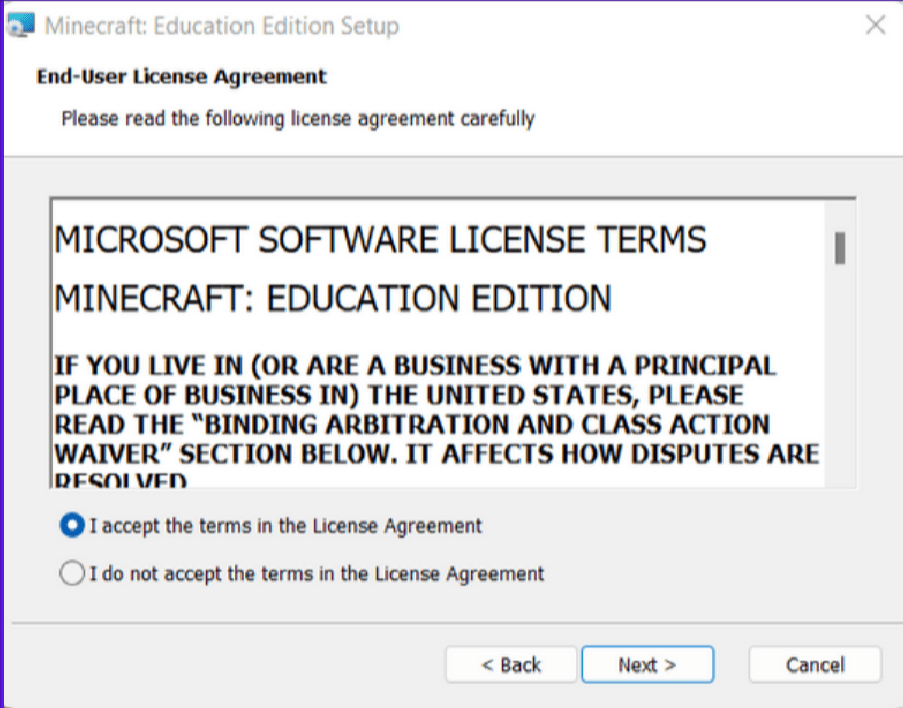 Once you click on Next button, the setup will begin installing Minecraft: Education Edition.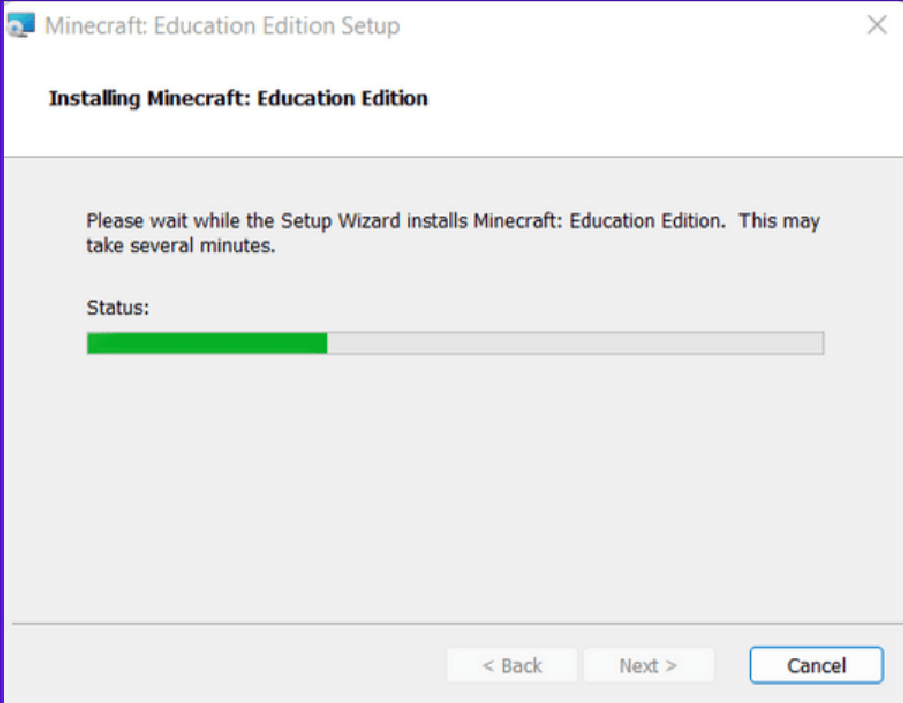 Step 5: Click the Finish button to finish the Setup Wizard, and then check the Launch Minecraft: Education Edition button if you want to launch it immediately after finishing the setup.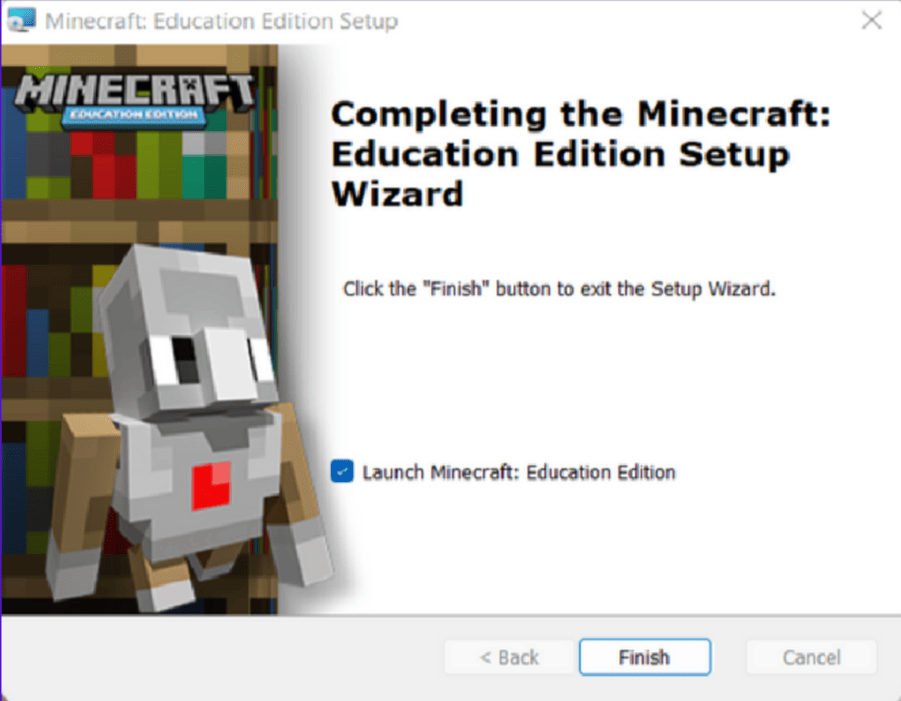 Step 6: Once the Minecraft: Education Edition is launched it will ask you to sign in.
Note: You can sign in using your school or organizational account. If you don't have an account you can try demo lesson.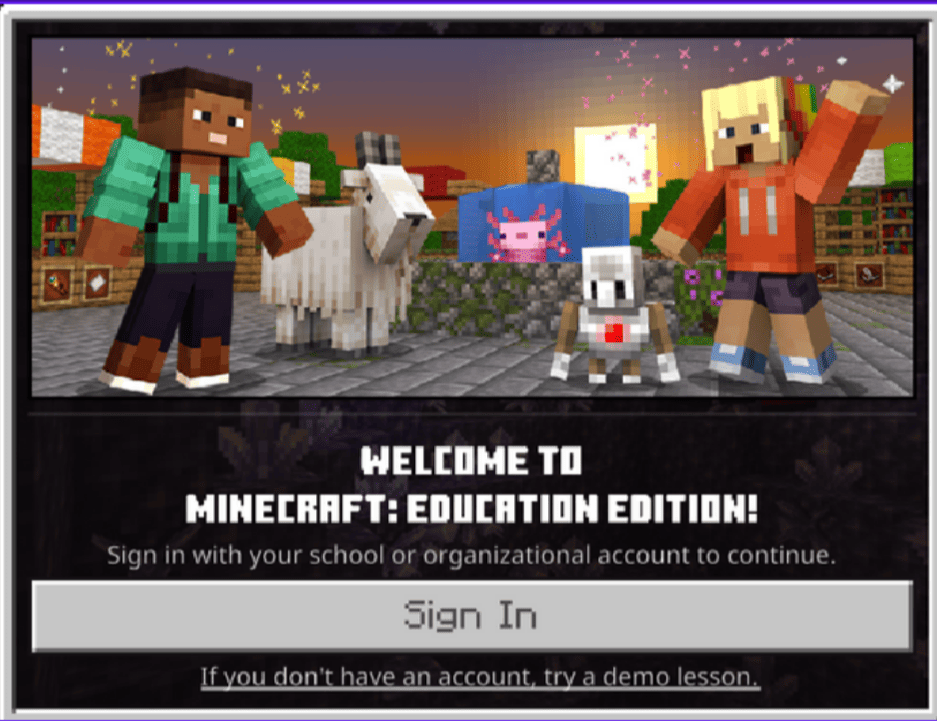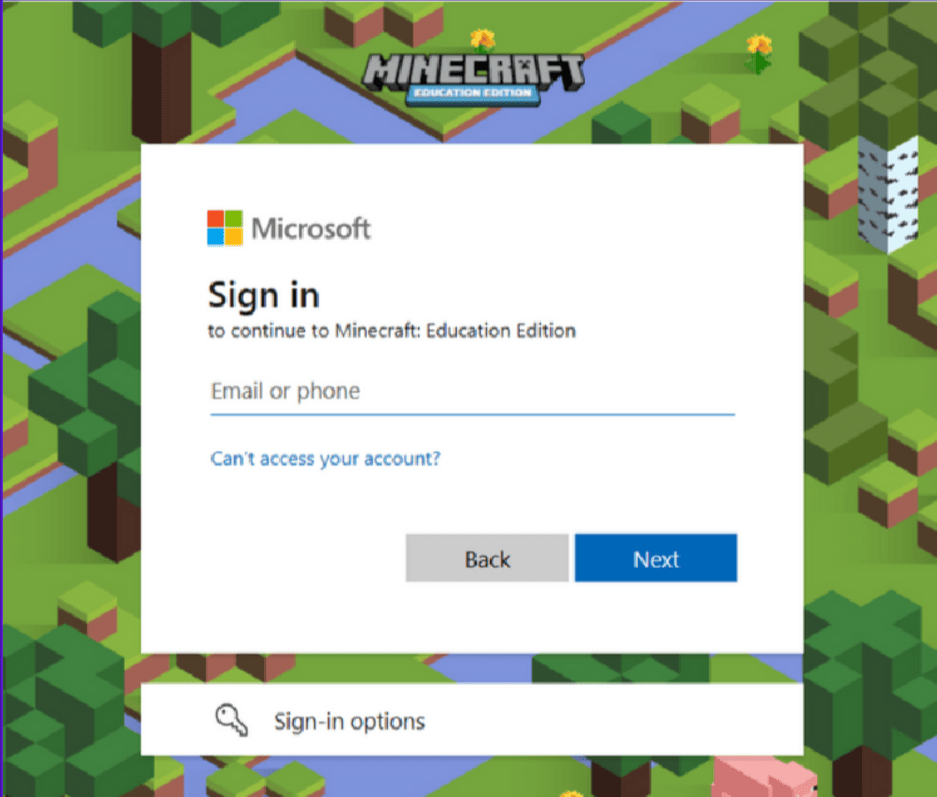 How to Download Minecraft On Chromebook
1. Install Minecraft: Education Edition in Chromebook
For Chromebook users, Minecraft has released an Education Edition to inspire innovation, collaboration, and problem-solving skills.
Prerequisite: Android and LINUX support on Chromebook
Step 1: Turn on Google Play Store on your Chromebook so that you can download android apps on it.
Step 2: Search for Minecraft: Education Edition (Free) in the Play Store and install it.
2. Install Minecraft: Java Edition on ChromeOS
Step 1: Begin by enabling the Linux development environment (Beta) option in the Developers section of the Chromebook's Advanced settings.
Step 2: Next open the Terminal of installed LINUX and run the command below to update your LINUX to the latest version.
Step 3: Go to this link and download the Minecraft.deb file (Debian/Ubuntu).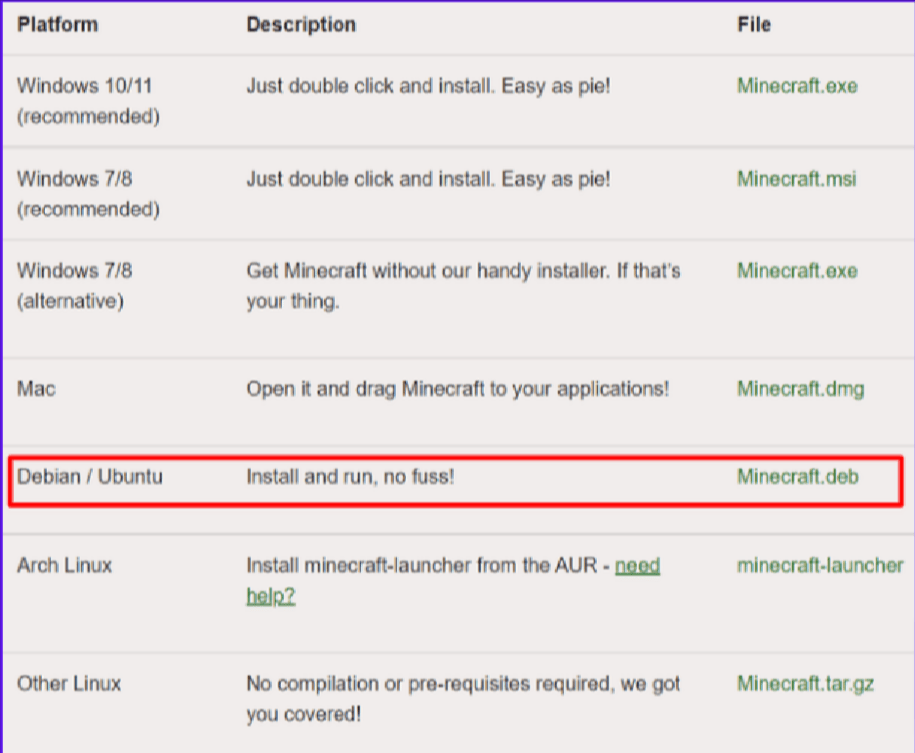 Step 4: After the file has been downloaded, double-click it and select Install. Minecraft will be installed on your Chromebook in a matter of minutes.
Step 5: To search your installed Minecraft Launcher App on your Chromebook, press the Search key. To open it, simply click on it.
Step 6: Log in using your Mojang or Microsoft account.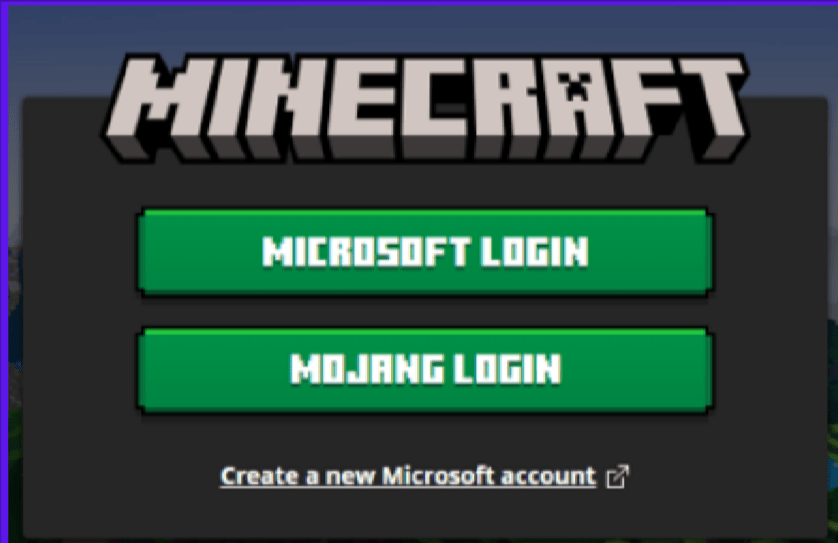 Step 7: After logging in, go to the bottom of the page in Minecraft: Java Edition and click on Play Demo, which will begin downloading and installing the latest release.
At last, Minecraft will launch and be ready to play on your Chromebook.
Minecraft Java Vs. Bedrock
On the surface, Bedrock Edition and Java Edition appear to be very similar, but the reality is quite different.
Minecraft Java was first released in 2009 and was originally known as Minecraft. When the Bedrock edition was released on September 20, 2017, it was renamed Minecraft: Java Edition.
Minecraft: Bedrock Edition was based on Minecraft: Pocket Edition, which was released in 2011. Bedrock Edition was a complete rewrite of Minecraft from scratch.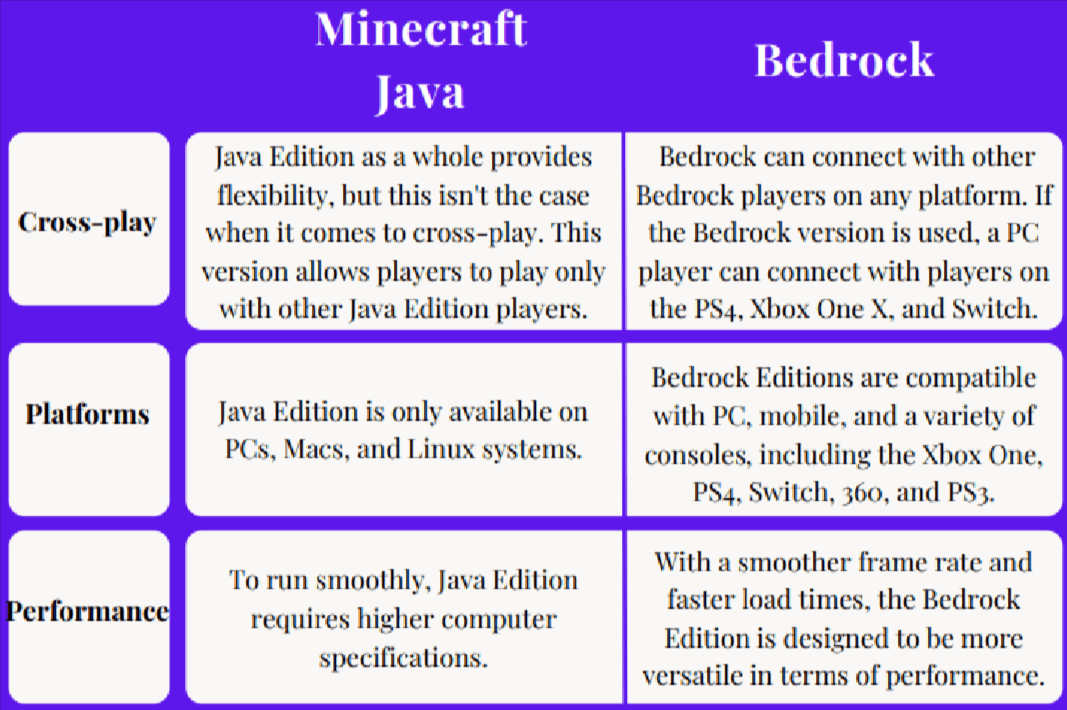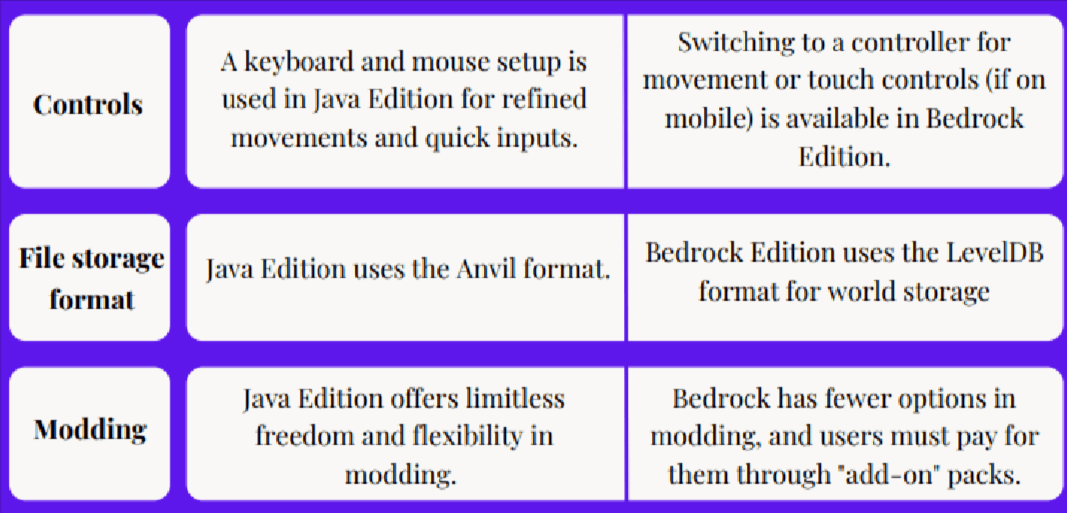 We've only scratched the surface of the iceberg with this guide. You'll learn and discover a lot along the way! So, go forth and begin your Minecraft adventure in search of its hidden treasures. 
Minecraft is a game that provides a unique experience for everyone; it provides numerous opportunities for you to turn your imagination into reality and create the world of your dreams. 
So, what are you waiting for? Dive into the Minecraft universe and have a great time exploring!
Is Minecraft free to play?
No, it is not. You have to buy games in order to play. However, a trial version of Minecraft is available for free.
Do I need to download Minecraft Launcher to play games?
You do not need to install the Minecraft Launcher to play Minecraft for Windows or Minecraft Dungeons. But you can use it to launch the games. However, in order to play Minecraft: Java Edition, you must have the Minecraft Launcher installed on your computer.
What is a Minecraft server?
A server is a software setup where players are allowed to play online or via a local area network with other people.
Is Minecraft safe for kids?
Yes, Minecraft is safe for kids. Parents, on the other hand, should be vigilant and monitor their children's online activity, particularly when they are interacting online in the chat.
What are Biomes?
Biomes are unique environments in Minecraft, such as Plains, Forests, and Jungles. These have their own set of blocks, mobs, and items to find.
How long is the day in Minecraft?
In Minecraft, a full day/night cycle lasts 20 minutes.
How to invite friends in Minecraft?
Navigate to the "Invite to Game" option on the right side of the main menu. Select the player you want to invite, and confirm your choice.
Can I learn coding using Minecraft?
You can learn to code in Minecraft by using Minecraft: Education Edition. You can start with an HOUR OF CODE. It takes about an hour to complete and will teach the player about programming logic such as Repeat Loops and If Statements. Amazing thing is that it does not require downloading or installation and is completely free.
Get a Talent Discovery Certificate after trial class
100% Risk-Free. No Credit Card Required