With the introduction of the Roblox platform, creating platform games has become much easier. The platform uses Lua scripting language to create games by typing in codes.
Anyone with a vision for creating games can go on and create interesting games, bringing their imagination to life, using the Roblox Studio.
This blog will help you get better at understanding the concept of Roblox clothing and guide you on how to download the Roblox shirt template in 2022
What is Roblox?
Roblox is an amazing virtual universe that allows you to create various games, share experiences with friends, and be whoever you want.
The Roblox application is available for PC, Mac, Android, and other platforms. It allows you to download and play games.
The Roblox application is compatible with Android OS 5.0 and higher.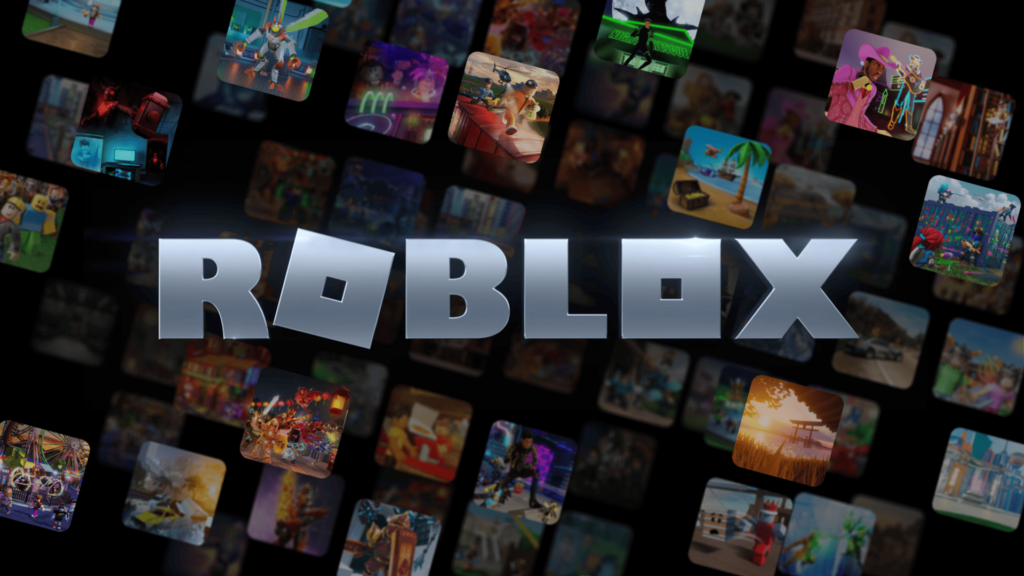 About Roblox Clothing
Clothing in Roblox is simply avatar customization and is primarily a type of user-generated content. It is classified into two types: layered clothing (3D clothing) and traditional clothing (2D clothing).
Roblox Clothing is defined as anything that covers an avatar's torso, arms, and legs. In Roblox, you can layer these different layers to give your avatar the look you want.
T-Shirts inspired avatar customization and Roblox clothing. These T-shirts, known as shirts, were available for upload to players beginning in March 2007, though they have been available in Roblox since its inception.
Roblox is now full of T-shirts and pants, having moved past the T-Shirt phase. Early T-shirts and pants are also known as classic T-shirts and classic pants.
The Roblox Premium requirement for classic clothing was announced on December 9, 2020, and would be phased out completely by March 25, 2021.
In its place, fees for uploading classic shirts and classic pants or selling the asset, i.e. classic T-shirts, were introduced.
This fee was originally 50 Robux, but it was later reduced to 10 Robux.
Avatar customization has grown so popular since the introduction of Roblox clothing that there are now Roblox clothing templates available on the internet.

How to Download Roblox Shirt Template
Avatars are the main component of the game and Roblox allows you to create, animate, and have fun with them. Avatars make your game more interesting as well as appealing, it distinguishes you from the millions of players on the platform.
One of the best ways to make your avatar attractive is by giving them a piece of clothing. This can be achieved using shirt templates.
Shirt templates include clothing on avatars to make them more interesting and appealing. Avatars can be transformed into any shirt template, but the pixel must be placed correctly.
You can find Roblox shirt templates online, but you must first download the shirt template. You can also use photo editing software to edit the image.
Here's a Guide to Downloading Roblox Shirt Templates on Roblox Studio.
The shirt templates are of size 512×512 pixels. The image below shows the representation of the shirt template for avatars.
Front, left arm, right arm, back, up, down. The lines are the maximum border for the gloves to fold up and create the avatar.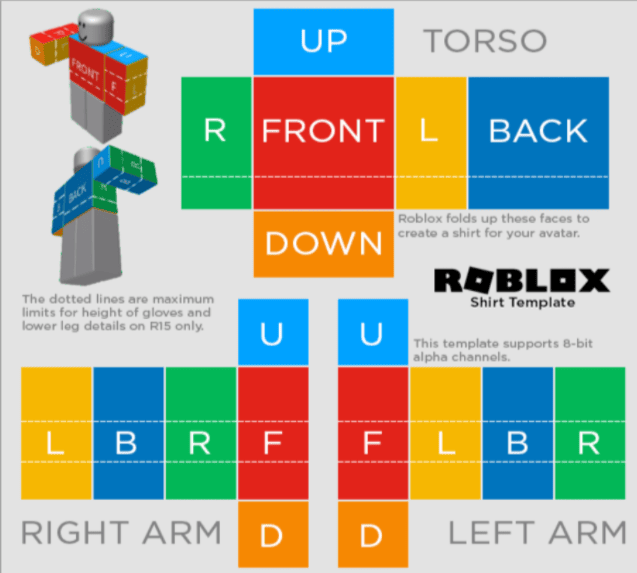 Downloading the shirt template
Find an image online to download the shirt template. You may use the templates of your choice. This link has plenty of Roblox shirt templates you can use for your game. You can also use a photo editor to edit the image with color, designs, etc.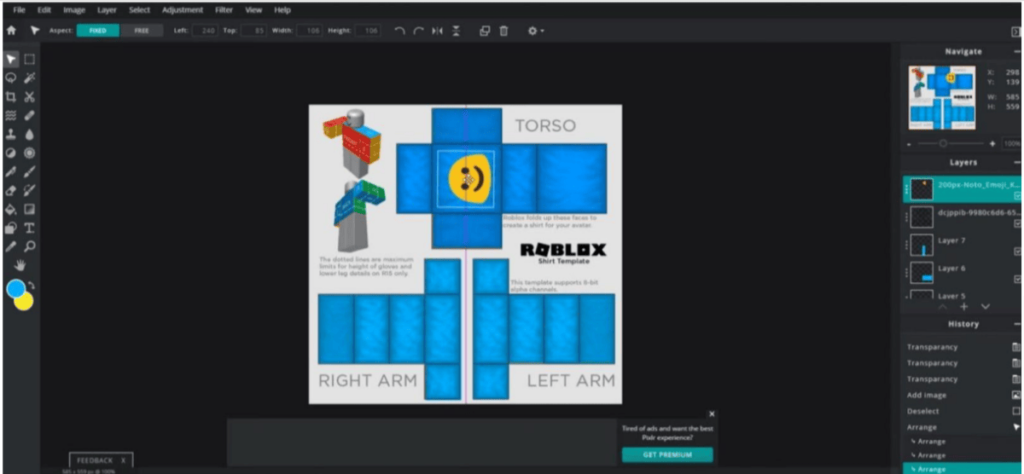 You can also directly look up Roblox shirt templates on Google Images.
Look for a picture of the shirt template. It will take you to the next tab if you click on it.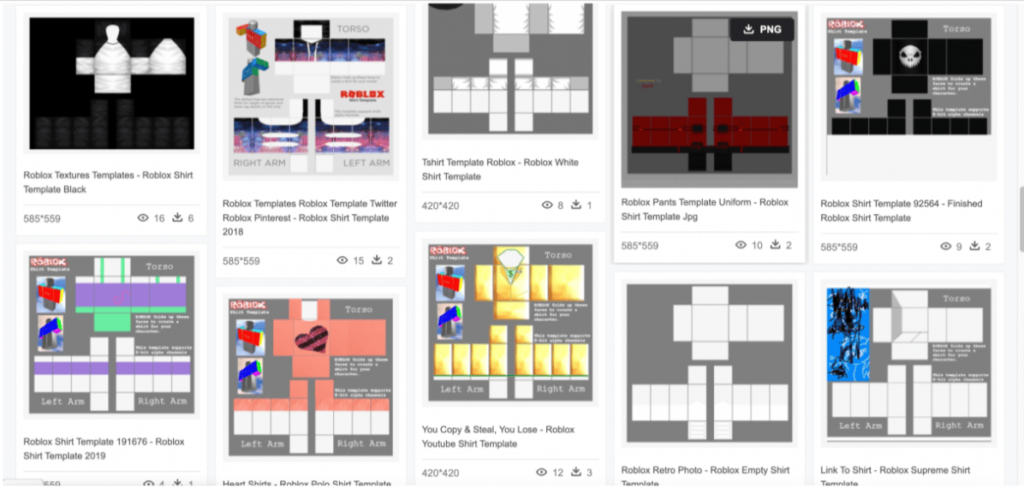 Choose any image for your avatar, then right-click on the image and click 'save image as'.
It will be saved on your computer. That file needs to be uploaded to the Roblox studio to put the shirt on the avatar.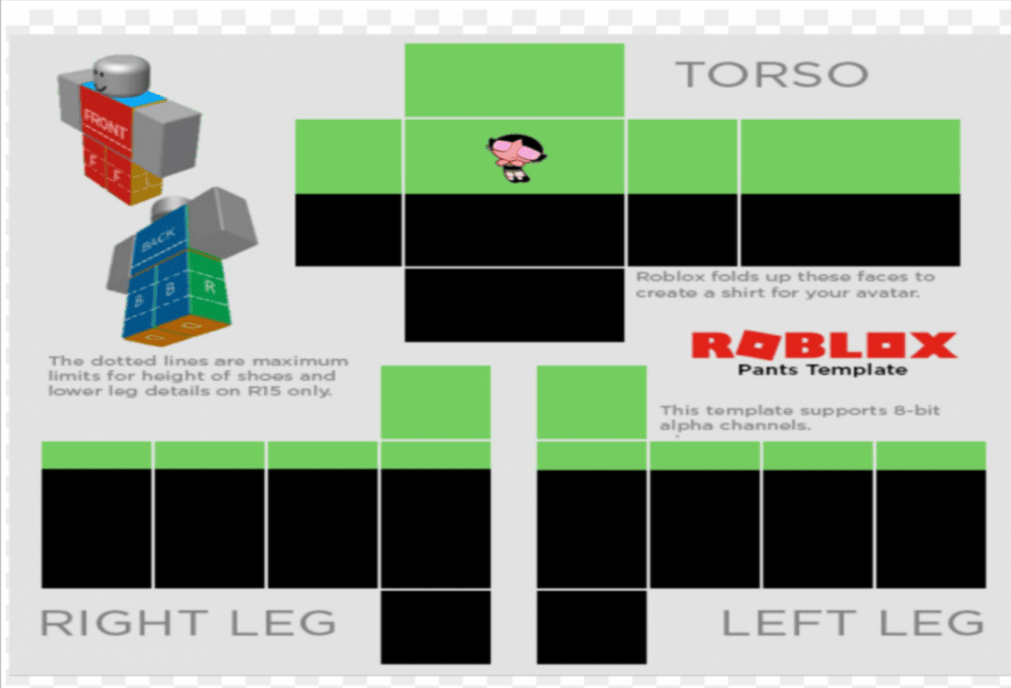 The shirt shown in the image was uploaded to Roblox as a dummy image. The shirt fit the dummy perfectly.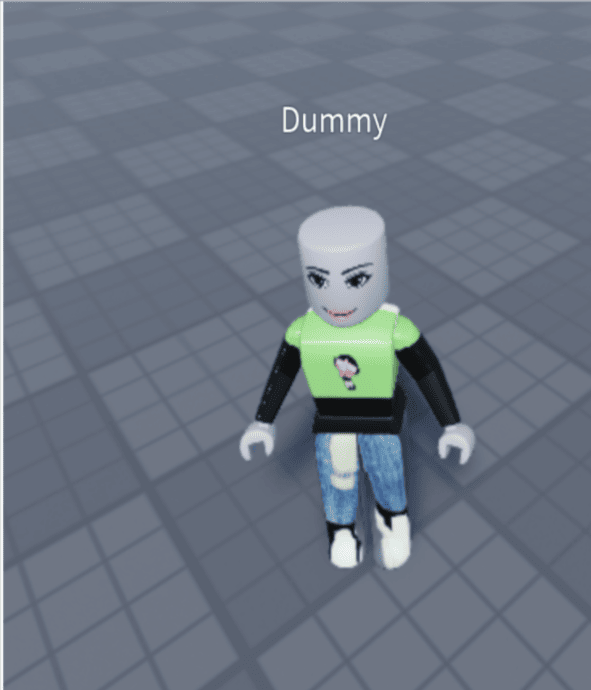 Bonus: Get Roblox Shirt Template Transparent
Roblox clothing customization has not only increased the demand for Roblox outfit template but also increased the demand for transparent Roblox shirt templates.
The transparent shirt template in Roblox is most commonly used when creating a shirt with cutouts or areas that reveal the body beneath.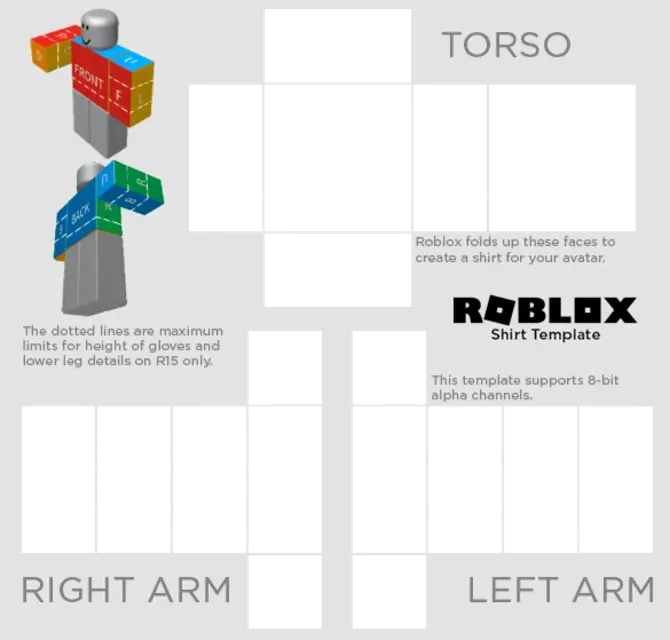 You can get the transparent shirt template by simply searching "Roblox shirt template png" on Google or any other search engine or by simply downloading the above image template.
However, for your convenience, we will demonstrate how to obtain Roblox Shirt Template Transparent.
Step 1: Search for Roblox Shirt Template Transparent on the internet.
Step 2: Select an image of your choice from the results
Step 3: Right Click on the selected image
Step 4: Save the image
How to Make a Roblox Shirt
Now that you have a good understanding of what Roblox clothing is all about, let us learn how to make clothes on Roblox. Specifically, Roblox shirt.
To upload a T-shirt on Roblox, you must pay a fee of 10 Robux. You'll also need a Roblox shirt template; if you don't have one, Roblox will provide you with a link to one.

Let us now look at the steps after you have your template.
Step 1: Launch a photo-editing application
You may have several photo-editing software options depending on your preferences and operating system:
Microsoft Paint is installed by default on Windows computers. You can also download other programs, such as Paint.NET, which is a free program for Mac users.
If you're a Mac user, you can get Pinta for free or pay for something like Photoshop or Lightroom.
GIMP 2 is an excellent free alternative for both Windows and Mac users.
Step 2: In your photo editing program, open the template
To open the template in your photo-editing program, click and drag it into it, or click File, Open, and double-click the template.
Step 3: Edit the template to your liking
This step will vary depending on your shirt preferences i.e. you can design the shirt whatever way you like.
Step 4: Save the shirt
To save the changes to your template, press Ctrl+S (Windows) or Command+S (Mac), or click File and then Save.
Conclusion
A game developer must keep their avatar in mind when applying creativity, as it is one of the most important aspects of a game.
Making an appealing and cool avatar may result in more players joining your game. Roblox allows you to create and customize your avatar.
Giving an avatar some personality by dressing them up is one of the best ways to make them look cool and appealing, this can be accomplished with the help of shirt templates.
So go ahead and experiment with your avatar by dressing them up in cool outfits made from the shirt templates.

Learn to create fun games in Roblox at BrightChamps with its specially designed curriculum, which makes learning game development and coding simple for students in Grades 1-12.
BrightChamps also teaches a variety of other programs that assist children in developing a foundation in computer programming through activities, interactive lessons, and other means.
Frequently Asked Questions (FAQs)
What size is the Roblox shirt template? 
Roblox shirt template size is important because the upload process will fail if your image is not the exact dimensions of the template i.e. 585 pixels wide and 559 pixels tall. So your Roblox shirt template should be of this size.
How do I upload my Roblox Shirt Template design?
Go to Roblox website Click the Create option. It is located in the upper-left corner of the page. Then go to Shirts. This option is near the bottom of the list of items in "My Creations." Now click on Browse. You can then select the desired PNG file from your computer to upload the Roblox shirt template design.
Can you make your own Roblox shirts?
Yes, you most certainly can but you must have a subscription or pay 10 Robux to be upload to your design.
How to test my Roblox shirt design?
You can preview clothing in the studio by inserting a Shirt or Pants object into a character, then selecting the ShirtTemplate or PantsTemplate property, and then clicking the Upload button. To see this menu, you must first launch a published game.
Can I sell my Roblox shirt template designs?
Yes, you can sell your Roblox shirt template designs however, you need to have a premium membership to be able to do that.
What are the editing software available for editing Roblox avatar templates?
Easy to use editing like Picsart, Pixlab, Adobe Photoshop Express, etc.
Where to find the Roblox template images?
You can download the images from the Roblox website or find them from Google images.