Do you want to join me in playing Roblox?
Wait, have you heard of Roblox?
Roblox is one of the most fascinating games that many children today are familiar with and enjoy playing.
If you are familiar with Roblox, that is great, but if this is your first time reading or learning about Roblox, that is also fine.
Because there is always a first for everything and everyone.
Here, we are going to talk about one of the most fun things in Roblox i.e. Roblox groups. Not only that we will also learn how to make a group on Roblox for free.
So, let's get to it.
What is Roblox?
Before we go any further, it is important to learn what Roblox is.
According to the Roblox website, Roblox is a global platform that brings people together through play.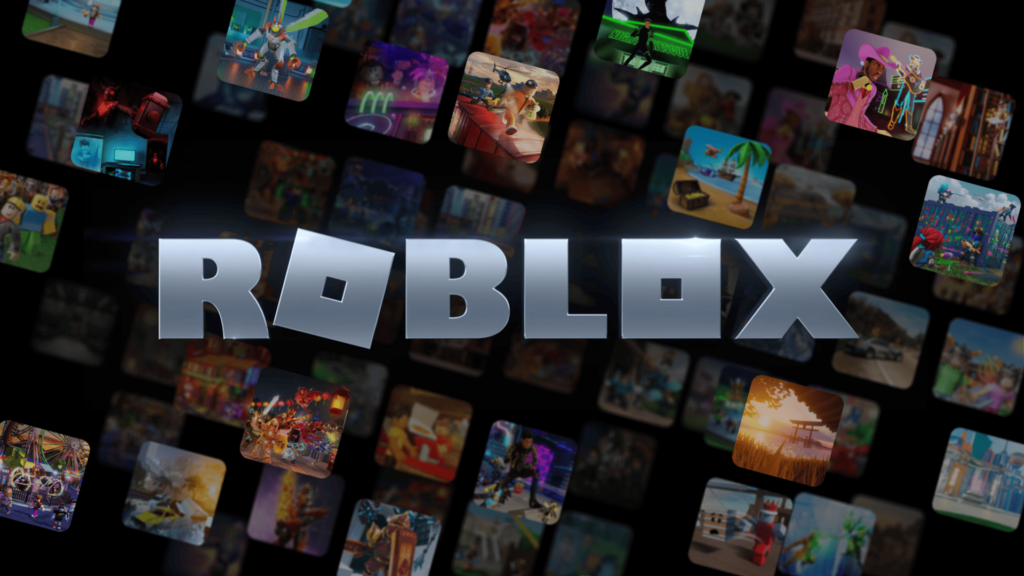 Roblox is one of the online games where users can play and create their own games. In this sense, it is a platform where people can play games created by others.
What is unique about Roblox?
To begin with, as previously stated, Roblox is a platform that allows users to create games.
One thing to keep in mind is that users do not need to be computer geniuses or coding masters to create games on Roblox.
Furthermore, Roblox can be played by a large number of people, and users can connect with people from all over the world.
Roblox also has an in-game currency called Robux which can be used to purchase in-game upgrades or avatar accessories.
Groups on Roblox
In general, while exploring and playing various games in Roblox, you can connect with people from all over the world.
However, you can also take it a step further to socialize and build a community by creating a group on Roblox.
These groups can be used to connect with other people who share your interests. They have their own shared spaces and walls, so members of the group can easily promote their games and request feedback.
In Roblox, you can find all kinds of groups, from help groups to hobby groups, fan clubs, and other community groups.
So, how do you make a Roblox group? How do you do it for free?
Many people wonder if you need Robux to create a Roblox group. To be honest, no.
Well, you do need 100 Robux to form a group. But don't worry that is what I'm here to help out with!
I'll show you how to create a group on Roblox for free.
If you are willing to spend 100 Robux, you can straightaway create a group by clicking on the Create Group button.
However, if you don't want that or don't have any Robux, follow the steps below to create a group on Roblox.
How to make a group on Roblox for Free
Make an account
This is how Roblox appears if you open Roblox online.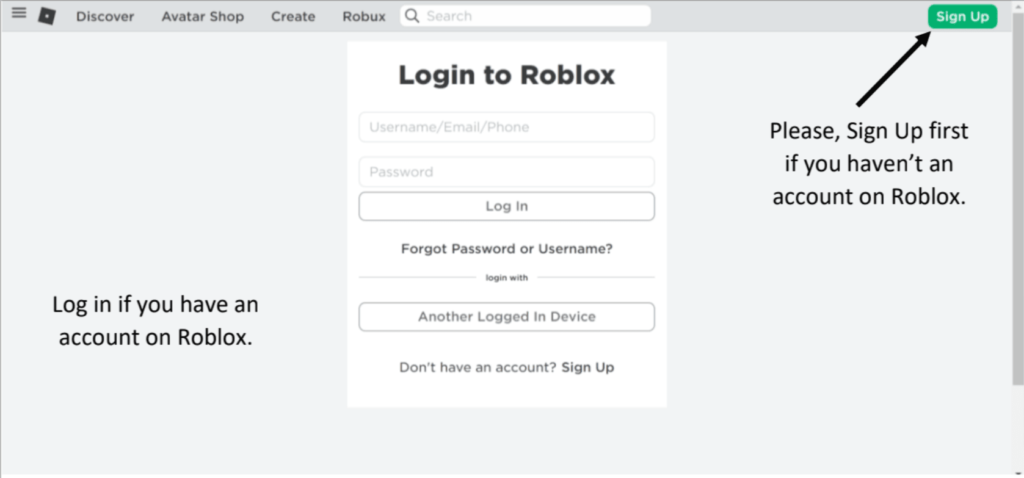 The first thing you should know is that you must create an account on Roblox to explore Roblox, including creating a Roblox group.
Go to the group on the menu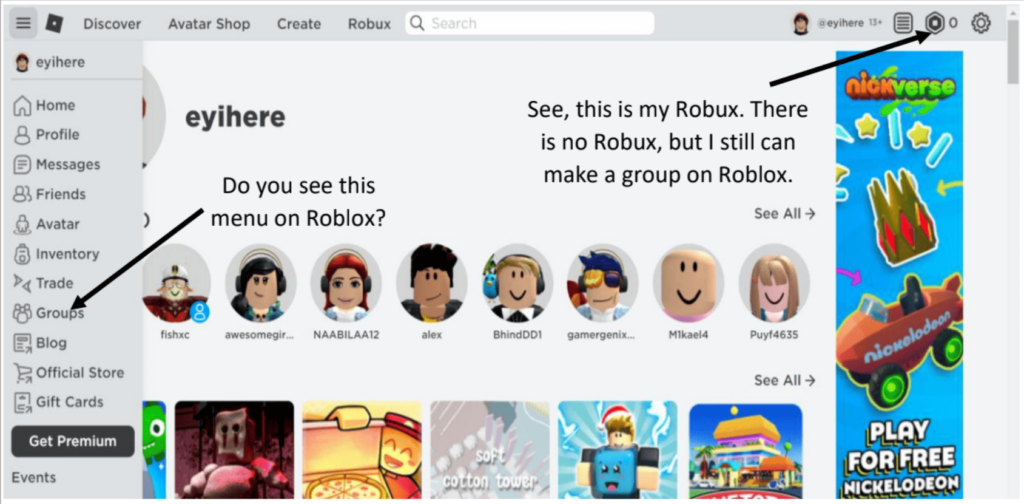 Make a group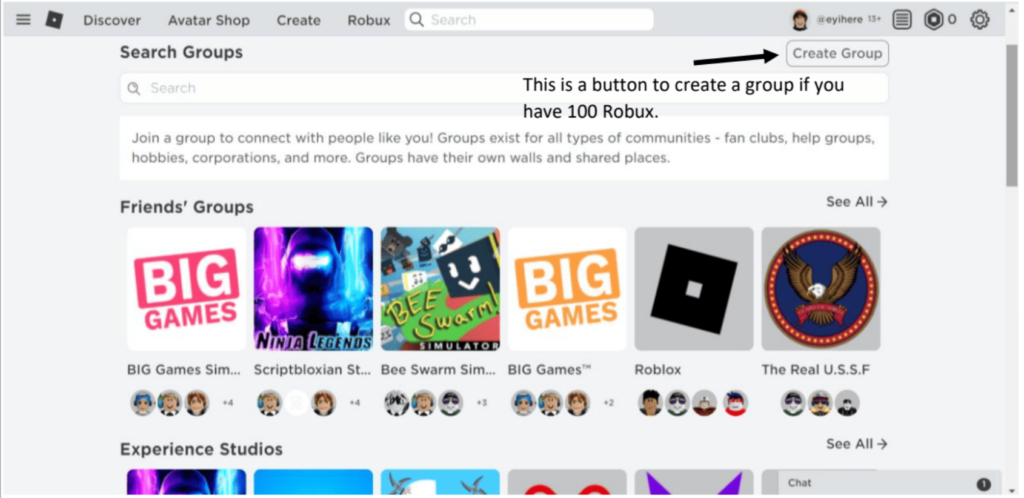 This is how the page looks after you click the group menu.
Usually, you click on the top right button that says 'Create Group' and pay 100 Robux to create a group but here we are going to create a group for free.
To do so follow the steps below!
Step 1: Type any word on the search bar and search for groups. As shown below I've chosen the word mood.
Now the result will show me all the groups with the word mood in their group name.

Step 2: Then, from the search results, look for a group with few or no participants. Continue looking until you find the group.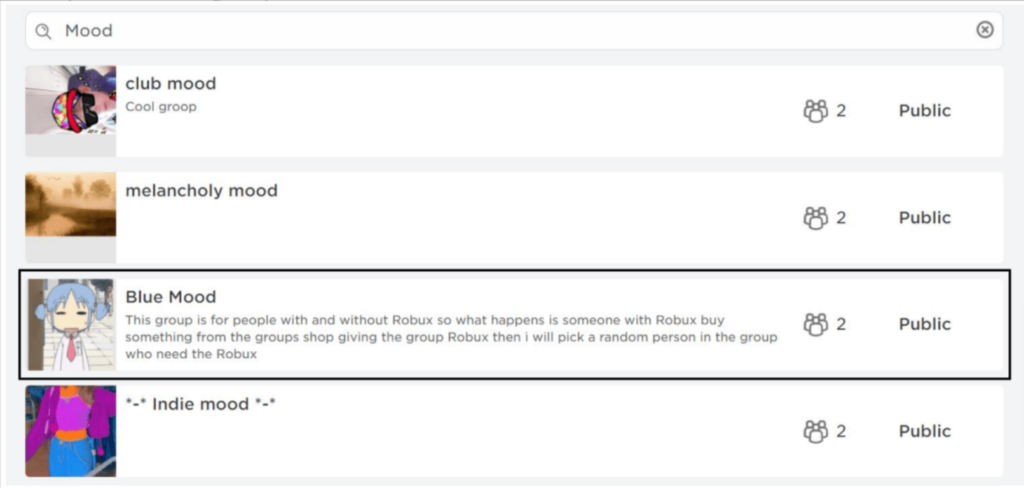 In this case, I chose the group called blue mood, which has only two members. Select the group! Then, as shown below, you will navigate to the group's page.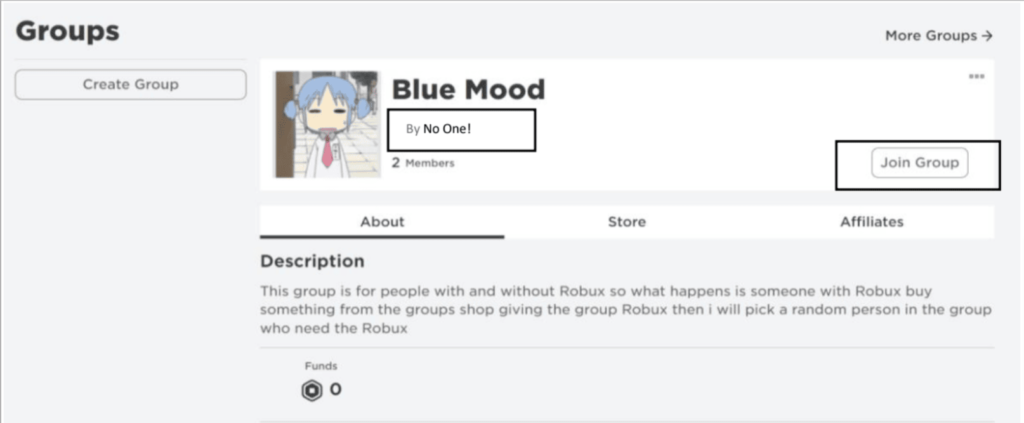 Step 3: Please make sure there is no owner of the group that you select. The title should say By No One, join the group with the button join.
After that, click the three dots on the top and claim the group.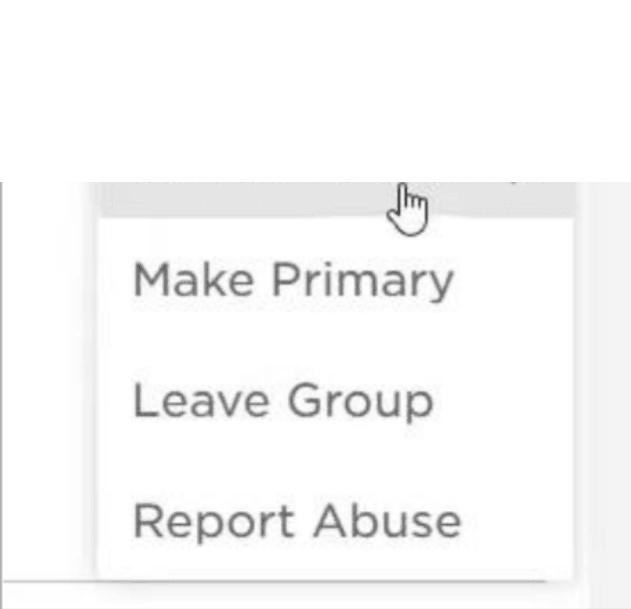 Step 4: And in the last step, your group should look like the below image.

Hurray! You made it.
If you have difficulty finding a group that does not have an owner, keep looking because this is a free service, so you must keep looking.
Finding a group with no owner is extremely rare, so you should be patient until you find one.
Conclusion
To be honest, creating a group on Roblox for free is a little difficult because we need to find a group that does not have an owner.
Of course, if you don't want to do that, you can add Robux to your Roblox account.
So, the choice is yours; if you want to create a group easily or are eager to create one, you can pay with Robux and get the task done immediately.
But if you do not have such needs or hurry you should keep looking for a group that doesn't have an owner and your patience will be rewarded.
Learn to create fun games in Roblox at BrightChamps with its specially designed curriculum, which makes learning game development and coding simple for students in Grades 1-12. If you enjoyed this blog, also check out lego robotics for kids
BrightChamps also teaches a variety of other programs that assist children in developing a foundation in computer programming through activities, interactive lessons, and other means.