This blog discusses the popular Roblox gift card that players are crazy about, with which they can get Robux and eventually cool items such as avatars.
Roblox terms itself an "Imagination Platform," allowing users to make and play millions of 3D online games.
It was founded in 2007 and now has a monthly player base of 64 million, with a total of 178 million accounts on the platform.
It's accessible as an Android and iOS app, and it's rated 12+ with Parental Guidance recommended. Tablets, PCs, Xbox One, and Amazon devices can all be used to play the game.
Roblox is described as a site built by gamers for gamers. The platform's other primary function is socialization; users are encouraged to make friends with other online players.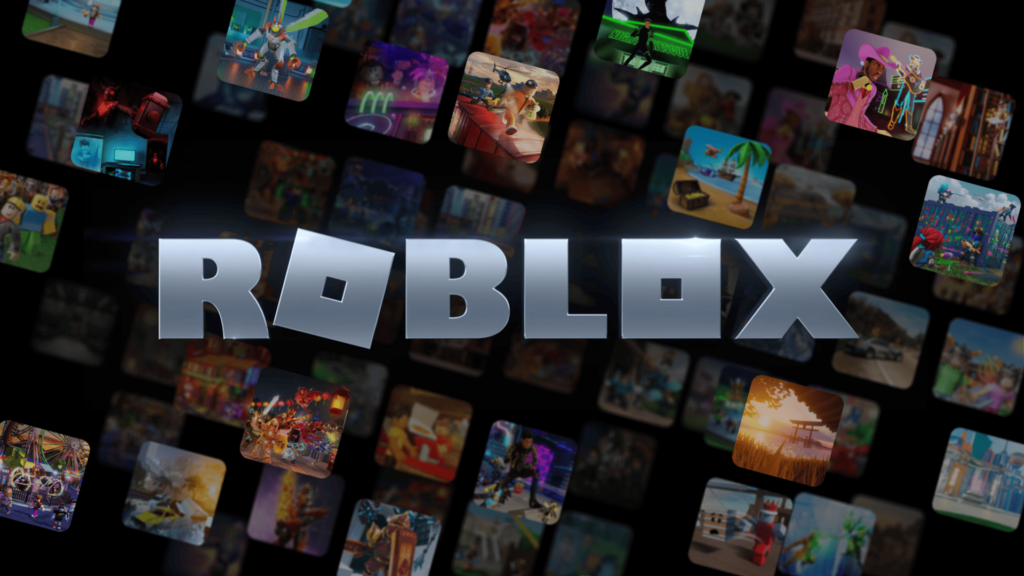 Users can imagine, socialize, chat, play, create, interact, and relate with others in a variety of ways on the site. The Roblox Suite enables gamers to create their own game or world with friends or 'virtual explorers.'
What is Roblox Gift Card?
Roblox Gift Card is the most convenient way to get credit for Robux or a Premium subscription.
In simple terms, Roblox Gift Card is used to buy Robux, Roblox's virtual currency with which you can purchase in-game items, and contents as well as accessorize and customize your avatar.
About Robux Gift Card
Robux Gift Card is one of the most popular items among the Roblox players. Ever since Roblox introduced gift card players have been giving their all to get their hands on these cards.
Robux being the virtual currency of Roblox, these gift cards are used to buy Robux. With the popularity of Robux gift card has increased the popularity of Roblox gift card redeem.
Many players, in the beginning, are confused about Robux redeem which is why in this blog, we talk about the whole process of Roblox Robux redeem.
How to Redeem Roblox Gift Card
To Redeem a gift card on your account, you will need to enter the Roblox codes available to you. Follow the given steps:
STEP 1: Use a browser to access your Roblox account.
STEP 2: Navigate to the Code Redeem Page www.roblox.com /redeem
STEP 3: Fill in the blanks with your code.
STEP 4: Click the Redeem button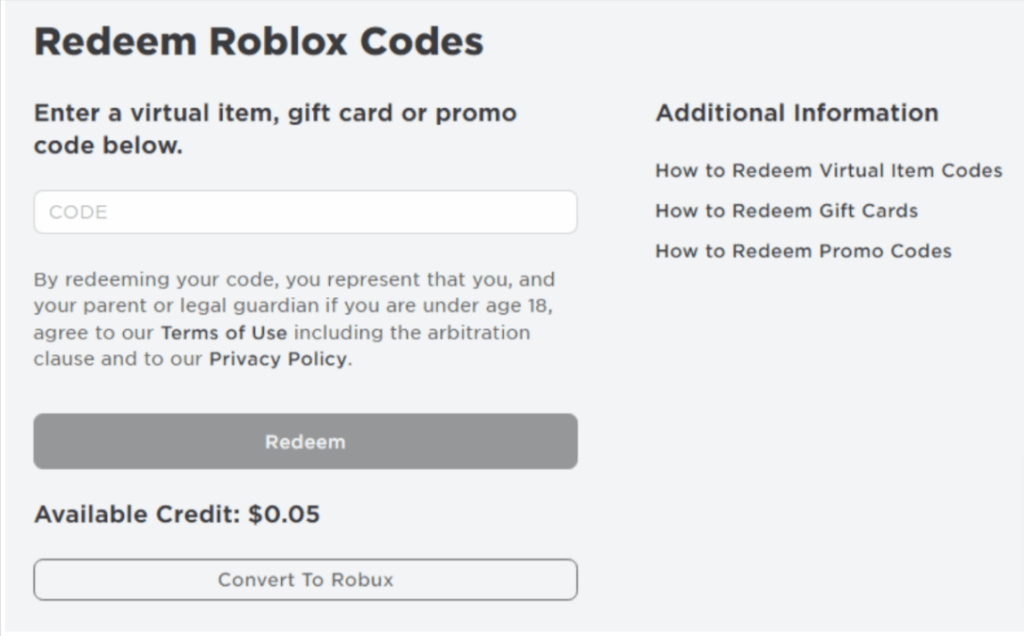 STEP 5: When you successfully add Credit to your account, a success message will appear.
If you're having trouble redeeming a PIN that contains a 0 (zero) or a 1 (one), try substituting with the uppercase letters O and I.
STEP 6: To use your credit, click Use Credit.
You can get more information on the next step by reading the Using Gift Card Credit help article. Alternatively, click Close to dismiss the message and redeem another gift card.
Confirming your balance
Finding your credit balance
The credit balance of a gift card can usually be found on purchasing pages after it has been redeemed. The credit balance of an account will not be visible on all pages.
Check to see if you received your gift card credit using the following steps:
In a browser, make sure you're logged into the account where the gift card was redeemed.
Navigate to the Billing Settings page or the Gift Card redemption page.
Your Credit Balance will appear under the Redeem button on the Gift Card redemption page.
Your Current Balance is displayed under Roblox credit on the Billing Settings page.
If you don't see the credit balance, it means that no Roblox Gift Card Credit has been redeemed on the account. 
Finding your Robux balance
Robux Balance can be accessed via the Roblox Mobile App. Follow the steps below to check your Robux balance
Log in to the account from which the Robux were purchased.
Tap the Robux icon at the top of the app.
Your Robux balance is shown at the top.
On a PC, your Robux Balance is displayed in the upper right corner of the browser window.
To check your Robux balance via the Roblox Xbox One app, follow these steps:
While on the Home screen, press and hold the Right Bumper (RB) button until you reach the Robux screen.
On the Robux screen, your current total is displayed next to My Balance in the lower-left corner.
Robux Spending History
Follow the steps below to check your history of Robux spending:
Log in to the account from which the Robux were purchased.
Click the Robux icon in the upper right corner of the browser window.
Activate your Robux value
This will take you to the My Transactions page.
View your currency purchases from the previous day, week, month, and year.
View your Purchases to see how you spent your Robux.
Steps to Redeem Credit to Pay for a Purchase
STEP 1: Use a browser to access your account.
STEP 2: Navigate to the Membership Page or the Robux Page.
STEP 3: Select the product you want to purchase by clicking the appropriate button.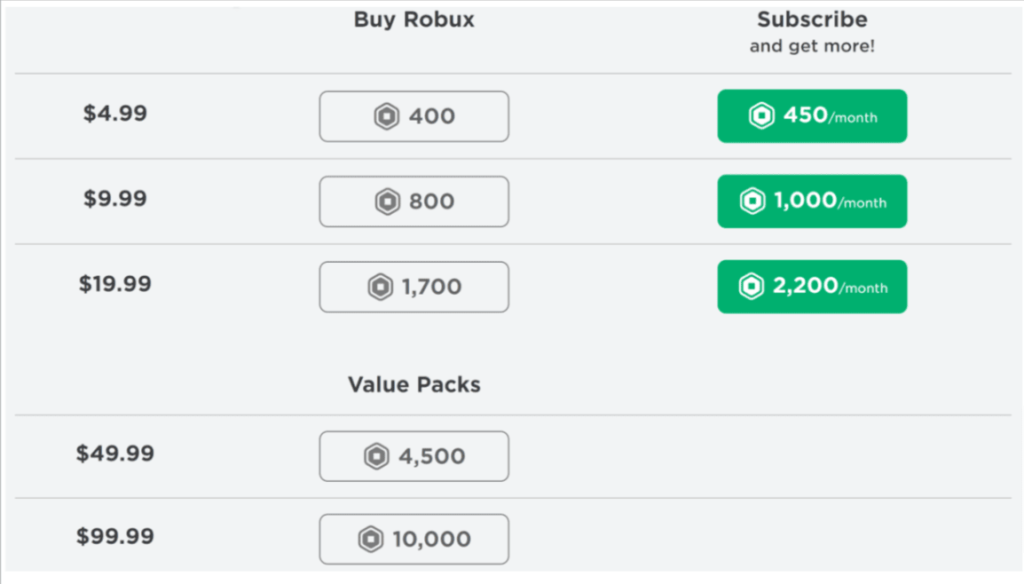 STEP 4: Continue after selecting Redeem Roblox Card as the payment method.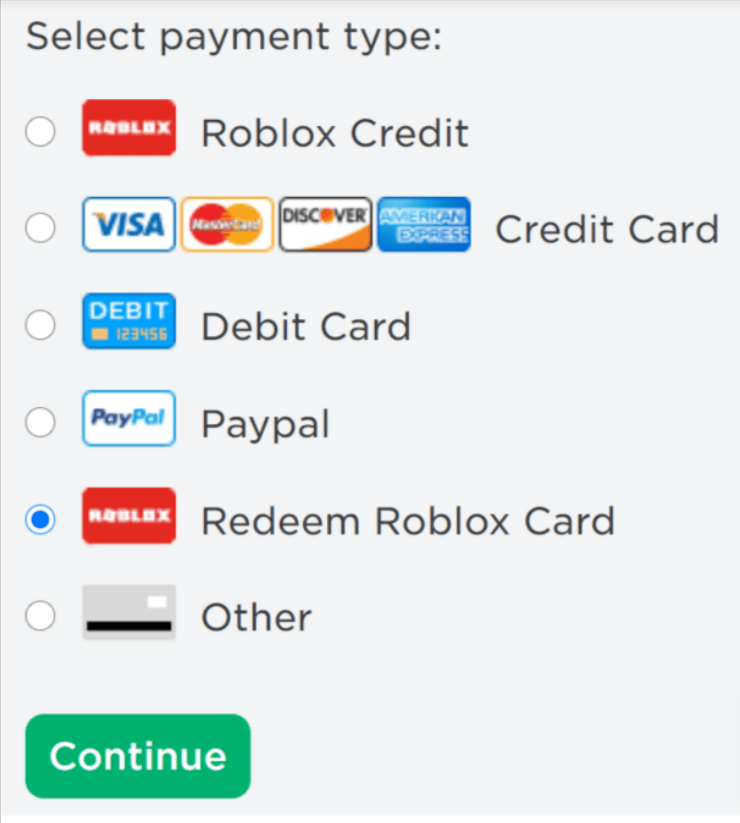 STEP 6: Enter the PIN and Redeem

STEP 7: Once your Roblox Credit balance updates, select Submit Order

STEP 8: The page will update confirming your payment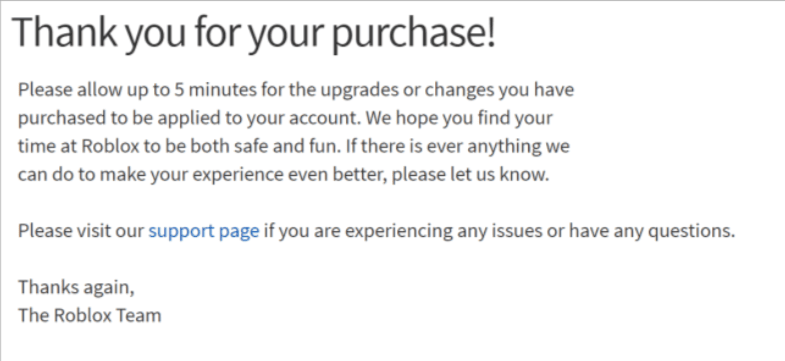 Click here to know more about robotics for kids
Conclusion
Roblox a popular gaming and game development platform offers a lot of features to make your games more interesting and attractive.
But sadly these features and items come with a price. As a result, users must make these transactions with Robux, Roblox's virtual money.
Robux is purchased with real money, but one of the most convenient ways to obtain Robux is to use Roblox Gift Cards.
If you acquire a Roblox Gift Card, make sure to utilize the procedures listed above to redeem your gift card properly.
Learn to create fun games in Roblox at BrightChamps with its specially designed curriculum, which makes learning game development and coding simple for students in Grades 1-12. Discover our blog on robotics camps for kids! Don't miss out on this engaging and educational opportunity, where children can explore the thrilling realm of technology and automation while having an absolute blast!
BrightChamps also teaches a variety of other programs that assist children in developing a foundation in computer programming through activities, interactive lessons, and other means.
Frequently Asked Questions (FAQs)
How to add roblox gift card?
To add Roblox gift card first you need to login into your account from a computer and then go to code redemption page.
How to use a Roblox gift card?
To use a Roblox gift card you need to first redeem the Roblox gift card.
1. Access your account from a browser.
2. Go to either the Membership Page or the Robux Page.
3. Click the appropriate button to select the product you want to buy.
4. After selecting Redeem Roblox Card as the payment method, click Next.
5. Enter the PIN and click Redeem.
How to redeem roblox gift card on mobile?
Redeeming a Roblox gift card on mobile is not as simple as it is on PC. When it comes to how to Roblox card on Mobile, you can find a lot of helpful tutorials on YouTube.