Learning math is one of the many academic concerns that parents have when their children start school.
Yes, it is undeniable that learning math is difficult for the vast majority of people.
Is there any way, other than the traditional methods we're used to, to get your kids started early on learning complex math concepts and problems?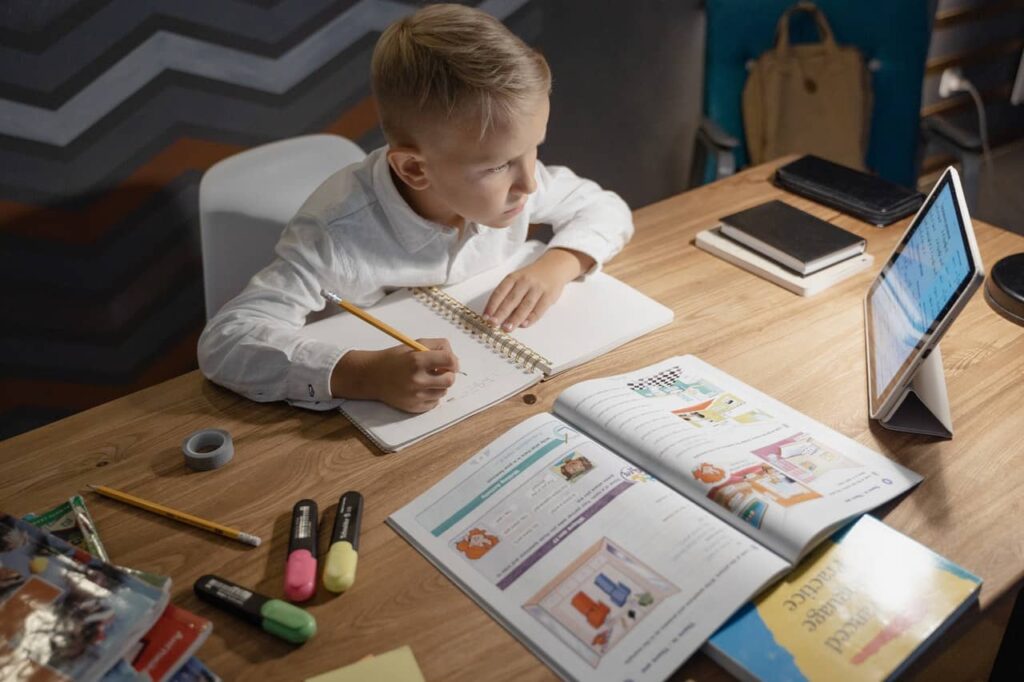 Well, the good news is that there is.
In today's technology-driven world, you can engage your children in math learning while having fun by using math games and apps.
Here, we have compiled a list of the top ten free math games for kids to help them improve their math skills while having fun.
So, let's take a look at some of the best free math games, apps, and websites that will have your children learning math concepts in no time.
10 Best Free Maths Game For Kids in 2022
Kids Math
It is an extremely fun math game for kids where the main goal is to complete eight levels in a set amount of time by answering 10 math questions at each level.
These questions also include fractions and greater than/less than numbers. Players are given a limited amount of time to respond to each question; correct answers earn them an extra four seconds, while incorrect answers cost them five seconds.
The questions in this game are dynamically generated meaning there will be no repeated questions and children will receive new ones each time they play.
The app is available for free download on Google Playstore. This game is ideal for kids in Grades 1-5.
Monster Math
In this game, children will help a friendly monster named Maxx fight enemies, explore, and save his friend Dextra by solving various math problems.
This adventure will teach children basic arithmetic skills such as addition, subtraction, multiplication, and division.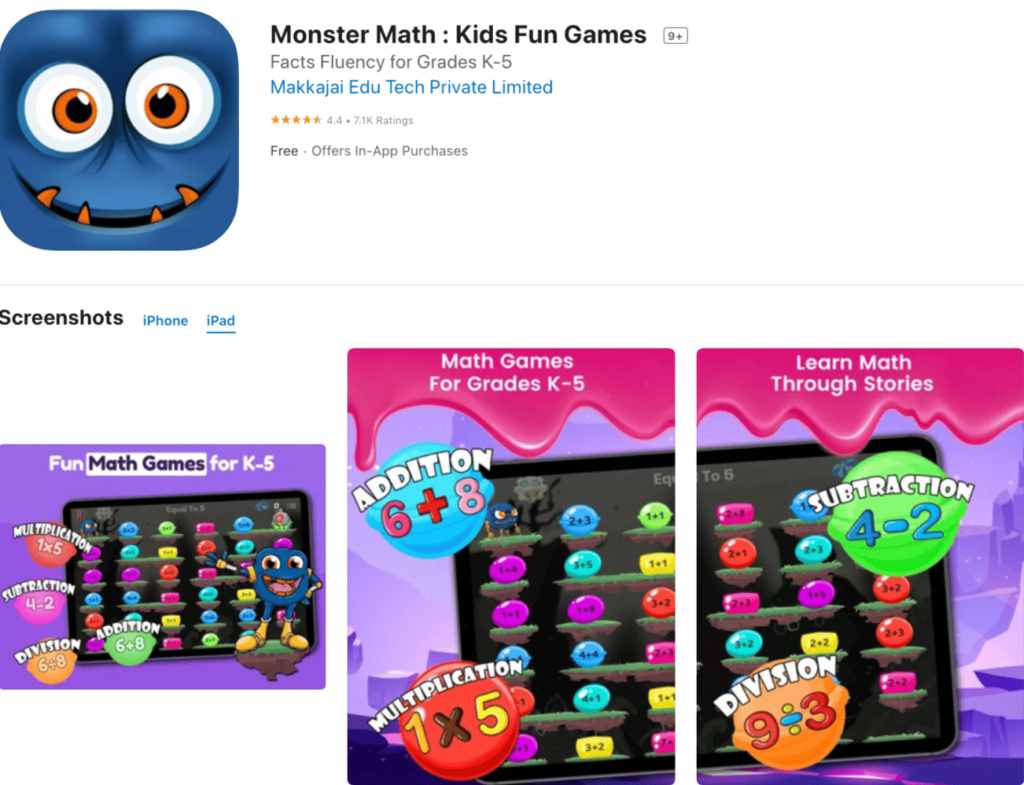 It's a really fun and engaging game, and there's even a Multiplayer Mode where kids can compete against other online players.
This app is suitable for students in Grades 1-3 and is available for free on the App Store and Google Play.
Khan Academy Kids
Another excellent app for teaching children basic math concepts as well as other skills.
Experts from Stanford Graduate School of Education created Khan Academy Kids. In terms of math, it teaches the subject through the use of adorable animal characters.
Reading, writing, language, problem-solving, motor development, and social-emotional development are among the other programs available in the app.
There are also adaptive features that allow for a more personalized experience, ensuring that children get the most out of their digital games.
It is suitable for children aged 2 to 6 years old and is available for free on the App Store and Google Playstore.
Math Playground
Math playground offers a variety of online math games for kids which help children learn certain topics and math concepts.
These games range from grade-level topics to logic games, arcade-style math games, and even story math games.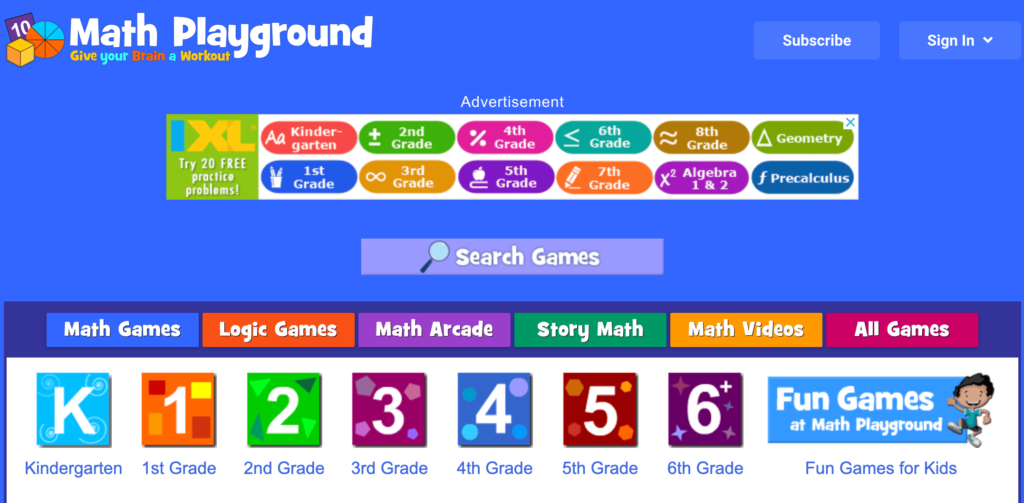 All the games are free. Apart from these, there are also videos available providing children with a variety of content so they can choose to learn things their way.
SplashLearn
SplashLearn is a fun app that teaches math through engaging and interactive visuals.
With a specially designed curriculum, the app allows children to learn math at their own pace.
For Kindergarteners, it focuses on shapes and counting, while for 5th graders, it focuses on basic algebra functions such as multiplication, division, decimals, and fractions.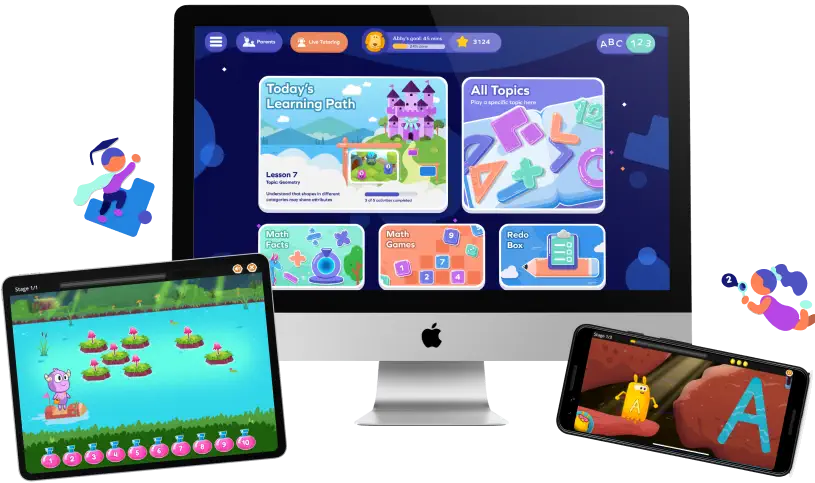 The app includes a progress dashboard for tracking your progress as well as virtual rewards. It also explains why some of the answers are incorrect.
It is appropriate for children in Preschool through Grade 5. It is free to download from the App Store and Google Play.
Math Goodies
Math Goodies teaches math in a variety of interactive ways, including traditional lessons, math puzzles, games, worksheets, and so on.
The website is entirely free to use, and it also provides math rewards. There are also videos, word problems, and other resources on various topics.
The best part is that students can design their own worksheets.
The math lessons are divided into topics rather than grades, but they are explained in such a way that school-going children of any age can understand them.
Moose Math
Moose Math provides a fun way for kids to begin developing their math skills, such as counting, shapes, addition and subtraction, measurement, and basic numeracy.
It provides five different games for kids to practice their math skills. On their way to mastering the fundamentals of math, they'll visit virtual locations such as the Moose Juice Store, the Lost & Found, and Puck's Pet Shop.
These activities will help them learn numeracy and counting, addition and subtraction, geometry, sorting, and other important math skills.
Along the way, they will earn a variety of rewards and have the opportunity to decorate their own city.
This math game app is designed for children ages 3 to 7, and it is available for free on the App Store and Google Play.
Fun Brain
It is yet another fantastic website for teaching math to children through interactive and engaging games. From pre-k to 8th grade, Fun Brain has a game for everyone.
The website also includes videos and narrations that explain all of the math concepts.
The Playground, where math concepts are taught through interactive stories at various grade levels, is the most interesting aspect of this website.
DoodleMath
DoodleMaths is an interactive and adaptive learning program for reinforcing and learning new math skills.
Students earn stars for correctly answering questions and playing games, which they can then exchange for customizable cartoon robots.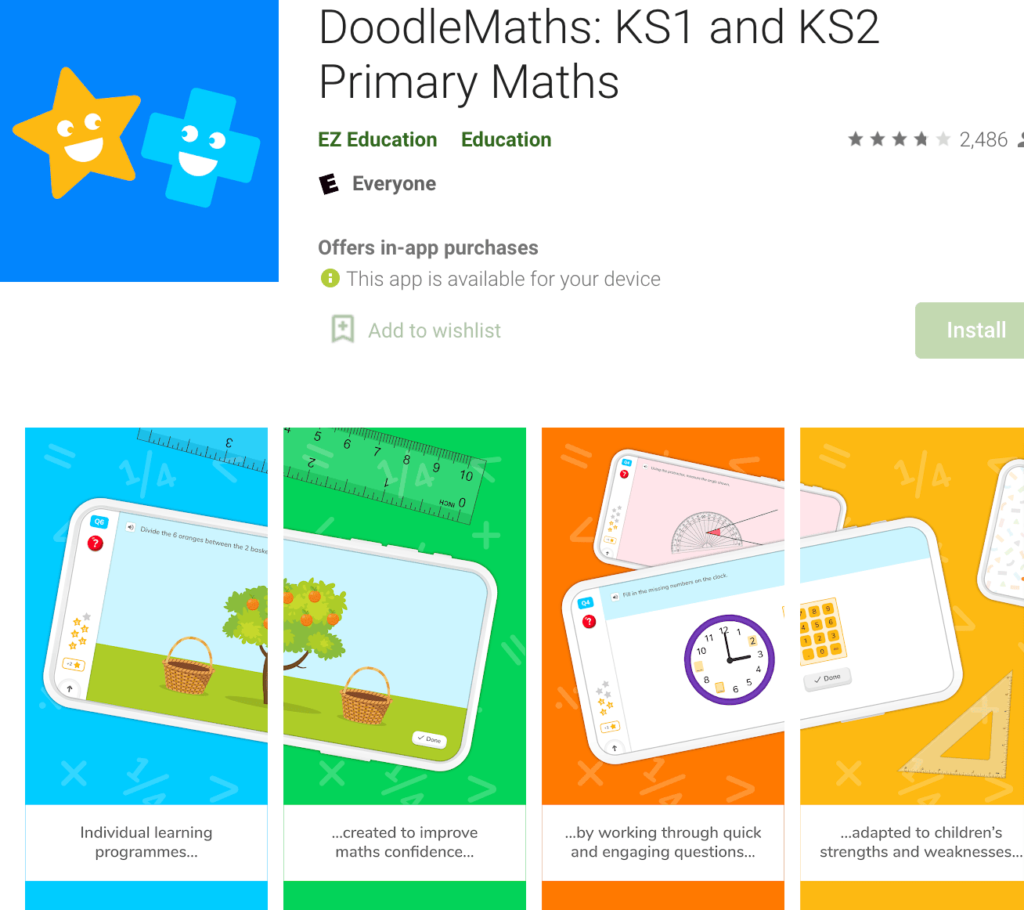 Each student account also has a My Pages section. Students can use this section to locate their robots, access doodle pages, track their progress, and if enabled by the teacher, message friends. It is suitable for children in preschool through Grade 8.
Sumaze Primary
Sumaze Primary is an ideal app for helping children improve their math and critical thinking skills. The balance of gameplay and math skills in the app is awesome.
Kids play various games and multiple choice quizzes and along the way, they learn math concepts.
It is suitable for children aged 4 to 7, and it is free to download from the App Store and Google Playstore.
Conclusion
If we want our kids not to suffer because of math problems it is a better idea to introduce them to math concepts from an early age.
With the advent of fun apps and games, learning anything has never been easier.
Similarly, you can introduce your children to some fun, interactive, and adaptive math games and apps that will help them grasp some of the fundamental concepts of mathematics early on.
Visit coding game for kids, to find more games.
With the world moving at such a breakneck pace, BrightChamps recognized the need to introduce key life/future skills to children to keep them ahead of the game.
With a mission to bridge the gap left by traditional education, we are bringing key future skills through specially designed courses on coding and financial literacy taught by some of the world's best minds from top-tier institutes such as IITs and IIMs.