Minecraft has numerous blocks that help players get creative when building stone structures, with Smooth Stone being one of the most popular.
Smooth Stone is used for constructing buildings or impressive designs in Minecraft but first, we have to gather the required material.
So today, we will learn how to make Smooth Stone in Minecraft.
Smooth Stone in Minecraft
The Smooth Stone was first introduced in the Minecraft bedrock editor in November 2018.
Smooth Stone is a type of stone in Minecraft that is used for crafting items. It is very simple to make and allows us to build with a smooth texture.
The advantage of Smooth Stone is that it does not require additional time or a lengthy procedure to produce.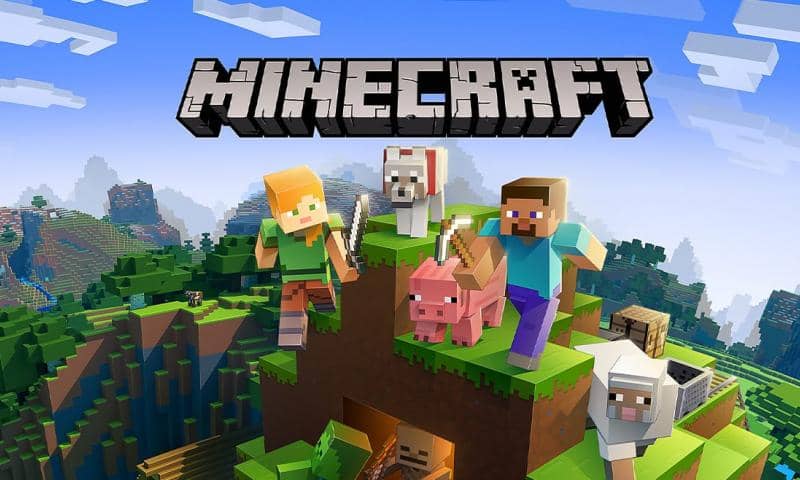 We will be looking at a variation of a classic stone block. 
Cobblestone is one of the most common blocks in the game, so you'll find them all over the place in Minecraft.
How to Make Smooth Stone in Minecraft
1. On a PC using the crafting menu
First, you must mine or harvest as much Cobblestone as possible because it is required for the construction of a Furnace as well as the crafting of Smooth Stone.
Also, look for coal, as this will be best suited for smelting together in the Furnace.
When we have finished gathering materials, we will follow the steps and images below which show the recipe for making a Furnace.
Step 1: Use a minimum of 8 cobblestone blocks to build a furnace.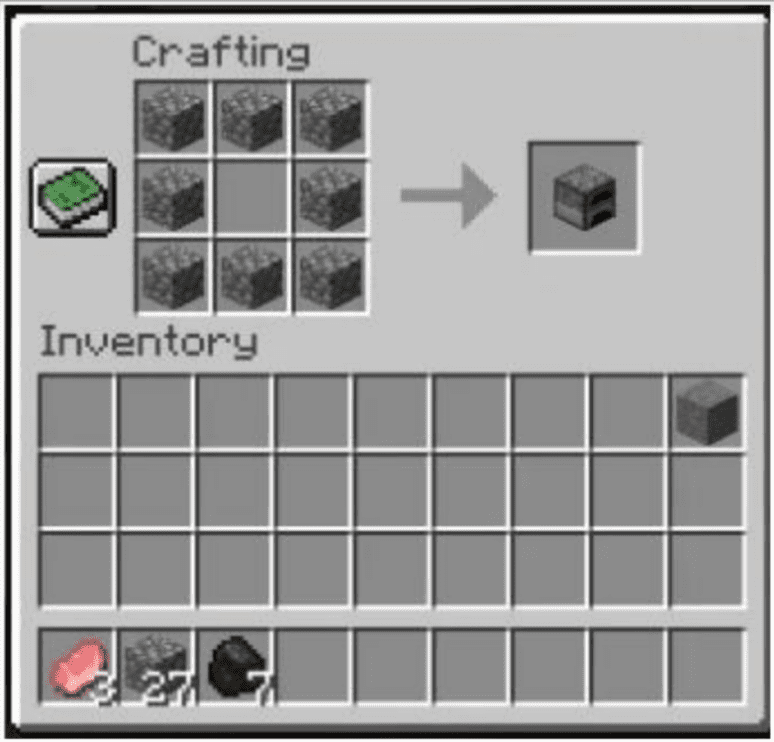 Step 2: Add your cobblestone blocks. Once you are done completing this task, now we are ready to move on to making the Smooth Stone.
We now need to have three materials that are required to make Smooth Stone, the process is quite easy.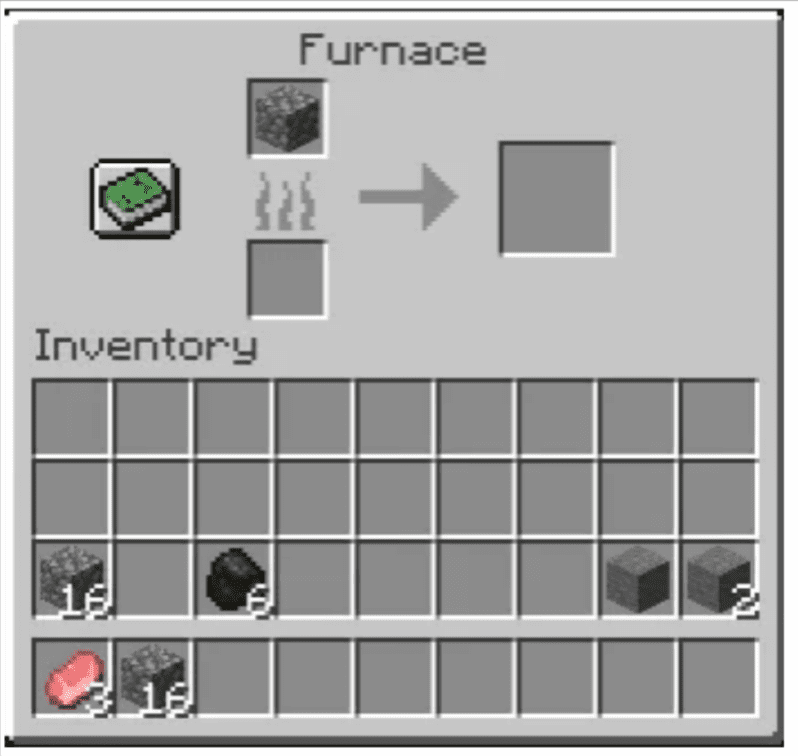 Step 3: Now, place all of the coal, sticks, charcoal, or anything flammable for fuel that you have collected in the bottom half of the furnace, followed by all of the cobblestones that you have collected in the top half of the furnace.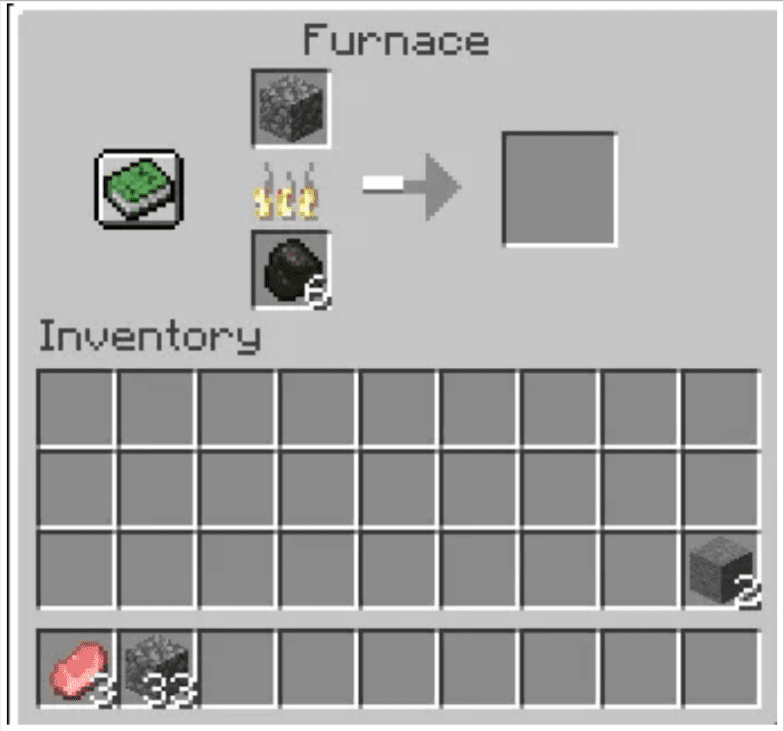 Step 4: Add more fuel to the regular stone stack so that it gets the smoother stone.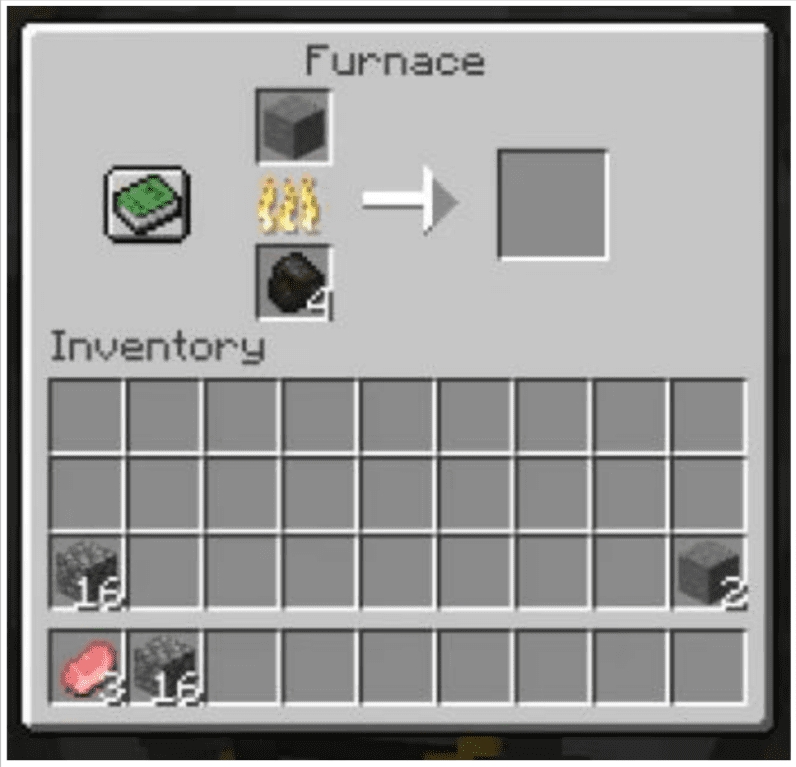 Step 5: After some time, the Coal will melt the Cobblestone into the Stone, and this is the final step in making Smooth the Stone in Minecraft.
Once all of the Cobblestone has been burned and we have a nice stack of Stone, put it all back into the Furnace and melt it again.
Once this is completed, we will have Smooth Stone as a finished product.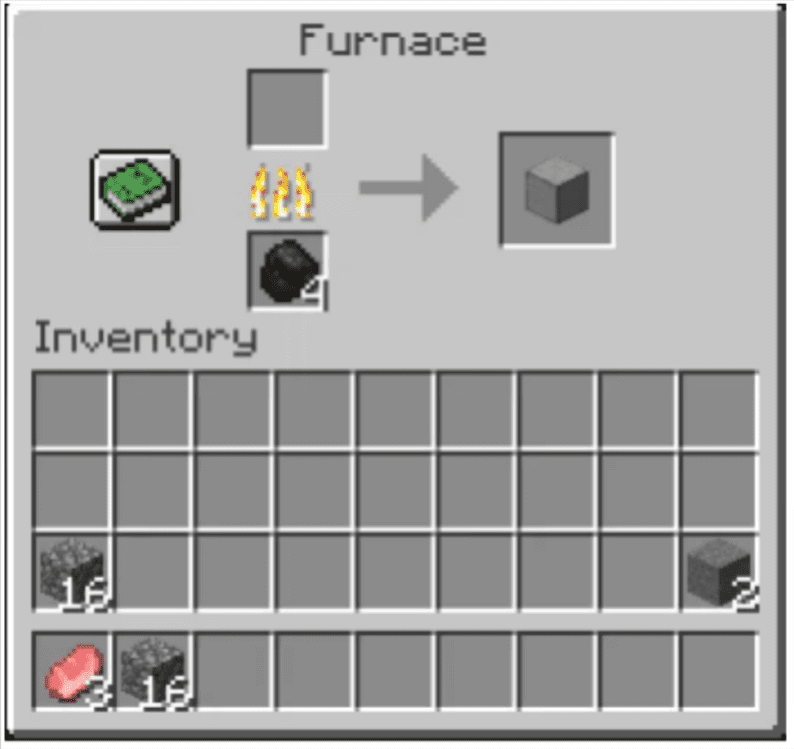 Step 6: This block is pretty versatile and we can use it within lots of Minecraft building projects, but there are other variants of Smooth Stone we can also create.
2. On iPhone and Android using the crafting menu
When Minecraft 1.9.0 for the Pocket or Bedrock Edition was released, iPhone and Android users could also create Smooth Stone blocks on their mobile devices.
The steps to make a Smooth Stone on iPhone and Android are as follows.
Step 1: Access your furnace in the same way that we did on the PC.
Step 2: Place a required number of cobblestones along with fuel.
Step 3: It will turn the cobblestone into a regular stone.
Step 4: Place more fuel and the regular stone stack in the furnace so that it will be smoother.
Step 5: And now Smelt the regular stone to turn it into Smooth Stone.
Smooth Stone blocks in Minecraft do not allow us to do many things, but they do look nice as a base material.
However, if we make Smooth Stone slabs, we can expand our decorative options to take advantage of the refined texture.
3. Creating a Smooth Stone slab in Minecraft
We can create a Smooth Stone slab in two different ways in Minecraft.
The first method is the traditional method and the steps are given below.
Step 1: Create a crafting bench if you haven't already bullet one.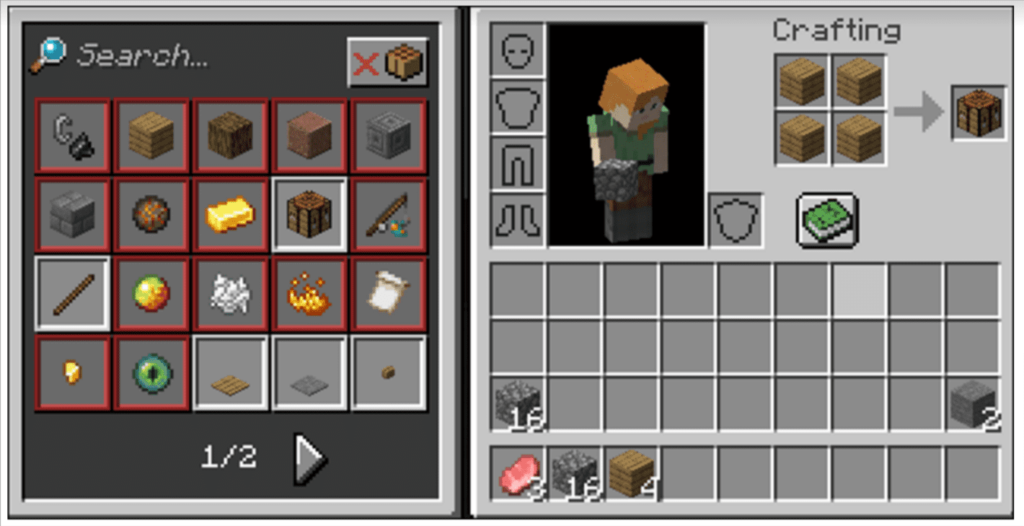 Step 2: Open up the crafting screen as shown in the image.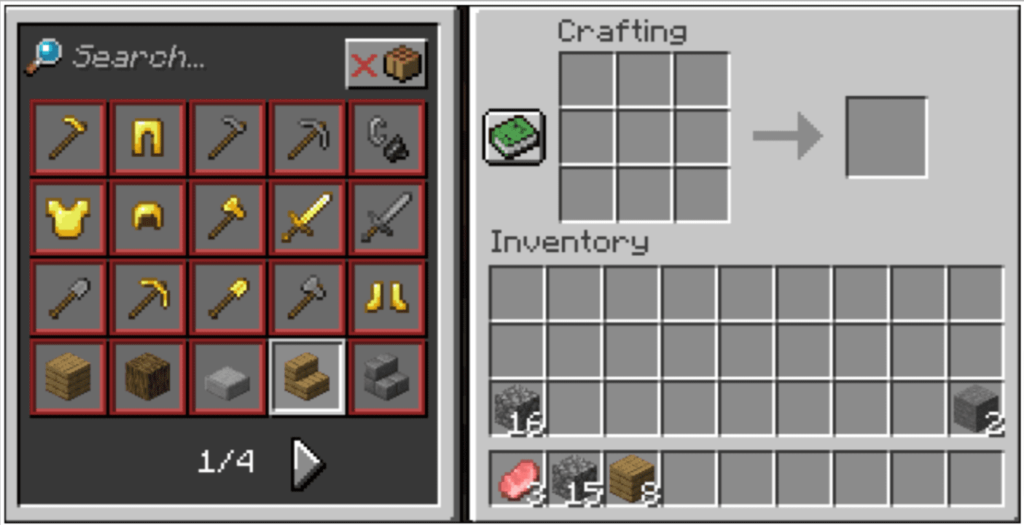 Step 3: Place three Smooth Stone blocks (created earlier) in the bottom row. This will result in six smooth slabs.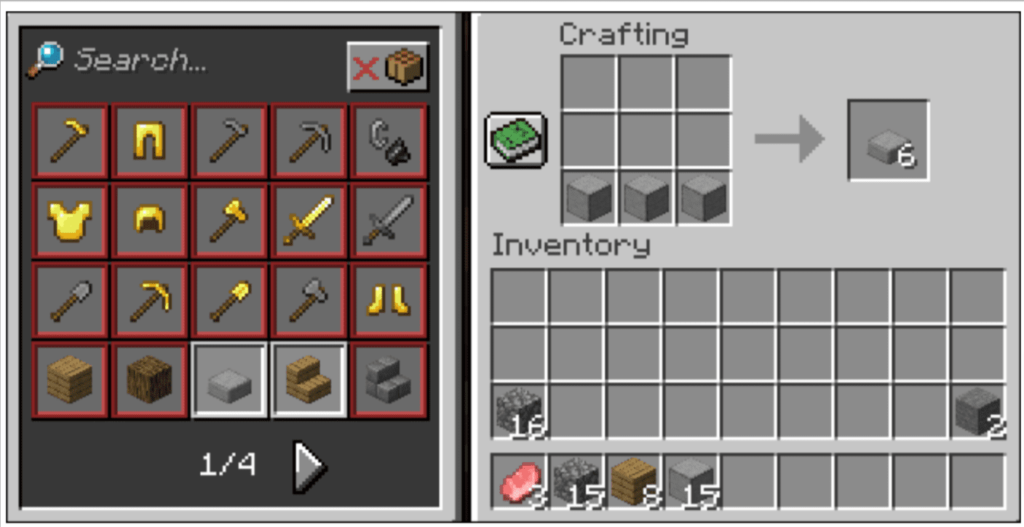 Another option for crafting a table is to use the stonecutter. Smooth Stone slabs, like other types of stones, can be crafted at the stonecutter.
If you don't know the process of making a stonecutter utility block, follow the below process:
Open up the crafting menu on the crafting bench.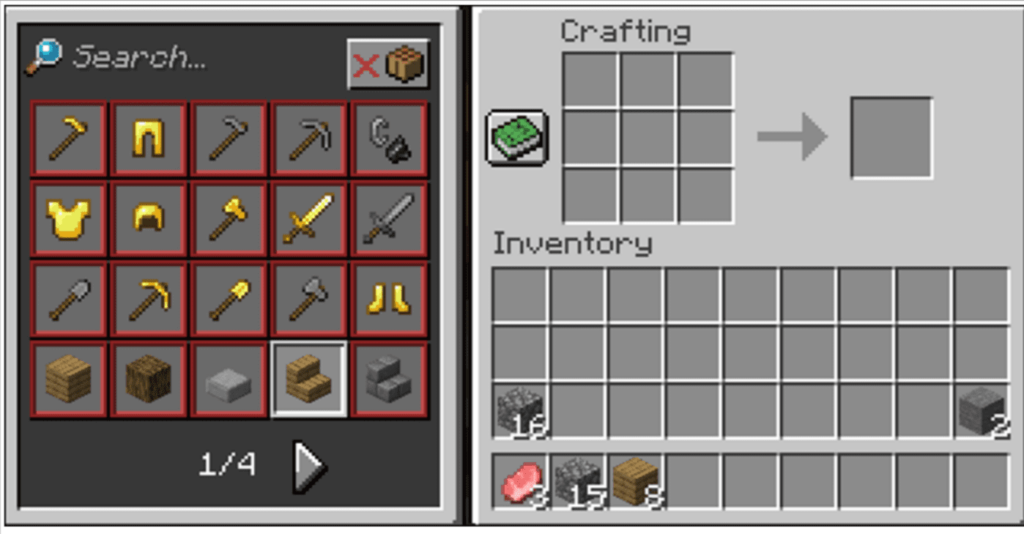 2. Now Place one iron ingot at the top of the middle square.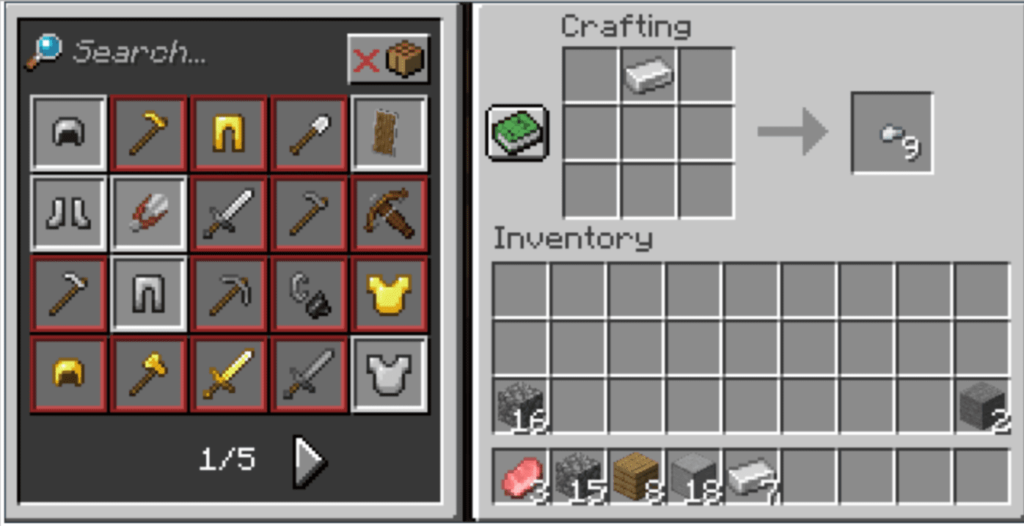 3. The last step is to put three stone blocks in the middle row to complete the stonecutter.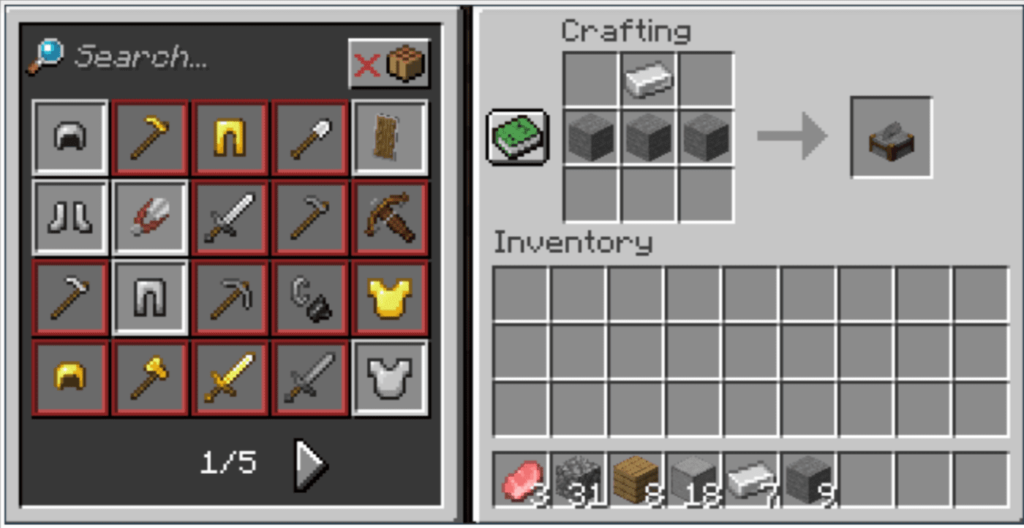 4. Now Place the stonecutter on the ground.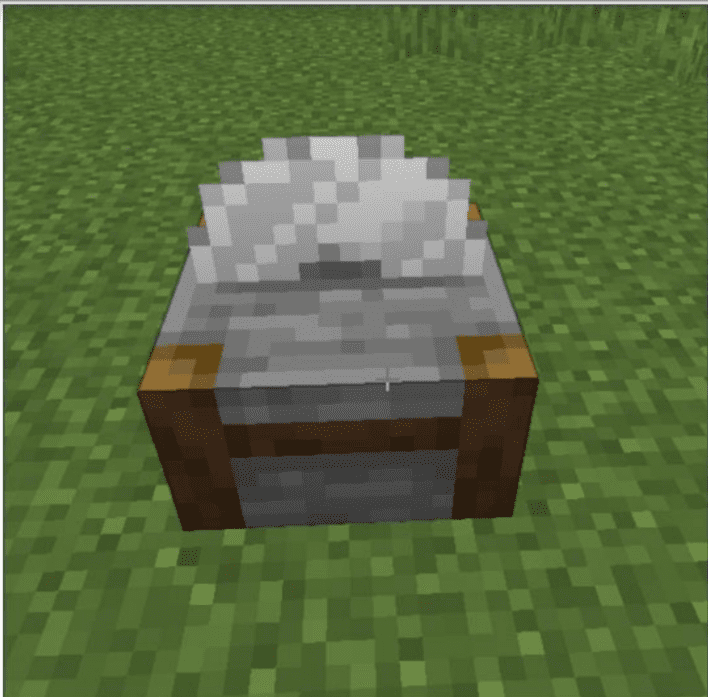 5. Bring up its crafting screen once more.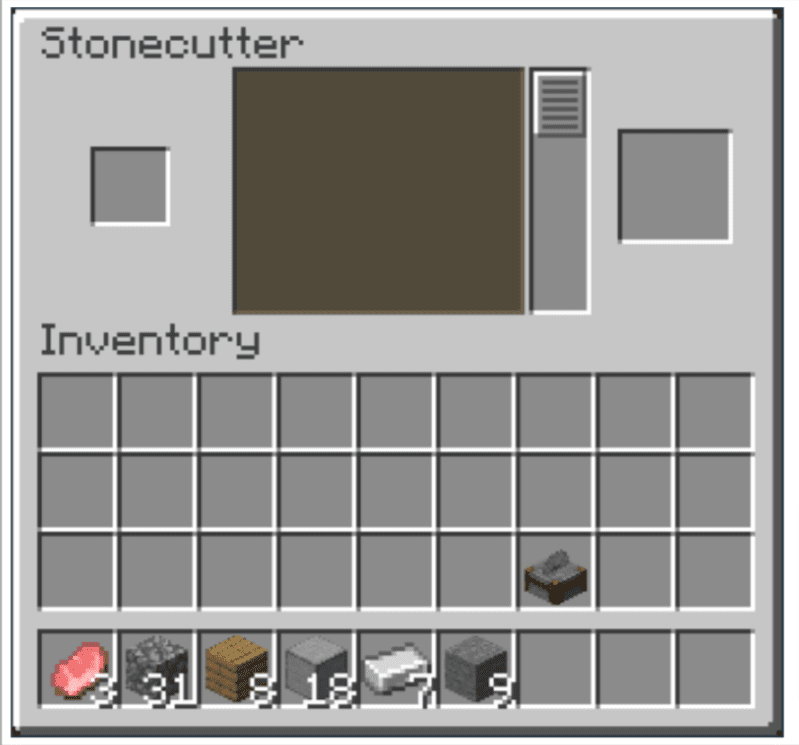 6. Now move our Smooth Stone blocks inside it and select the slab in the recipe.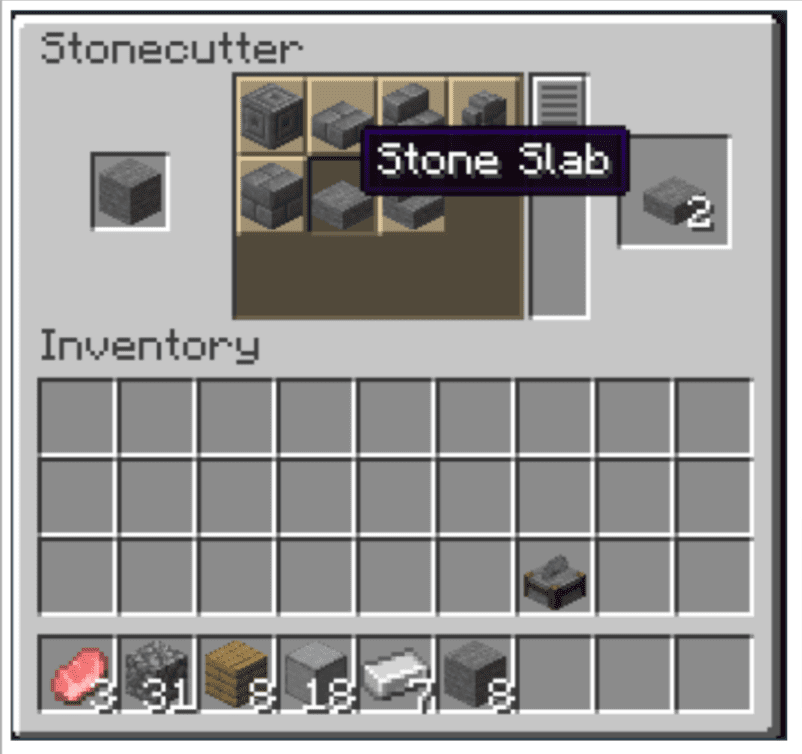 4. Creating a Smooth Sandstone in Minecraft
Smooth Sandstone is another great feature in Minecraft. If you have regular Sandstone, we can make Smooth Sandstone in a furnace. To make Sandstone and Smooth Sandstone, follow the step-by-step instructions below.
Step 1: Use a shovel tool to gather sand blocks.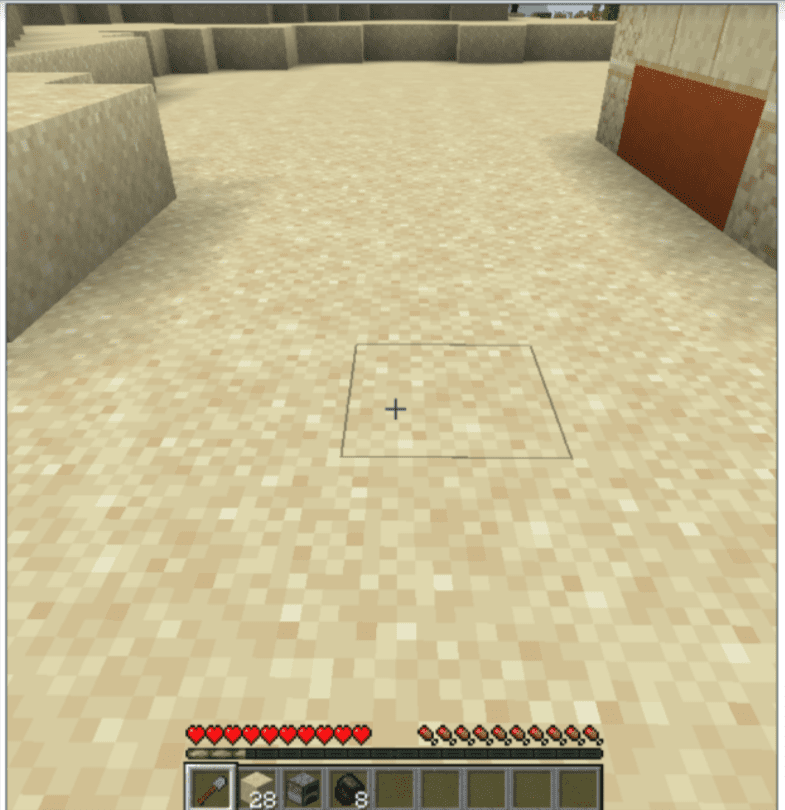 Step 2: Place a minimum of 4 sand blocks in the upper right corner of the crafting screen.
Step 3: Now we need to fill four individual squares of sand blocks similar way as shown in the below image.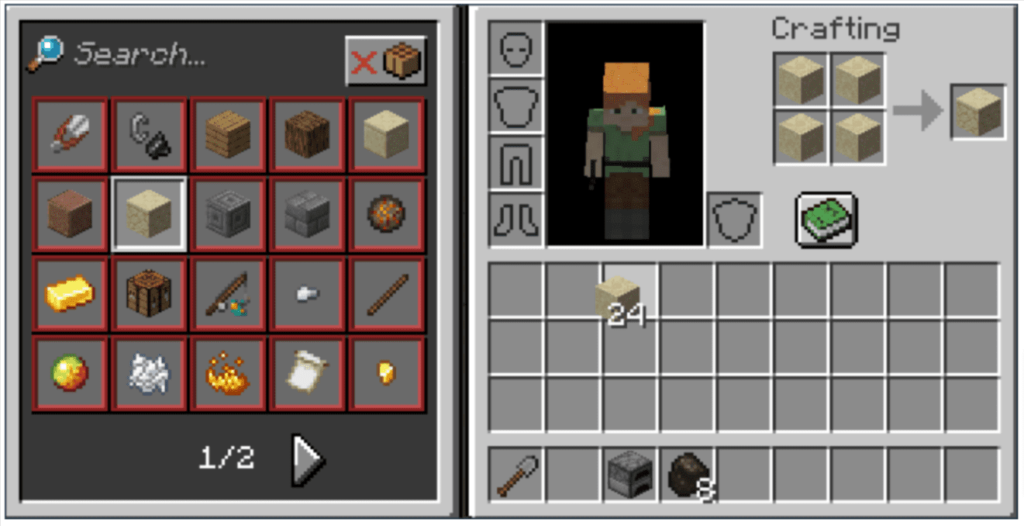 Step 4: Now we will get one Sandstone block per four sand blocks as shown in the image.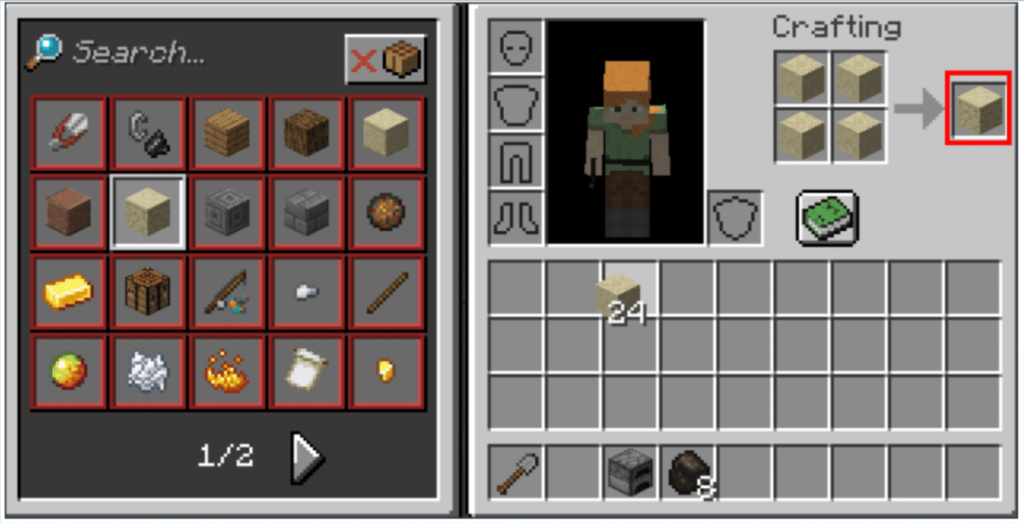 Step 5: Open the furnace screen and place the Sandstone stack as shown below.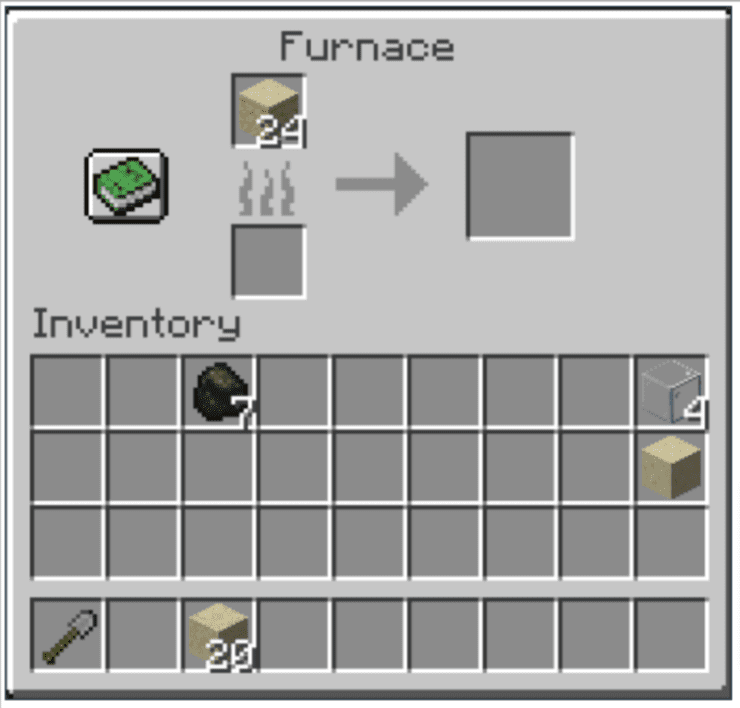 Step 6: Fill the furnace with as much fuel as you need to smelt the Sandstone into smooth Sandstone blocks.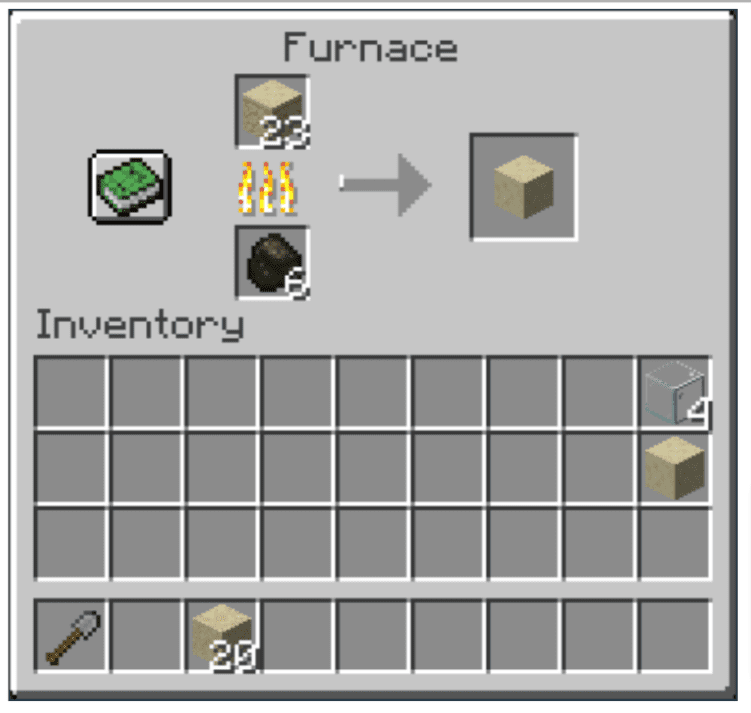 Unlike Smooth Stone, Smooth Sandstone has more utility as a crafting item so that we can create pretty much anything we want just like– stairs, slabs, etc.
Conclusion
Smooth Stone is one of the most popular blocks in Minecraft for allowing players to be creative when building stone structures.
Smooth stone is a type of stone that is created by smelting regular stone. It can be used both as a crafting ingredient and for stonecutting.
Villagers can also use Smooth Stone as a job block by turning them into Armourers.

Learn more about Minecraft and game development through Minecraft at BrightChamps with its specially designed curriculum, which makes learning game development and coding simple for students in Grades 1-12.
BrightChamps also teaches a variety of other programs that assist children in developing a foundation in computer programming through activities, interactive lessons, and other means.