Introduction
Do you know that everyone, including your kids, can create a professional website? It requires a lot of practice, but the process will be rewarding! Not only does it teach your kids about digital literacy, but it will also spark their creativity and sharpen their logic.
With that being said, it is always better for our kids to start building websites as early as possible and using the right approach. If you're curious about how to make kids engaged during the process, and what the best website builders are for kids to use, stay tuned. I will explain important points that you should not miss out on before building a website with your kids.
Understanding the Needs of Kids' Websites
Before diving into the specifics, let's first understand the distinctive requirements of websites aimed at children. These websites should prioritize the following aspects:
User-Friendly Interface
A website builder for kids must have an intuitive and user-friendly interface that allows young users to navigate effortlessly. It should be easy for children to understand how to create, modify, and update their websites independently.
Engaging Design Templates
Captivating design templates play a crucial role in attracting and retaining children's attention. The website builder should offer a diverse range of visually appealing templates specifically designed for kids, featuring vibrant colors, playful elements, and age-appropriate themes.
Customization Options
Kids love to express their creativity, so it's important to choose a website builder that provides ample customization options. The ability to personalize colors, fonts, and backgrounds, and add unique elements will empower children to make their websites truly their own.
Educational Features
To make the website-building process educational and enjoyable, look for builders that incorporate interactive features such as drag-and-drop functionality, coding tutorials, and educational games. These elements can help children develop valuable skills while having fun.
Safety Measures
Online safety is paramount when it comes to kids' websites. Ensure the website builder you choose implements strong security measures, including content filtering, user privacy protection, and parental control options.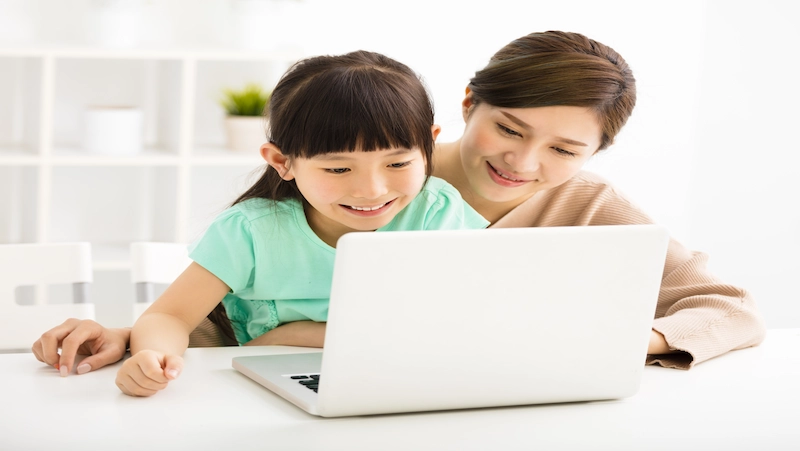 Comparing the Best Website Builders for Kids
Now that we have a clear understanding of the essential features, let's compare some of the top website builders available for creating websites targeted at children:
Wix:
Wix is a widely recognized website builder known for its drag-and-drop interface, making it user-friendly for beginners. It offers a range of visually appealing templates and a vast library of images, icons, and design elements. With Wix, kids can easily create their websites by customizing templates, and adding text, images, and multimedia content. It also provides features like a blog, e-commerce functionality, and integration with popular social media platforms.
Weebly:
Weebly is another user-friendly website builder suitable for beginners, including kids. It offers a simple drag-and-drop editor that allows users to create websites quickly. Weebly provides various templates and design options, making it easy for kids to personalize their sites. It also offers features like e-commerce functionality, a blog, and the ability to add multimedia content. Weebly provides a straightforward interface with useful built-in tools.
Squarespace:
Squarespace is a popular website builder known for its sleek and professional designs. While it may have a steeper learning curve compared to Wix and Weebly, it offers robust features and customization options. Squarespace provides an array of visually appealing templates suitable for various purposes. It allows users to create beautiful websites by adding content blocks and customizing their layouts. Squarespace also offers features like e-commerce functionality, blogging capabilities, and integration with third-party tools.
Remember, when considering website builders for kids, it's important to ensure the platform has appropriate content management settings and parental controls to maintain a safe and secure online environment. There are other websites well like WordPress.com & SITE123. Additionally, parental supervision and guidance are recommended to help kids navigate the process and ensure responsible use of the website builder tools.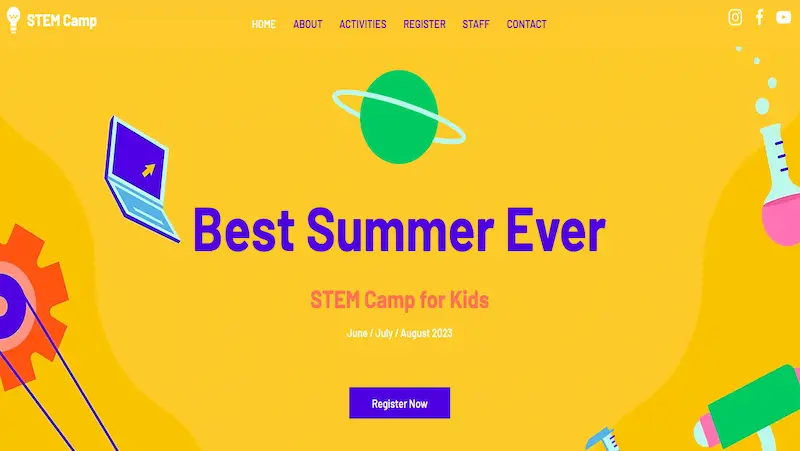 Planning your website
Good planning makes good websites. Ask your kids to pick a specific niche they're interested in because this will make their website compete with other websites. They should define the purpose and goals of their website since this will help them design and publish their blogs later.
The next step is to make a wireframe, which will roughly visualize their website's appearance. This will reduce their 'decision fatigue' later when designing the real website. To create a simple wireframe for kids, I recommend using draw.io.
A domain name and web hosting service can also be determined in this step. For kids, I think shared web hosting is more than enough, considering its affordable price. However, some content management systems (CMS) like Wix and WordPress also offer free hosting services that can be upgraded later.
The following advice can help you plan your website with children:
Start by coming up with ideas. About what do your children wish to build a website? What do they have an interest in? You can begin to focus your thoughts once you have a few of them.
Set some targets. What do you hope your website will accomplish? Do you wish to inform people, provide knowledge, or just have fun? You can begin planning the content of your website once you are clear on your goals.
Decide on a platform. The platforms you can utilize to build a website are numerous. Wix, Squarespace, and WordPress are a few well-liked choices. Select a platform that is user-friendly and suits your needs.
Create a website. Your children can truly express their creativity in this area. They are free to select the colours, fonts, and images they prefer. Additionally, they might include extras like videos, games, and interactive components.
Write your article. Your children can use this platform to educate and inspire people around the world. They are able to compose blog entries, articles, and even original stories.
Make your website public. You can publish your website online whenever you're satisfied with it. This is a fantastic method to obtain feedback on your work and share it with others.
Kids may learn essential skills and produce something they can be proud of by helping you plan your website. So why are you still waiting? Create a blueprint for your website right away!
Here are some more pointers for developing your website with children:
Make it a household endeavour. Get everyone to participate in the website's conception and development. This will foster a sense of pride and ownership.
Create reasonable expectations. Expecting your children to produce a polished website right now is unrealistic. A great website requires time and work to construct.
Be tolerant. It's crucial to have patience with your children as they develop and learn. Don't let their blunders discourage you. If you stick with it, you'll finally produce something that you can all be proud of.
Creating a website with children may be a productive and enjoyable experience. It's a fantastic way to spend time with them, teach them useful skills, and help them make something they can be proud of. So why are you still waiting? Create a blueprint for your website right away!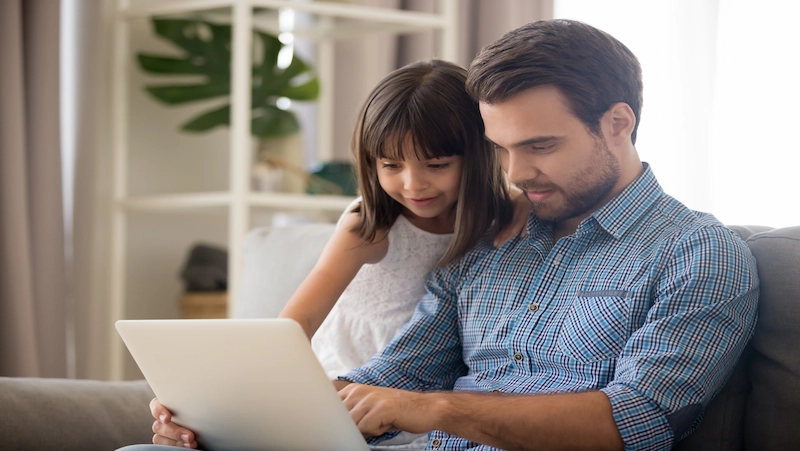 Choosing a platform
For kids, I suggest they use a content management system (CMS) instead of textual HTML/CSS/JS which might be too hard for them. You can search for coding programs for kids to enroll them, this will help your kids to get the basic knowledge about coding and website development. Wix is the most user-friendly option for kids since it has a drag-and-drop feature and offers a lot of good-looking templates. 
The age of your children is among the most crucial variables to take into account. You should pick a platform that is simple to use and doesn't require a lot of technical knowledge if you are young. Wix, Weebly, and Squarespace are a few excellent choices for younger children. Without any prior coding knowledge, you may easily design a website using these platforms' drag-and-drop editors.
If your children are older, you might want to think about using a platform with more features and flexibility. WordPress is a popular choice for adults and older children. It is a strong platform that enables you to build many different types of websites. But because it can be trickier to use than some of the alternatives, it is not the ideal solution for smaller children.
The platform's price should also be taken into account. While some platforms are cost-free to use, others have monthly or annual fees. You should pick a free platform if you're on a tight budget. But be aware that free platforms frequently have fewer features and can not be as intuitive as premium ones.
Finally, you should think about the aspects that are significant to you. Different platforms provide different functionalities. For instance, while some platforms let you add e-commerce features, others do not. Prior to selecting a platform, it is crucial to decide which characteristics are vital to you.
After giving each of these things some thought, you may begin to limit your options.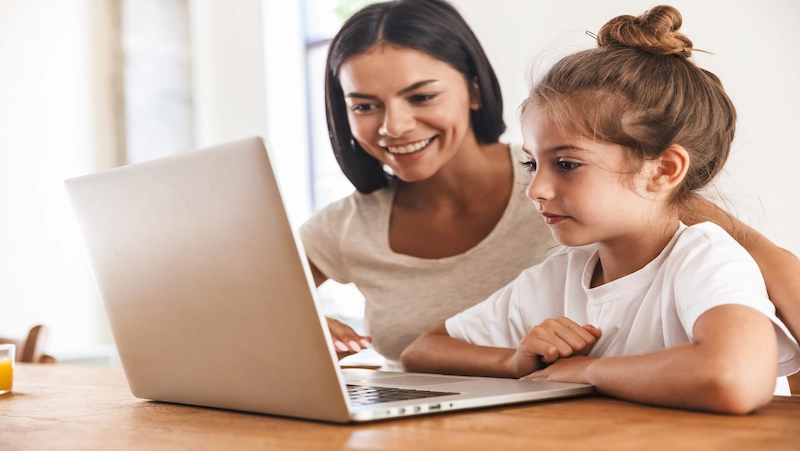 Building your website
As parents, we are responsible for creating an account, managing hosting services, and making purchases if necessary. First, create an account on our chosen platform, and remember not to share any personal information about our kids.
The next step is to let our kids choose a template and design it according to their niche, which they decided on earlier in step one. Teach our kids to manage menus and sub-menus, install plugins (if necessary), and publish blogs.
In this step, we need to ensure that our kids are engaged and motivated to continue the project they have started. We can make the process more fun by rewarding our kids for each milestone (for every published blog, or every increased view count).
We can also promote their website to our friends and relatives to increase traffic. A common pitfall to avoid is inconsistency. Ensure that our kids don't break their consistency in creating blogs, since it would be hard to encourage them to continue their project.
Check out coding websites for kids.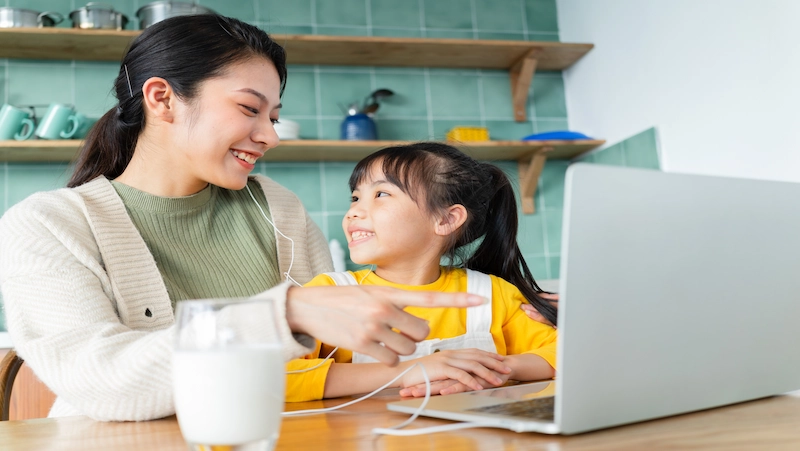 Adding content and features
There are a lot of good practices for creating engaging content. First, we can teach our kids to create a content calendar to ensure well-planned and consistent posting throughout a certain period. Then, teach them to optimize common CMS features such as forms, maps, and social media integration.
It might teach children about innovation, teamwork, and technology. It can be a wonderful way to strengthen your relationship with your kids and make priceless memories.
During content creation, it will be beneficial if we teach our kids about the importance of search engine optimization (SEO). If you're using WordPress, I recommend Elementor as it will provide your kids with a drag-and-drop designer that is very easy to use.
Here are some suggestions for improving a website with kids' content and features:
Start with a simple project. It's better to start with a straightforward project if you're new to website design. By doing this, you can avoid feeling overwhelmed while learning the fundamentals of website design.
Pick a subject that appeals to your children. They will like the project more as a result, which will keep them motivated.
Divide the undertaking into manageable steps. This will help you remain on track and make it seem less intimidating.
Include your children in each step of the process. They will gain knowledge and become more invested in the project as a result.
Be tolerant. It can take time to add features and content to a website. If things don't go well right immediately, don't give up. If you persist in your efforts, you will eventually succeed.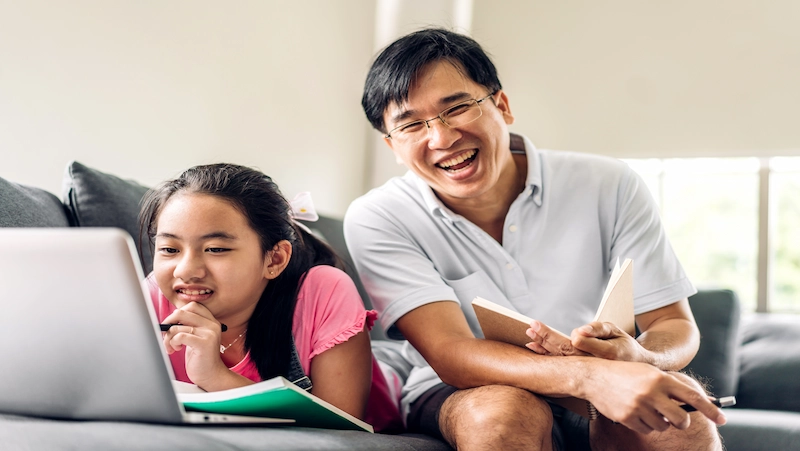 Launching and maintaining your website
Kids can learn a lot about technology, creativity, and communication by creating and managing a website together. Launching websites is comparatively simple. If you bought a domain name for your kids, you just need to connect it to your hosting service to make that domain live.
The harder but more important thing to do is maintain our website. There are some measures to take, such as regularly updating content, backing up data, optimizing speed, and monitoring security. If you're using WordPress, teach your kids how to choose good plugins based on their latest updates and positive reviews.
Also, it may be a lot of fun! Here are some pointers to get you going:
Pick a subject that appeals to your children. They will appreciate the procedure more as a result, which will keep them motivated.
Find a user-friendly website builder. Spend some time comparing the various website builders on the market to locate the best fit for your children.
Support your children as they develop ideas for their websites. This might be anything they believe would be interesting to share, such as articles, pictures, videos, or other content.
Encourage your children to use creativity in the layout of their websites. Allow them to pick the fonts, colours, and layout they prefer.
Assist your children in publishing their website. Help them publish their website whenever they are satisfied with it so that others can view it.
Encourage your children to constantly update their website once it is up. This will keep the website updated and engaging for users. By submitting it to directories or sharing it on social media, you can also aid in the promotion of their website.
Everyone involved can learn a lot from creating and managing a website with children. Children can learn about technology, creativity, and communication in a fun way. So why are you still waiting? Start right away!
Here are some more pointers for creating and running a website with children:
Create reasonable expectations. Your children might need some time to learn how to build a website they're pleased with. Along the road, be kind and encouraging to others.
Make it a household endeavour. Engage everyone in the process, from developing the content to planning the layout. This will contribute to the website becoming a more intimate and significant endeavour for everyone.
Have a wonderful time! The process of making a website with children ought to be entertaining for all parties involved. So unwind, enjoy yourself, and let your imagination run free.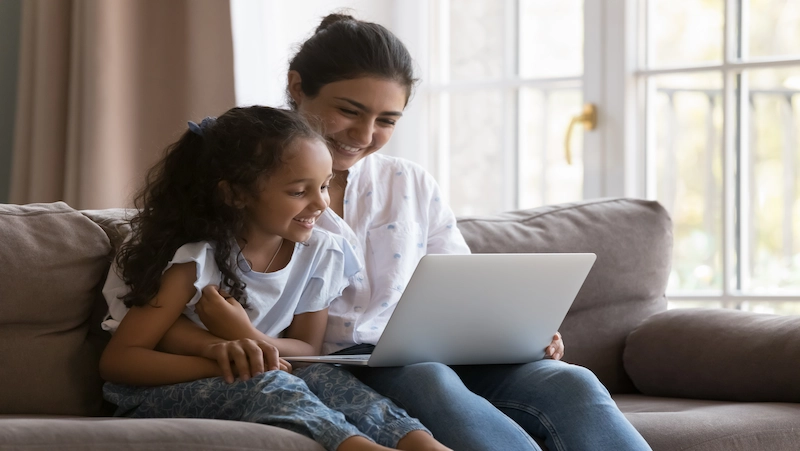 Resources and tools for building a website with your kids
While there are a lot of website development tutorials on YouTube or blogs, it is recommended to watch/read an official tutorial from the platform itself.
For instance, Wix provides a 'Wix Learn' webpage specially designed to provide free training, tutorials, and even certifications to learn website development on its platform. Enrolling your kids in a technology course is also recommended to unleash their creativity and force them to create better and better websites over time.
BrightChamps is a perfect example of this, as it provides kids with a website development curriculum that regularly asks them to do fun assignments and quizzes. The curriculum is also created by experts in its field, to ensure a seamless and rewarding learning journey. Learn about coding for kids too.
Conclusion
As we discussed above, building a website with your kids will help them learn digital skills in a rewarding way. Through their own website, they can also creatively express themselves to the world.
Since website development is not a one-time project, it teaches kids to be patient with the process, which is a good social skill for their future. With that being said, I hope you can directly start your website-building journey with your kids.
Also check out free coding websites for kids.
Happy blogging!
Frequently asked questions
1. What is a website builder for kids?
A website builder for kids is a user-friendly and simplified tool for kids to easily build their own websites.


2. What are the benefits of using a website builder for kids?
A website builder for kids provides a rewarding experience, which will encourage kids to create more websites,  express their creativity, and enhance their digital skills.


3. Are website builders for kids easy to use?
Yes, they are easy for kids to use, but kids do need assistance to boost their learning curve.


4. What features should I look for in a website builder for kids?
A perfect website builder for kids should have no-code features such as drag-and-drop, lots of templates, a big enough hosting storage, and a help/support feature.


5. Can kids use website builders to create a website for a school project?
Of course! Website builders can help kids make their own personalized websites for any kind of school project.


6. How can parents monitor their child's website builder activity?
Parents can use parental control, set privacy settings, or review any blog that their kids have made.


7. Are website builders for kids safe to use?
Yes, most of them are safe, but parents should be in control of giving out private information, including the whole account creation process.


8. What age range is suitable for using a website builder for kids?
A website builder for kids is suitable for kids who are able to read and operate computers (around 6-15 years old).  Above 15 years old, it is recommended for them to use more advanced and professional website builders.