Roblox is an amazing, popular virtual universe that helps you create a platform game, share experiences with friends, and be anything you can imagine.
Over the years this platform has become one of the most popular among gamers and game enthusiasts who themselves want to develop games.
While some aspects of the Roblox platform are free, there are a lot of in-app purchases to get your hands on some exclusive items and features.
Robux, Roblox's in-game currency, can be used to make these purchases which can be purchased or redeemed in exchange for Roblox gift cards.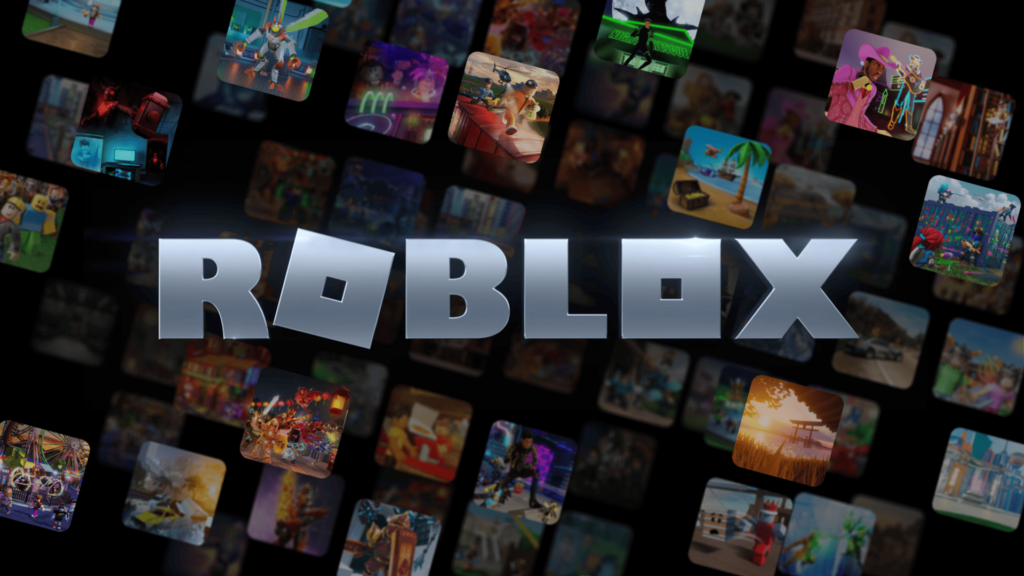 What Are Roblox Gift Card Codes?
Usually, we often see gift cards being used in video games online to obtain in-game membership, exclusive game items to be used in the game, currency, etc.
Free Roblox Gift Card Codes are redeemable codes that give users exclusive rewards and items.
The amount of the Robux gift card varies and is available for $10, $25, $50, or any custom amount of your choice.
Roblox Gift Card Codes can be used to buy Roblox Premium which is a paid membership that has replaced the traditional Builders Club, a Roblox membership that used to offer privileges in Roblox. Roblox Gift cards are similar to the ones on Amazon that are redeemed on an exclusive item based on when and where the card was purchased.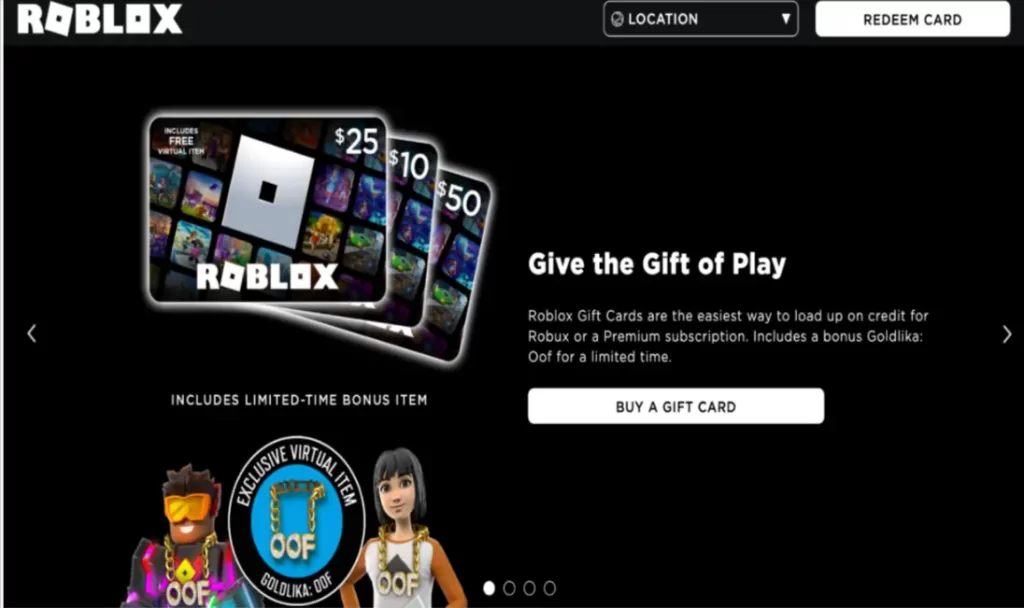 The gift you get will be equivalent to the Robux you spent on buying it or equivalent money. Roblox game cards were introduced in 2010 and on 1st July 2022, the developers made the game cards and gift cards site together as one.
Roblox's In-Game Currency – Robux
As previously mentioned, Robux is a premium currency within the world of Roblox that you can use to buy new games, private servers, and some other goodies.
Robux is a currency that can be exchanged for real-world money since it is bought with actual money
There are several ways to obtain Robux, the most common of which is through direct purchase.
Another option is to join a membership program in which you will receive Robux as a stipend and will be able to sell items for a percentage of the profit. Roblox gift cards that contain Robux gift card codes are another popular way to obtain Robux.
There's no doubt that free Roblox gift card codes are of great help, but are you wondering about where to get them? If your answer to this question is yes, then this next section that talks about getting free Roblox gift card redeem codes will interest you very much. Let's get to it!
Free Unused Gift Cards Codes for July 2022
Getting Roblox gift card redeem codes for free is very rare but many websites claim to give them for free. So, there are some authentic and safe ways to get free Roblox gift card codes.
Let's check a list of free unused Robux gift card codes. These Roblox codes are active and can work if used.
834 906 0159
893 344 2769
947 726 1418
917 347 9408
799 912 0475
910 433 6743
855 061 5545
910 433 6743
947 726 1418
834 906 0159
893 344 2769
799 912 0475
855 061 5545
917 347 9408
829 883 8070
139 822 0917
936 776 4254
975 753 2607
524 944 2319
You can use Roblox card codes, which can only be used once just like the above Robux gift card codes which can only be redeemed once.
How to Use Free Roblox Gift Card Codes
Using the Free Roblox gift card redeem codes is very simple.
Log into your account on a browser
Go to the Code Redemption Page
Enter your code in the box.
Click Redeem.
A success message will appear when you successfully add the Credit to your account.
If you are having trouble redeeming a PIN that contains a 0 (zero) or a 1 (one), please try replacing these with the uppercase letters O and I.
Click Use Credit to use your credit. You can read the Using Gift Card Credit help article for help on the next steps. OR
Click Close to close the message and redeem another gift card.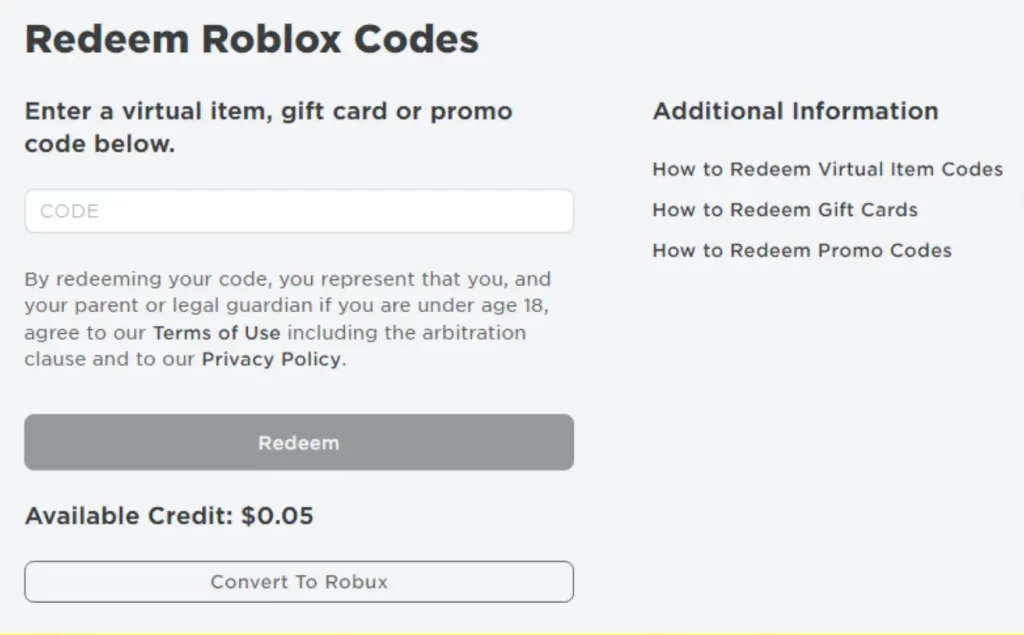 Some Gift Cards might be valid only for a limited time. So ensure that you redeem them before they expire.
Other Ways to get Roblox Gift Cards
Below are a few other ways to get Roblox Gift Cards:
Getting Roblox Gift Cards Through Giveaways
One other way of getting your hands on these free Roblox gift cards is through giveaways often sponsored by YouTubers or streamers.
YouTubers or Streamers give away Gift Cards as part of promotions.
You can follow such communities like Reddit and Discord servers to know about the current updates regarding Roblox gift card codes in the loop of such events.
You can even follow the official Roblox Twitter as the developers are known to drop Gift Cards at times.
Trade in to get Amazon Gift Card
Amazon Trade users often sell used items that they no longer require. Selling them earns you an Amazon Gift Card/s, which can then be used to purchase Roblox Gift Cards.
Getting Gift Cards Through Microsoft Rewards
Microsoft Rewards is a Microsoft initiative that rewards you for using Bing as your default browser. Aside from these Roblox Gift cards, you can also get a variety of other rewards.
Conclusion
Robux, Roblox's in-app currency, is used for a variety of in-app purchases. Robux can be purchased directly or exchanged for Roblox Gift Card Codes, which are redeemable codes that allow users to gain access to special rewards and items.
In this blog, we brought you the various ways of getting these free Roblox gift card codes along with a guide on how to redeem them. So simply go ahead and redeem those bonus points for Unused Robux gift card codes. it's easy, It's swift, it's legitimate. We hope you actually get the value from these Roblox Card codes.

Learn to create fun games in Roblox at BrightChamps with its specially designed curriculum, which makes learning game development and coding simple for students in Grades 1-12.
BrightChamps also teaches a variety of other programs that assist children in developing a foundation in computer programming through activities, interactive lessons, and other means.
Frequently Asked Questions (FAQs)
How many times can a Roblox gift card be used?
A code can be used only once, so users need to be careful while redeeming the code for the card.
How many digits does a Roblox gift card code have? 
4 digits long.
Can the Roblox gift card expire?
Unless it's used they won't expire. So the cards are used only once.