Because it increasingly affects our daily lives, artificial intelligence (AI) has grown in popularity as a debate topic.
I discuss what artificial intelligence is in my blog. How do you get your kids to study AI? Which sources are the most effective for learning AI?
This blog will serve as a comprehensive reference for all things artificial intelligence.
What is Artificial Intelligence?
Artificial Intelligence is a branch of computer science that deals with the ability of computers to behave like Humans.
To act like a human, computers should have Human intelligence which involves perception, decision-making, and problem-solving.
Machines are trained in such a way that they can recognize patterns and make predictions.
Why is Artificial Intelligence Important for Kids?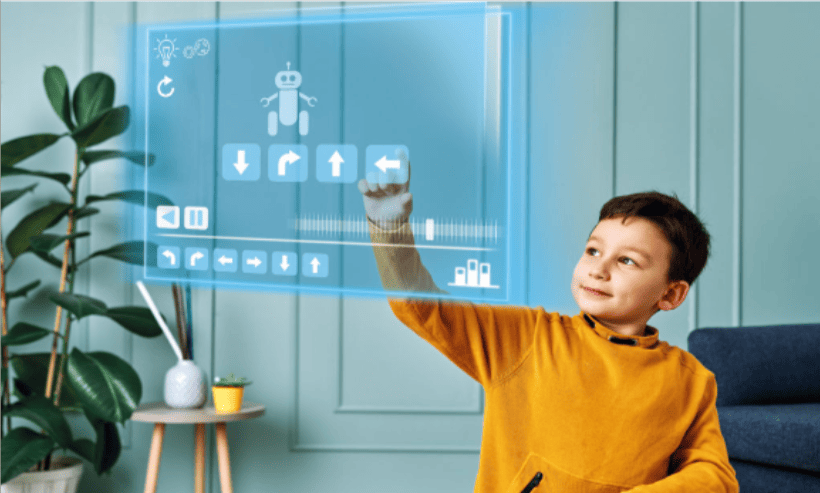 Kids acquire different skills at different stages in their life. From 7 years old to about 15 years, Kids' logical thinking and reasoning power will develop. 
This is the right stage where we can help them learn the applications of artificial intelligence, which will prepare them to use the technology better. 
Teaching Artificial Intelligence will help the children develop their critical thinking skills and also provide career potential.
Real-life Examples of Artificial Intelligence

Every day, artificial intelligence has an impact on our lives. Whether we realize it or not, we are utilizing devices that function due to Artificial Intelligence. 
Take a look at the examples below. Sure, you can see how AI is behind all of this, making our day-to-day tasks easier.
Virtual Assistants like Google Assistant, Amazon's Alexa, and Apple's Siri.
Surveillance Camera
Google Maps for Navigating
Amazon and Netflix Recommendations
Self-driving cars
Smart Home
Top 5 Resources for Kids to Learn (AI) Artificial Intelligence
1. Machine Learning for Kids
Machine learning for kids is one of the top websites for teaching artificial intelligence based on scratch. 
The kids will be taught to train machine learning models using images, text and numbers, and sound. 
The most beautiful part is that we can train the machines using our webcam to recognize the images captured by it.
2. Experiments with Google
Experiments with Google is yet another helpful website introduced by Google to enhance learning skills in kids. 
It is a collection of experiments that Children can do from home.
Few examples are
Teachable machines are similar to machine learning for kids, where you can train the machine to recognize pictures and sounds.
Quick, Draw! where the machines will identify your drawings like humans.
Sketch-RNN Demos is a game that helps you to draw pictures. The AI guesses the next step in your drawing by recognizing your previous steps.
3. Cognimates
Cognimates is another AI-based platform for kids which teaches them to build games, program robots, and train their AI models.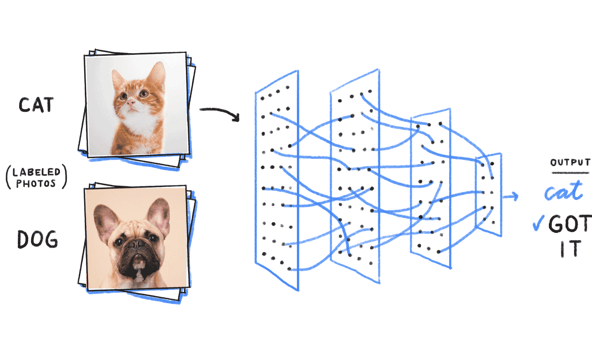 Go through this video for a better understanding. You can try some of the starter projects given here.
4. AI 4 children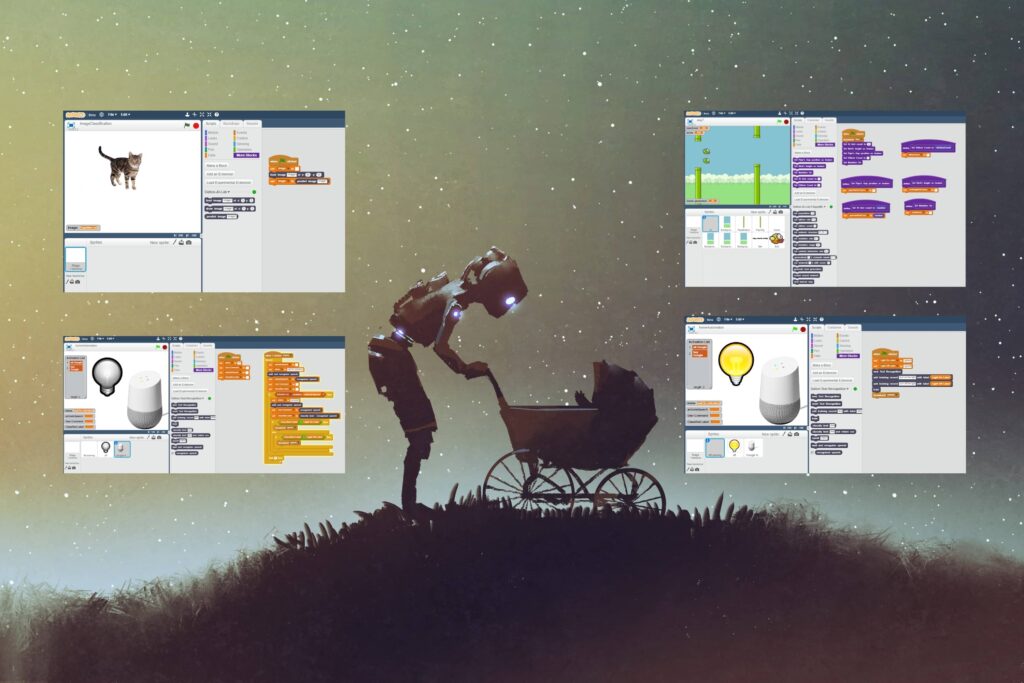 AI 4 children use AI machine learning Education tools powered by the Dalton Learning Lab to teach Artificial Intelligence to children using the widely adopted programming language scratch.
5. Tensorflow
Tensor flow is an online resource developed by the google brain team that helps make your kids experts in Machine learning and Artificial Intelligence.
It focuses on building a strong foundation in coding, Math, ML theory, and designing your ML projects.
How to teach your child AI
Artificial intelligence can be taught to children by showing them AI devices and asking them for feedback on how they work.
Children will be curious and will attempt to find out.
Although there are numerous ways to teach children about AI, such as showing YouTube videos and downloading AI apps, online resources and classes are the best way to teach children because they allow them to interact and learn while having fun.
Conclusion
To become tech-savvy in the future, your kids must understand and master Artificial Intelligence.
above mentioned are the 5 best AI resources for kids are some of the best that makes the kids engage and learn. 

With the world moving at such a breakneck pace, BrightChamps recognized the need to introduce key life/future skills to children to keep them ahead of the game.
With a mission to bridge the gap left by traditional education, we are bringing key future skills through specially designed courses on coding and financial literacy taught by some of the world's best minds from top-tier institutes such as IITs and IIMs.